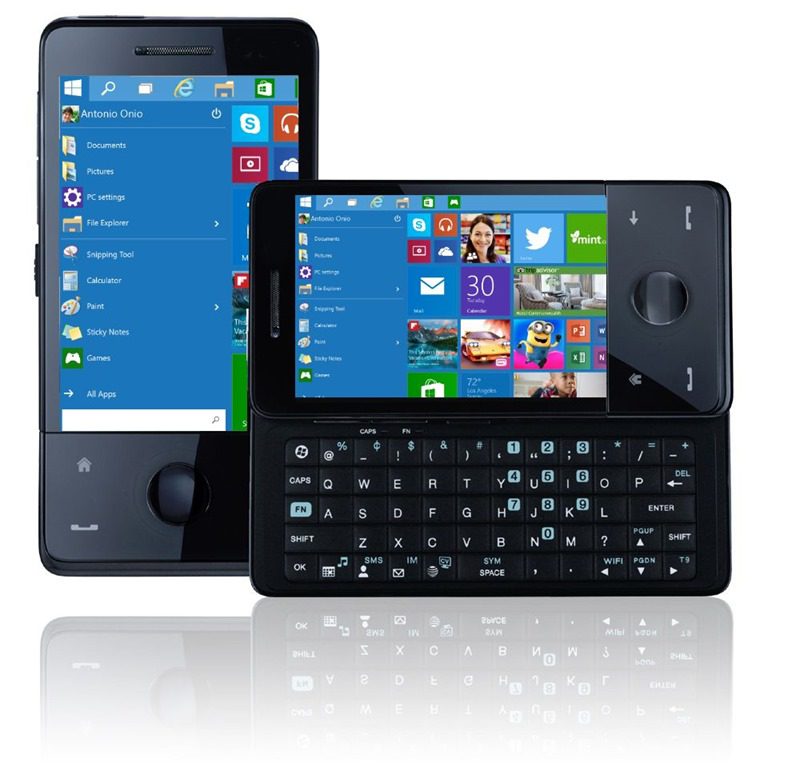 Update: This is of course a pretty transparent April's Fools Day joke, but it also has some commentary attached – Everything mentioned is of course true of the old Windows Mobile, and it seems it took us a 5 year detour to get back to where we were 10 years ago, which in the end is not very funny at all.
After months of speculation, Microsoft has finally made the name of their next phone OS official, and as predicted by many, the final moniker will indeed be Windows Mobile.
Noting that the name still had good associations for many in the company, from a time when Microsoft held as much as 40% share of the US market (vs 3-4% now), Microsoft also revealed more details about the OS.
The new operating system will be optimised for low resources, being able to run in as little as 64 MB of RAM, opening up the possibility of using the OS in feature-phone-style handsets without touch screens in the future. Despite this it will still support full multi-tasking and will not compromise on any features, supporting VPN, Remote Desktop and full device encryption out of the box.  In addition it will also support advanced features such as USB Host, Fingerprint readers and IR Blasters on some devices.
Realising also that users have felt constrained on many occasions by Windows Phone, Microsoft said Windows Mobile would not place any restrictions on users or developers. Users will be free to run any application, downloaded or sideloaded from anywhere, and developers will have full access to the operating system, going so far as to be able to skin the operating system and set default apps as they see fit.
The operating system will also bring full support for the pen, an increasingly important feature for Microsoft, allowing inking in OneNote for example or handwriting recognition, not possible currently in Windows Phone, and will also bring back the Start Menu, so loved by Windows users and so neglected in Windows 8.
To launch the new OS Microsoft will be releasing two new Surface Touch devices, a regular one and a Pro one which features a slide-out keyboard and landscape support for increased productivity.
See the press release below:
Stylishly sleek, these devices set a new benchmark for mobile sophistication by introducing 3DTouch™, an unparalleled touch experience that puts live television, weather, email, photos, contacts, music and more at your fingertips.

The Surface Touch and The Surface Touch Pro leverage the broad functionality of Windows Mobile and use a new customized Web browser that enables easy viewing and effortless navigation of Web sites in the way they were designed. As part of this browsing experience, users can zoom and pan Web sites with one-hand and automatically view mobile-optimized content that has been specially created to fit the display.

With pin-sharp displays, the Surface Touch and the Surface Touch Pro deliver a full package of features and functionality, including the above-mentioned browser; a customized, specially developed YouTube application for watching user-generated video content; and quick access to an extensive selection of live and on demand video.

The Surface Touch Pro brings a similarly sophisticated style and feature set to that found on the Surface Touch and also adds a variety of business-focused enhancements that make getting work done on the go quick and easy – including a five-row, slide-out QWERTY keyboard for easy data entry, expandable storage capabilities with a microSD card slot  and a business card scanner application.

"The Surface Touch gives users one-touch access to every aspect of their life and transcends texting and dialing to provide a rich mobile Internet experience unlike anything available on the market today. The Surface Touch Pro combines business with pleasure by offering one-handed operation of simple tasks and a full keyboard input for serious work," notes Panos Panay.

The Surface Touch will be available in September and will cost $249.99 with a two-year contract and after a $100 mail-in rebate. The Surface Touch Pro will be available in all retail channels beginning Oct. 19 for $299.99 with a two-year contract and after a $100 mail-in rebate.