Need an All-in-One app for the latest news on Windows Phone? Then you should try out Metro-Gen! A free, clean and powerful app developed by AppXDev Ltd.
What are the features?
Metro-Gen provides many handful features on the latest Windows Phone news and receives timely updates introducing newer features and app designs.
The features are as follows:
Ability to read articles offline
Amazing and simple to use App Design and User Interface
Fastest loading of a new application
Read articles written by our writers which provide you the latest updates and news on Windows Phone
More information..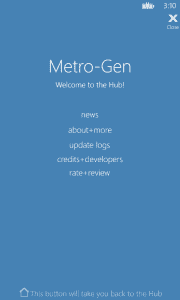 Metro-Gen was originally created by Pranav (that is me)  in March 2014 which was a simple AppStudio project that would just show the news. After learning C# and XAML, as well as trying out other projects, he returned to his original plan of developing Metro-Gen.
I started scratch and made a simple yet power RSS Reader called as NReader v1.0 for Metro-Gen BETA v1.0. The app then had no design and plans of making a design were failing as they "never" caught people's eyes.
Then, I teamed up with my buddy FaZe (that is his "nickname") who provided me with better designs and hence founded AppXDev Ltd. Then a few weeks later Metro-Gen v1.0 was released and has ever since been updated to (the current) v1.3.
Downloads
Download from Windows Store: Metro-Gen v1.3.0.0/v1.3.0.1
Download by scanning this QR Code on Bing Vision, etc.