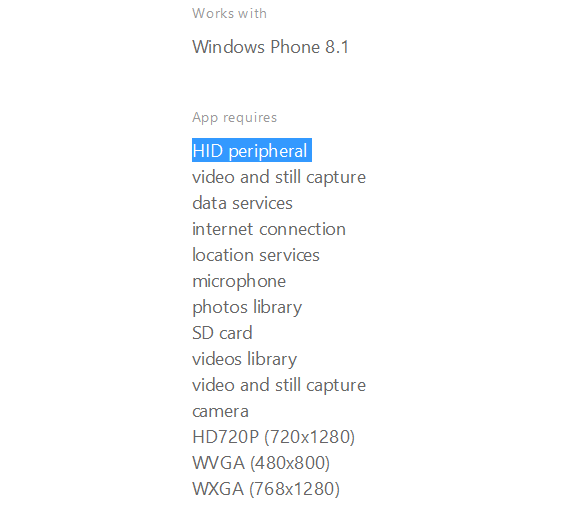 We posted recently that the next update to the Windows Phone 8.1 Bluetooth stack will support HID Host, necessary for Bluetooth keyboards.
Now in the latest update to the Lumia Camera 5 app, we noticed that the app is now also asking for HID peripheral permission.
On Windows 8.1 Microsoft notes:
In Windows 8.1, all developers can use the device protocol APIs to write Windows Store apps that communicate with USB, Human Interface Devices (HID), Bluetooth GATT, and Bluetooth RFCOMM peripheral devices. The ways in which your app can communicate with these devices varies per API, so you may experience issues if you attempt to use an API in a way that's not supported. This topic provides an overview of the device protocol APIs, introduces the DeviceAccessInformation class, and lists some possible causes of device access issues. For more info about the USB, HID, and Bluetooth APIs, see Communicating with peripheral devices.
Hopefully this means Lumia Camera will support external peripherals such as the now very common Bluetooth Selfie stick buttons, and that it will not be long before full support for HID Bluetooth Keyboards roll out.