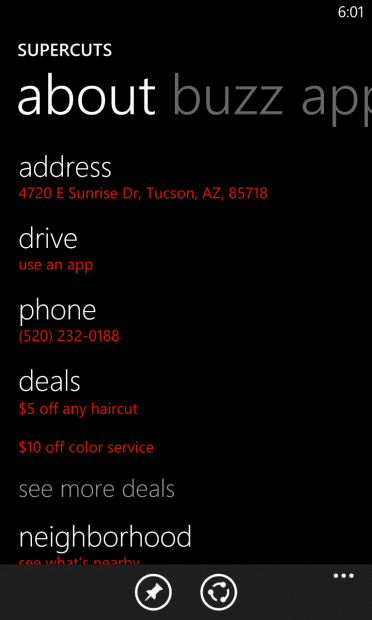 One feature of the rarely-discussed Wallet app found in Windows Phone 8 is called "Deals", which lets you find local deals via services like Amazon Local, Living Social, Sweet Jack, and Yelp.
However, it takes this to the next level by integrating the deals with the Maps app.
If you search for a store in the Maps app that has a current deal, you'll automatically be able to see their available deals! For example, I searched for Supercuts to grab their phone number; while I was looking at their store info I noticed they had a $5 off coupon. This was the first time I ever saw a deal pop up in a map result!
Currently, these "deals" are so scarce that this integration is nearly useless. It's rare that you'll happen to search for a store that has an active deal. Nevertheless, if Microsoft continues to obtain more sources for local deals, this feature might become truly useful. I was definitely happy to save $5 thanks to this feature!