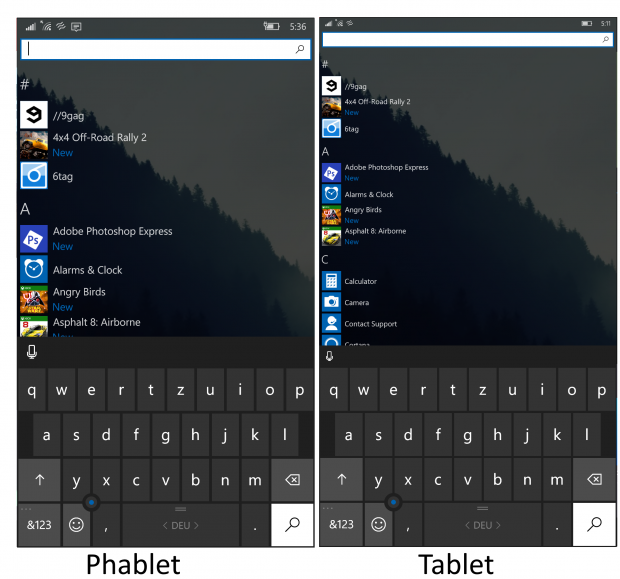 Recently a new feature in the latest Windows 10 build went public and has been exciting quite a few of our readers. By scaling down the UI in the DPI settings, users can get a phablet-like experience on their "normal" phones like the Lumia 640 XL, 930 etc.
Now I've been wondering if something would change if I scaled down the UI on a phone that already is a phablet, the Lumia 1520. As it turns out, this way it is easily possible to turn the phablet into a tablet just by changing the DPI of the OS. This was already possible through interop unlocking and hacking the Lumia 830, but this phone is just too small to really benefit from the new UI. On the 6" display of the Lumia 1520, however, the UI turns out to be very usable. Just look at the screenshots below; attached you will also find screenshots from the "normally" scaled UI for comparison.
As you can see, many apps turn from phone apps into tablet apps. The most obvious and most useful change is the Microsoft Edge browser, which appears to look just like on the PC. The elements and buttons are still very small. I, personally, find them still quite easy to press as the phone seems to have a very precise touchscreen-panel. However, for many people, especially older ones, this might still be too small.
Unfortunately neither the startscreen nor the Office apps (Mail and Calendar aside) benefit from the changes even though they could benefit from it the most. Also some smaller bugs in the calendar app occur: for example some texts are simply cut or not all buttons display correctly. This seems to be a minor issue only, since in landscape mode everything is great again!
Want to try it out yourself? Go to settings – phone – display and slide the slider to the lowest. What do you think? Pretty cool, right?