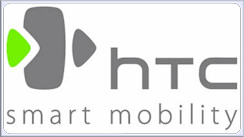 HTC, the premier Windows Mobile manufacturer, has estimated that it will sell between 13 and 15 million smartphones this year. The vast majority of these devices will be Windows Mobile smartphones, with analysts estimating only 200 000 Android devices being sold (Edit: per month) by them, less than 2% 3.5% of HTC's production.
HTC is to send only 2 million to the Asia-Pacific region, with the majority going to Western Europe and USA. This balance may change however, with Conexus Mobile Alliance, an alliance of 10 Asian telecom companies with a combined subscriber base of over 200 million users, including giants like NTT DoCoMo, being rumoured by industry sources to be planning to jointly procure smartphones from HTC. Apparently this follows positive recommendations by Taiwanese mobile phone carriers who have already taken on HTC's devices.
The phones HTC sell in Asia are planned to be own-branded. This follows moves by HTC to shed it white-box ODM image, and this has apparently been very successful, with the HTC brand now purportedly worth more than $1 billion. HTC recently managed to score the 3rd biggest smartphone brand position in Q2 2008, and have said their sales have been unaffected by the arrival of the iPhone 3G.