Is Copilot the best AI companion out there? Help us find out by answering a couple of quick questions!
| Sponsored |
When we unlock the iPhone 13, we need to use the iPhone screen password or Face ID to unlock it. But if, for some reason, your iPhone 13 is disabled, or you can not remember your iPhone passcode while the Face ID not working, what should we do? How to make our iPhone 13 unlocked when we forgot the passcode? Keep reading. You will find the best method of how to unlock iPhone 13 without a passcode or Face ID. 
We can still unlock iPhone 13 even if we forget the screen passcode, but we need to pay for forgetting the screen passcode, that is, to clear all iPhone data and let iPhone 13 reset to factory settings. Only then can we unlock iPhone and use it again. But if you have a habit of regularly backing up your iPhone data, then you are in luck. Because when you successfully unlock your iPhone, you can restore the backup from iTunes or iCloud, and your data is not completely lost. Well, without further ado, in this article, we will introduce to you the latest effective solutions for how to unlock iPhone 13/13 Pro Max without a passcode, which works for other iPhone models as well.
Method 1: Unlock iPhone 13 without a computer/iCloud/iTunes
How to unlock iPhone 13 without a passcode or computer/iCloud/iTunes? Some articles say that we cannot bypass the passcode without relying on a computer or iCloud to reset the iPhone to its factory settings, which is not correct now. Actually, we can unlock iPhone 13 through the security lockout screen directly if you are using iOS 15.2 or later. If you are interested in how to unlock your iPhone without a computer/iTunes/iCloud, then this is the best way for you. Check the below steps.
Step 1: In the eighth attempt of inputting the wrong passcode to open the iPhone, you will receive a message that Security Lockout. Try again in 15 minutes.
Step 2: Press Erase iPhone button next to the Emergency button. After that, confirm your choice, all of the iPhone content and settings will be erased, including the screen passcode. After successfully removing the passcode, you need to set the unlocked iPhone 13 like a new iPhone.
Method 2: Unlock iPhone 13 using TenorShare 4uKey
If you can't use iTunes or iCloud to unlock your iPhone 13, there's a third-party tool that you may try on. This tool goes by the name – "TenorShare 4uKey" and is very effective in unlocking your iPhone 13/13 Pro without even using iTunes or your 4-digit/6-digit code.
Follow these three simple steps on how to unlock your iPhone using Tenorshare 4ukey –
Step 1: Download, install, and launch TenorShare 4uKey on your Windows/Mac PC. When this tool opens up, click on the Start button.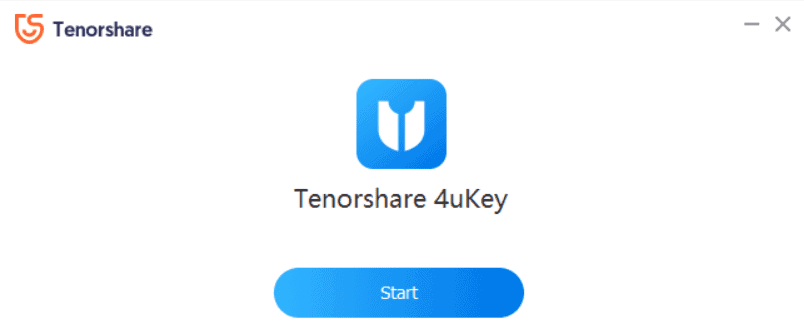 Step 2: You will next see a "No device connected" message on its interface. Use the lightning cord to connect your iPhone/iPad to your computer and when you see your device appearing on its interface, hit Start with a Play button next to it.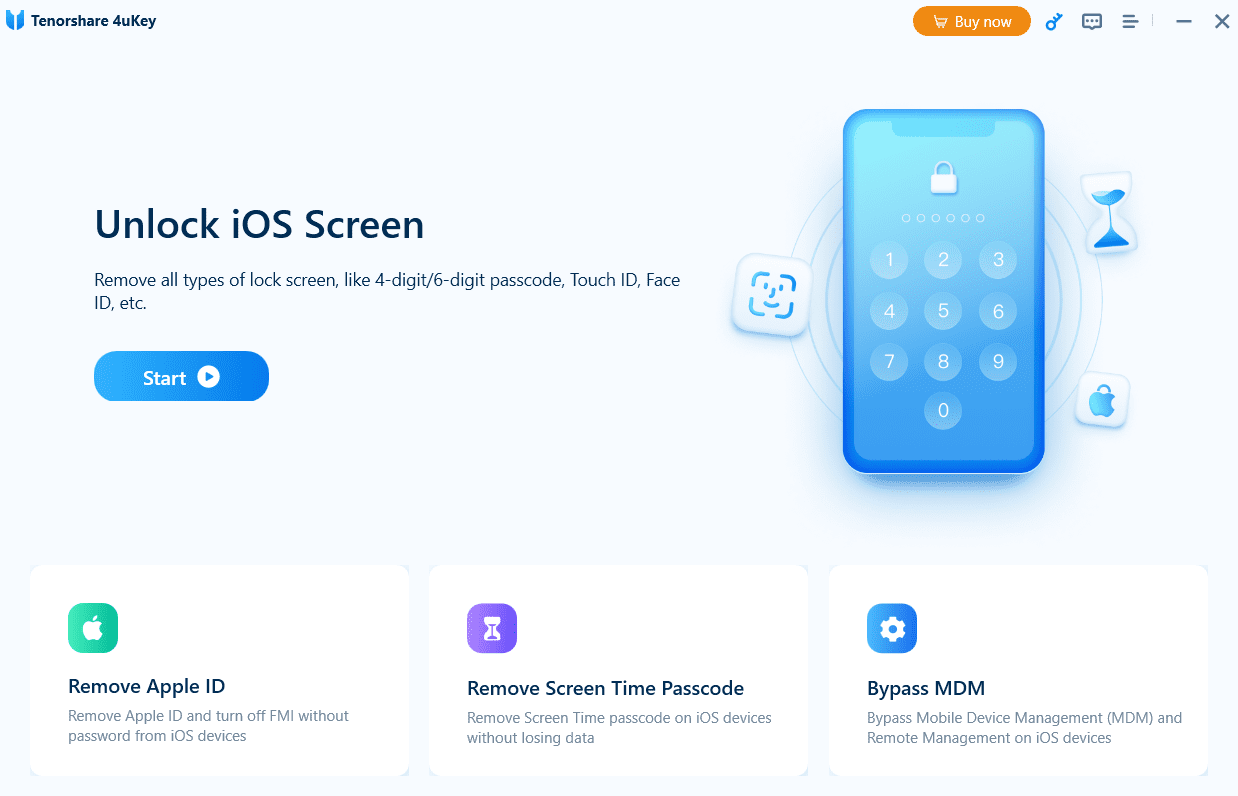 Step 3: Moving forward, hit the Next button on the Remove Screen Lock window.
Step 4: Use the drop-down menu available on the top right end, and select your device. TenorShare 4uKey is compatible with all models of iPhones and iPads that are on either version 7 or higher.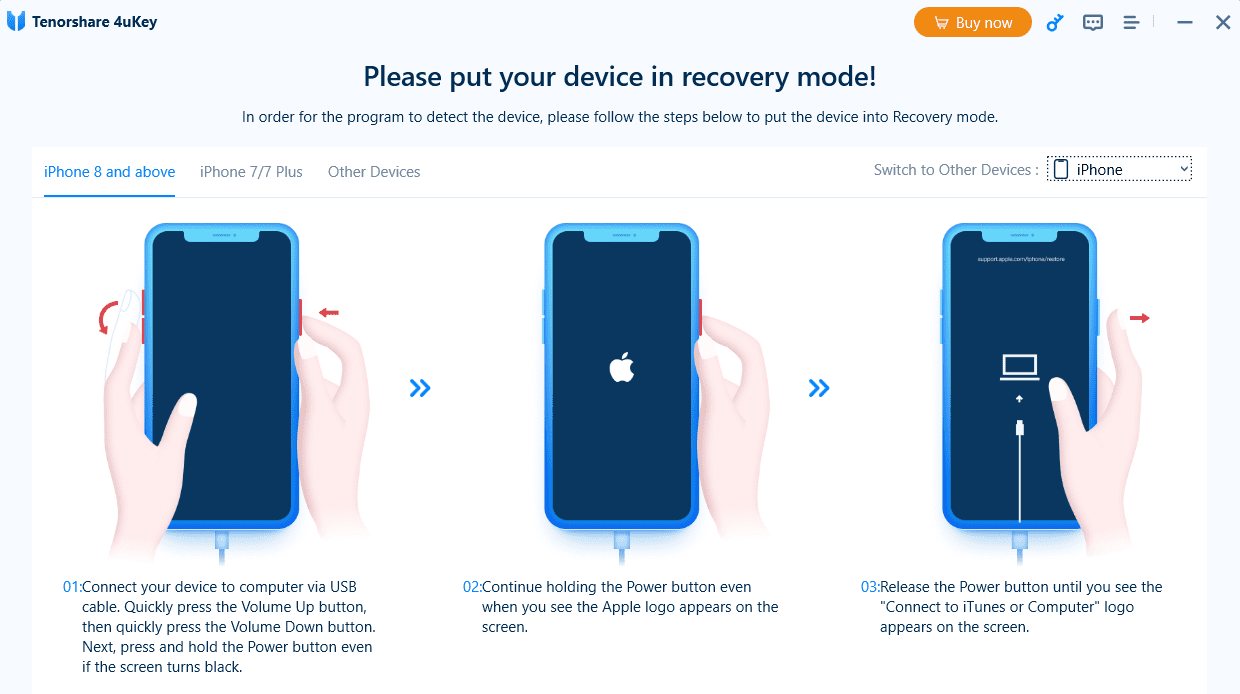 This prompts you to boot your iPhone into the Recovery mode (the methods are well illustrated in the above images). After you are inside the Recovery mode, you may purchase this tool, and get your iPhone unlocked in no time. I hope this method works to recover the lost or forgotten passkey on your iPhone/iPad.
Method 3: Unlock iPhone 13 with iTunes
The official way to unlock an iPhone is to use iTunes, and when you try the wrong passcode many times, the message iPhone is disabled, connect to iTunes will appear. Here are the specific steps to unlock iPhone with iTunes.
Step 1. Connect the phone to the computer, open the latest version of iTunes, and wait for iTunes to recognize the phone.
Step 2. After the recognition is complete, click the device icon on the iTunes home page, and then click Summary.
Step 3. Click the Restore iPhone button. Your iPhone will come back to the factory settings. After that, your iPhone 13 or iPhone 13 pro max unlocked, set it as a new iPhone.
Method 4: Unlock iPhone 13 with iCloud
Using iCloud to remove your forgotten iPhone 13 passcode is an official method besides iTunes. How to make iPhone 13/13 pro unlocked by using iCloud? You can use this method from any computer, smartphone, or tablet with internet access, and here's how to do it.
Step 1. Go to iCloud.com. Once signed in with the Apple ID and passcode of the locked iPhone 13, click Find iPhone.
Step 2. All Apple devices associated with that Apple ID will then be located. At the top of the screen, select All Devices, then select your iPhone 13 from the list.
Step 3. At last, click Erase iPhone button to remove the iPhone passcode. This process will also delete all data from your iOS device.
The bottom line
After reading this article, how do you unlock an iPhone 13? I hope you already found the most suitable way to unlock your iPhone successfully unlock your iPhone. Again, all these methods above will delete all data on the iPhone. If you prefer a simple, quick solution with a high success rate, then TenorShare 4uKey is a good choice as this software does not require you to input Any Apple ID that can help you unlock your iPhone.