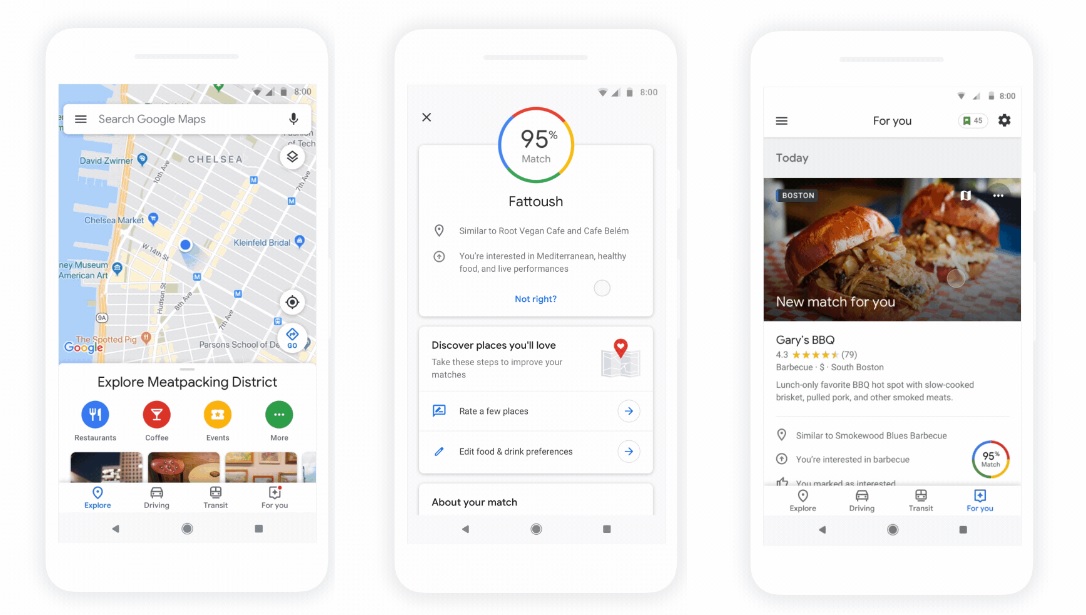 Google is today rolling out a major update for its Google Maps mobile app experience. This update includes three new features: the New Explore tab, Your match scores and the For you tab. Read about these features below.
The New Explore tab:
With the new Explore tab, you can get recommendations for restaurants, cafes and more. It displays trending lists based on local experts and Google's algorithms. You can also know what's going on around you as Google will now list out the top events and activities happening in your area. You can see photos, descriptions, and filter by categories like "good for kids," "cheap" or "indoor or outdoor" so you can find the right activity you are interested in. This new Explore tab is now available to all Android and iOS users globally.
Your Match:
Your Match is a new scoring mechanism which indicates how likely you are to enjoy a place based on your own preferences. You should have Location History turned on for this feature. Once you have it on, you can save time scrolling through lists of reviews and quickly make a decision about where to go. You can also now set food and drink preferences so that Google Maps can come up with better dining recommendations for you. This new Your match is now available to Android users worldwide.
For you tab:
The new "For you" tab will help you in knowing about everything happening in particular areas such as home, work, or a city you visit frequently. You can also follow a neighborhood to instantly see if there's a hot new restaurant in the area, etc. This feature is now available on Android in the U.S., U.K., Canada, Australia, and Japan.
You can download the latest Google Maps app from the App Store or Play Store today.
Source: Google