The frequency of fraud and online scams has dramatically increased in the current digital era. The Geek Squad scam is one such scheme that has attracted attention.
This article aims to educate readers on the Geek Squad scam, including what it is, how it operates, and, most importantly, how to avoid being a victim.
A large number of users have discussed the Geek Squad scam on Reddit.
We'll also cover a robust software preventative measure and show you how to use it, so read the guide entirely!
What is the Geek Squad scam?
The Geek Squad scam is a sophisticated scam where con artists pose as authorized representatives of the renowned tech assistance company, Geek Squad.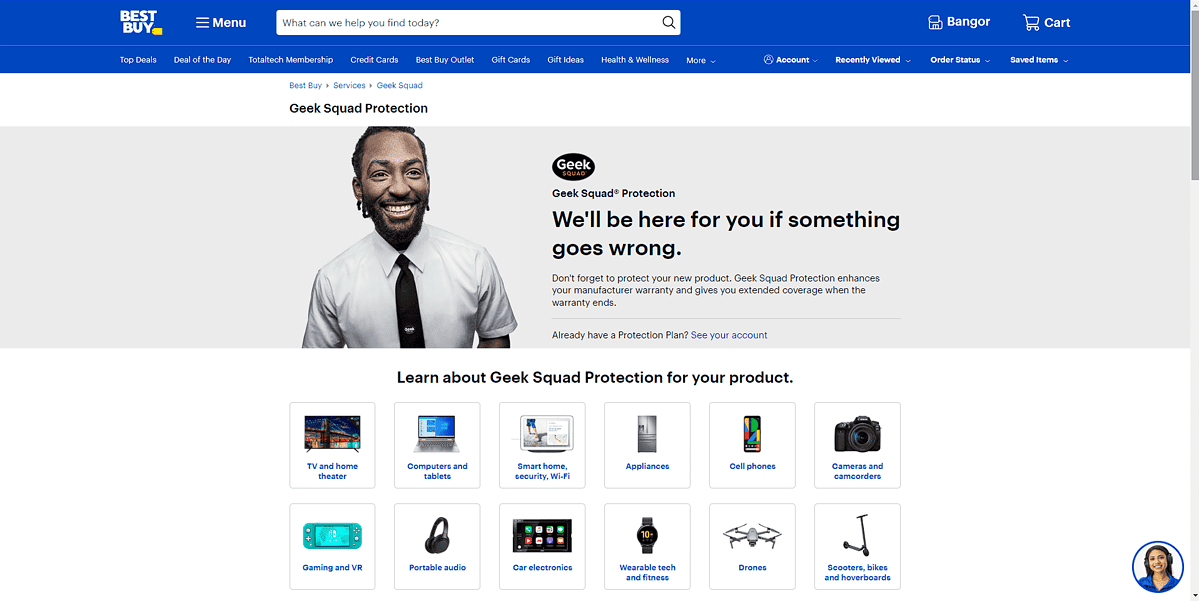 These con artists use various methods, including email, phone calls, and even online adverts, to contact unsuspecting people. They try to acquire the trust of their victims by impersonating Geek Squad agents to trick them into divulging private information or shelling out money for useless services.
How does a Geek Squad scam work?
The Geek Squad scams use a variety of manipulative and deceptive strategies to function. An outline of the typical techniques scammers employ is shown below:
Phishing emails – Scammers frequently use email addresses that resemble the official domain to send false emails that seem to be from Geek Squad. The subject lines of these emails may contain troubling words like Geek Squad Membership Renewal or Geek Squad Invoice. They frequently use persuasive language to convince recipients to act immediately to prevent service interruptions or financial fines.
Phone calls – Scammers impersonate Geek Squad staff and make unsolicited phone calls. They use social engineering techniques to instill a sense of urgency or anxiety in their victims, leading them to believe that their accounts or devices have been compromised. They can ask for remote access to the victim's computer or demand money to fix the alleged problem.
Fake online ads – Scammers produce false online ads that frequently highlight great discounts on Geek Squad services. Users who open the link are taken to a dangerous website or asked for personal information.
Now that we understand the general actions the Geek Squad scammers use to trick people let's dive into some of the latest scams.
Latest Geek Squad scam types
1. Geek Squad email renewal scams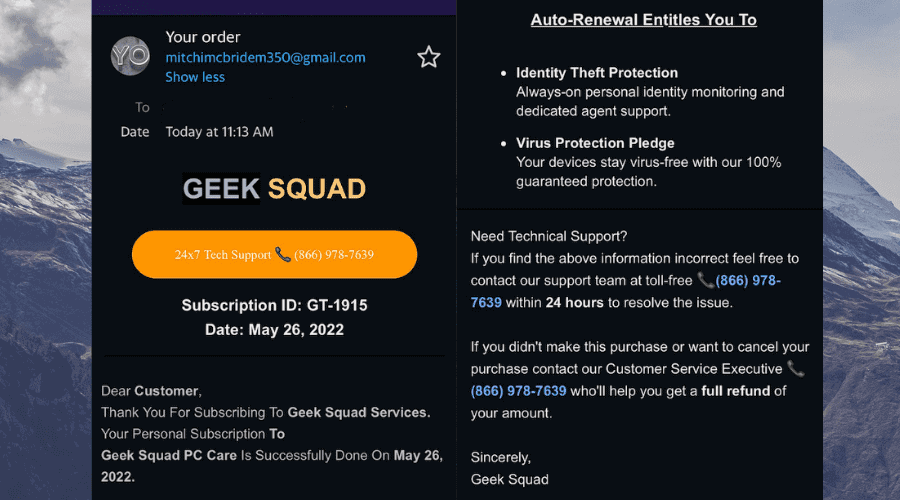 Receiving a Geek Squad scam email in 2023 can be confusing, especially if you haven't purchased any service from BestBuy in the last year.
The email usually includes a number to call, and after you've called, they will ask you for your credit card details, supposedly to give you a 'refund'.
Unfortunately, your personal information will most likely be used to commit financial fraud. In many situations, the scammers contact you informing you that they have refunded you extra and that you should send the cash back.
The so-called Geek Squad scam number varies from one email message to the other. In some cases, the shared phone number is 1-888-695-6573, and in others, 1-888-738-8146, as you can see in the image below.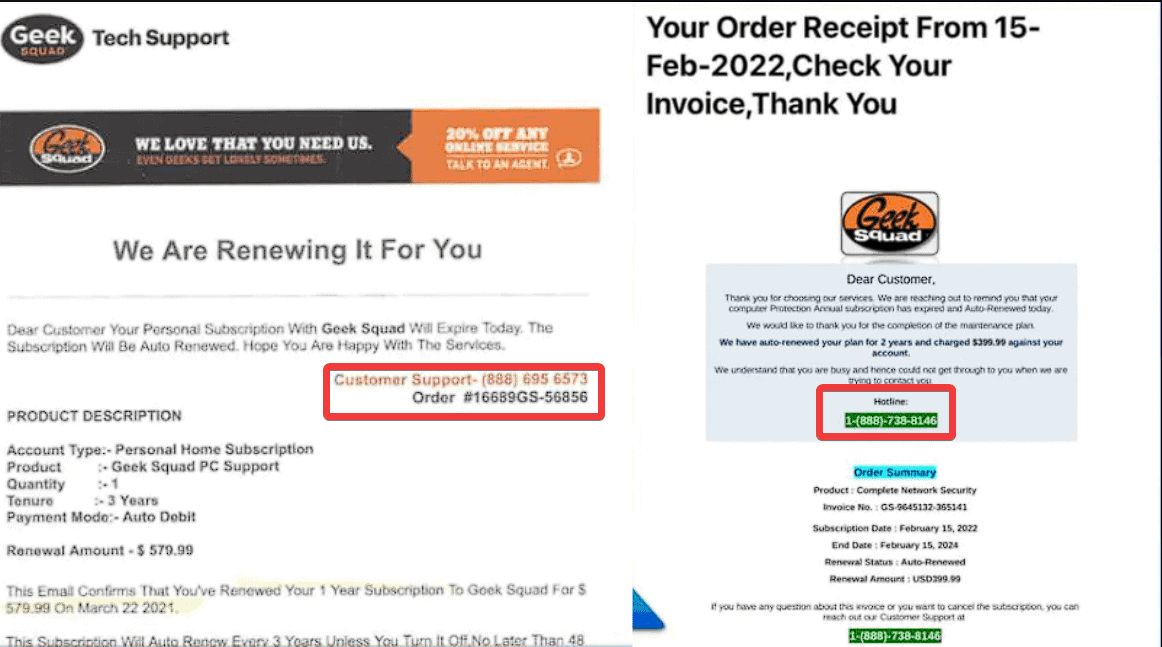 These are fake numbers, and you should not call them for any reason, as they might be able to charge your phone if you do.
Even though knowing the Geek Squad scam phone number will not help you identify the scammers in any way, it might allow the authorities to research the person thoroughly, so share all the information you have with them.
2. Geek Squad email invoice scams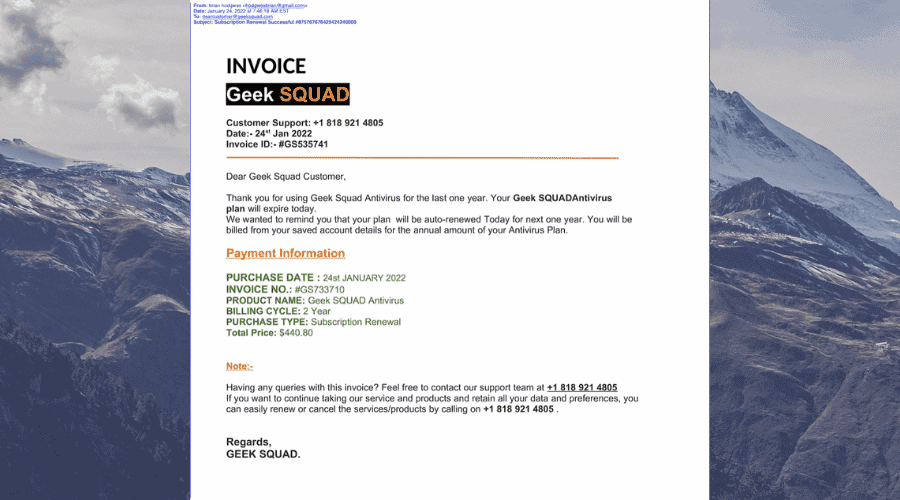 In this attempt at fraud, scammers send you emails or even text messages announcing that you've been signed up without your knowledge to the Geek Squad service.
As in the case of most of these scams, the message or email will include a contact form, a phone number, or another contact email with which you can contact the scammers.
As soon as you are in contact with them, they will ask you for credit card details or other important personal information, motivating it by saying that this is the only way they can refund you.
Sometimes these types of scams look more like refund scams, as described below, but they can also send you to a copy-pasted phishing website to steal your information this way.
Tips to avoid this scam:
Be aware of what services you use, and refuse to access or pay for any services that seem to come out of nowhere.
Search for any elements that might point to a phishing scam: not the official BestBuy.com website; contains spelling or grammatical errors; the logo of the Geek Squad doesn't look right.
You are pushed into calling their phone number and not the official BestBuy contact number: 1-800 GEEK SQUAD (1-800-433-5778).
3. Geek Squad tech support scams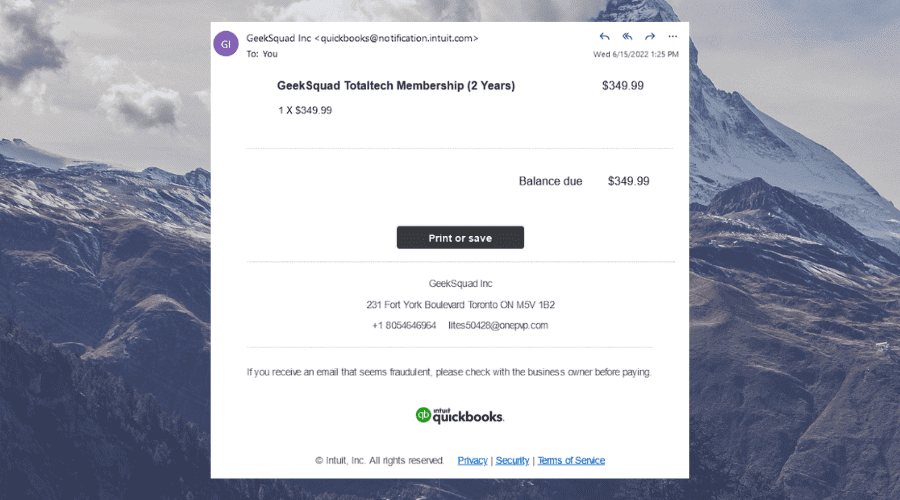 Like many other support-service scams, the criminals intend to get you on the phone and then pressure you into sending them money either for some services they allegedly offered or to convince you to download a malware cleaner on your PC invoking urgent danger for your data.
Even more, scammers will go further and create fake websites that ensure you that the service is legit.
Tips to avoid this scam:
Geek Squad or any other tech support group will seldom contact you directly
The scammer will not allow you to close the phone and will offer extravagant ideas and deals to keep you hooked
4. Misleading browser pop-ups scams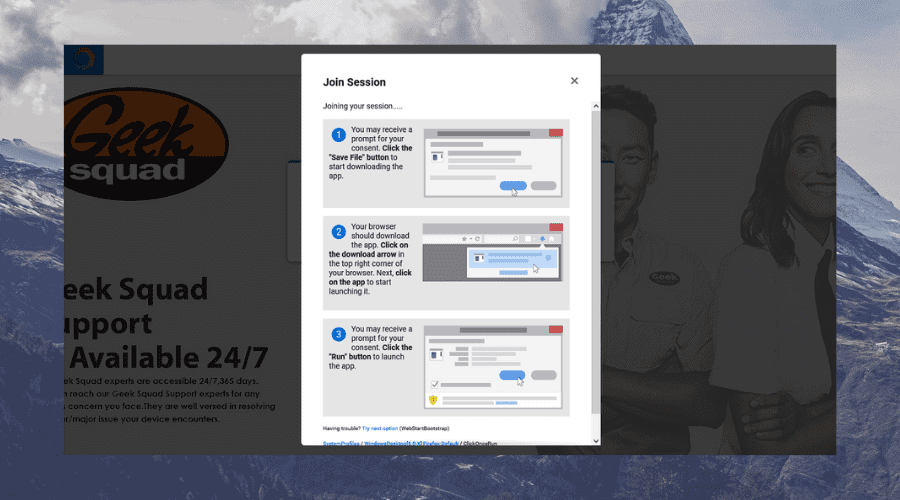 Con artists will use pop-ups appearing in your browser and try to convince you that your device is infected with malware or a virus and that it requires your urgent attention.
To ensure full control, the pop-ups will most likely not allow you to close them, and even if you manage to do it, they will pop up again.
In reality, this is just another method through which the scammers will infiltrate actual malware, ransomware, or even adware to your device.
Tips to avoid this scam:
Pay attention to any 'offers' that might promote device cleaner, malware removal, etc., and check the official website of the respective software.
Browser plugins do not have access to scan your system, as they are used only in a sandbox environment ensured by your browser.
5. Fake BestBuy password reset scams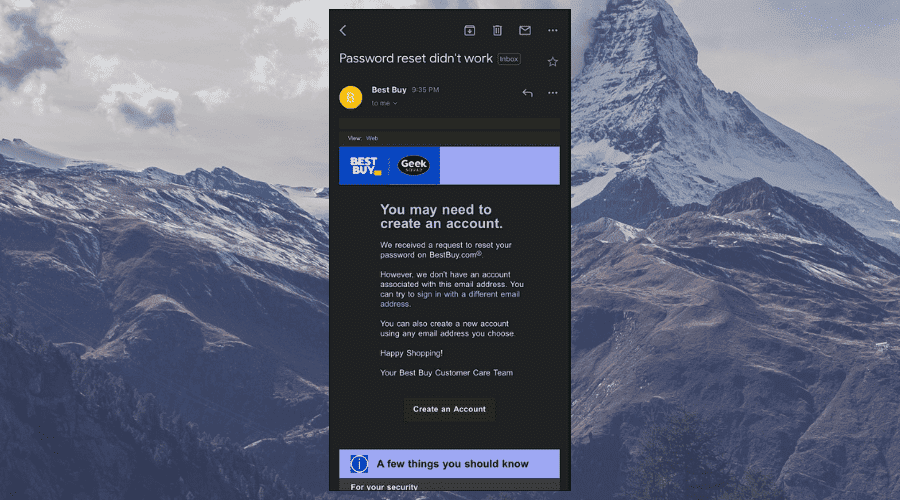 As you can see in the image above, scammers send fake emails pretending to be the BestBuy team and asking you to reset your password for a made-up reason.
As mentioned previously, if you click that link, it will take you to a (probably) perfect copy of the original website. Still, as soon as you enter your credentials, they have the information they wanted.
This allows the scammers to use your login information and make purchases in your name, like buying gift cards.
Tips to avoid this scam:
Ensure that any password reset emails are verified and that they didn't send you an email on an account you don't own.
Check the site you visit, ensuring that the site is secure and that it is the official BestBuy.com website link.
6. Made-up 'protection plans' scams
Scammers pretend to be technicians and contact you via phone or email to sell you protection services, such as antivirus, malware removal software, etc.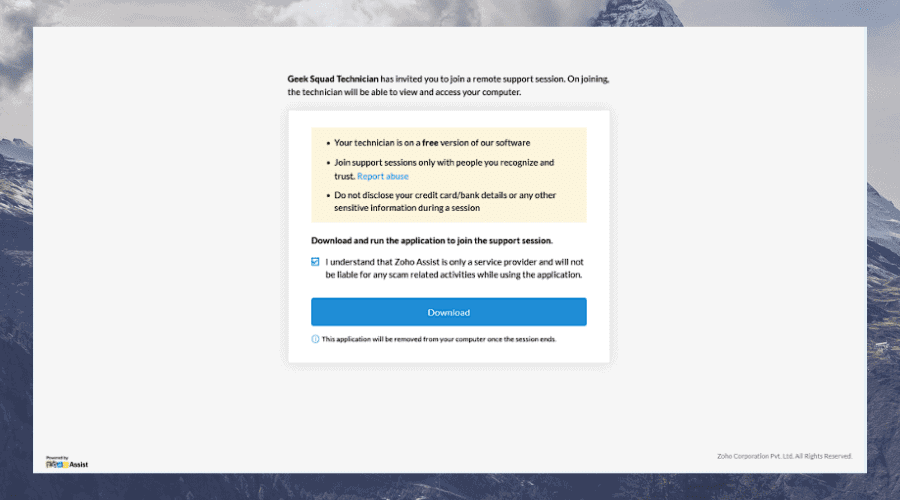 These types of scam emails usually pressure the victim into resolving the issue by making payments in the scammer's account while being threatened with a variety of ideas like you will lose all the data on your system or that the virus infestation is so bad that your computer needs a scam technician to gain remote access to your device.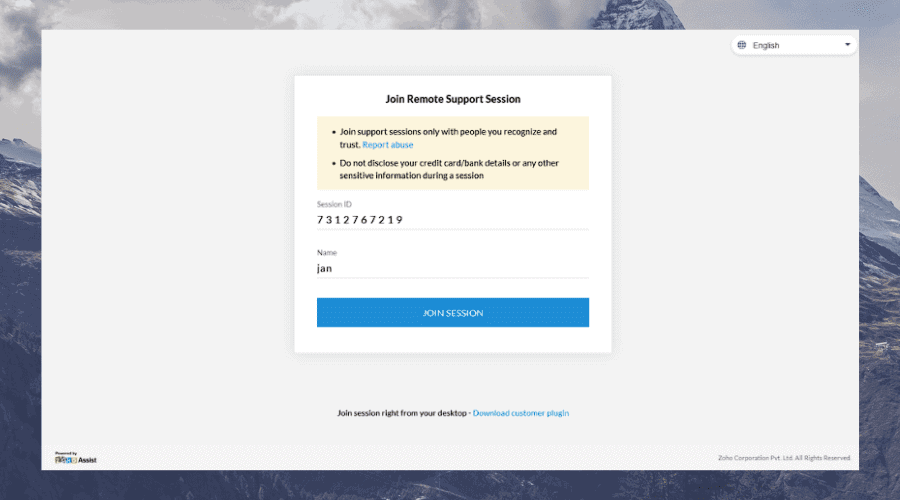 In the image above, you can see how it looks when you are a click away from allowing scammers to enter your system unrestricted.
Tips to avoid this scam:
Research and understand any so-called protection software, no matter how urgent the scammers make the situation.
Check online for reviews of the respective software from trusted sources.
Remember that no digital security services provider will ever contact you by phone or an unsolicited email to sell you services.
7. Overpayment or accidental refund scams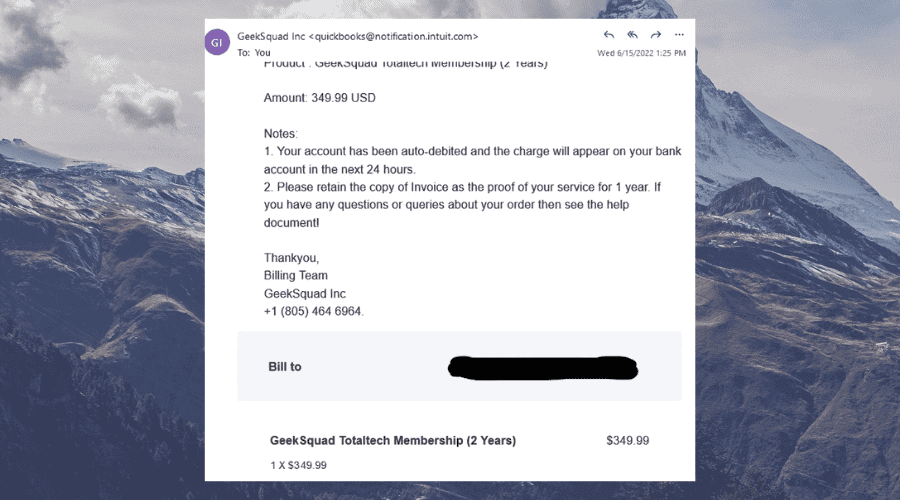 The so-called 'accidental refund' scam is used by fraudsters who email you that they have accidentally refunded you for a service and that when they did, they sent an extra amount of cash.
Then they proceed by asking the victim to cover the cost of the refunded service and add the extra amount which was 'accidentally refunded'.
Tips to avoid this scam:
Refuse any remote access control requests, even if the scammers try to convince you by saying that this is the only way they can provide a refund
The so-called refund money request should be ignored, and do not send any funds to the scammers.
Contact your bank to inform them of what happened.
8. Fake online ads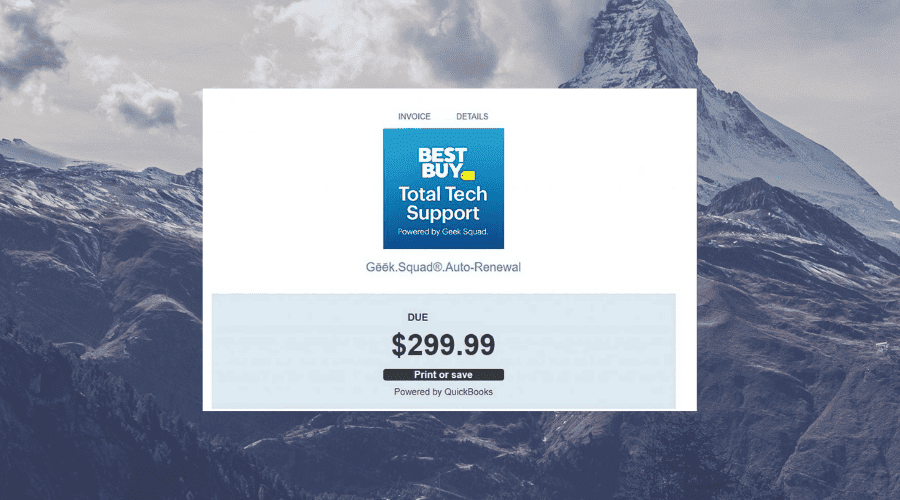 Scammers also use fake online ads to find their victims, presenting the user with a pop-up ad that doesn't seem to go away no matter what you do.
It usually appears repeatedly on various websites to convince you that it is just a normal ad from BestBuy offering tech support or other services.
Tips to avoid this scam:
–
How to prevent Geek Squad scams?
1. Use Intego to protect your devices and data
The Geek Squad fraud is only one of the many internet hazards completely covered by Intego, a top cybersecurity program. This software provides firewall features, virus detection, and real-time scanning to safeguard your devices and private data.
Thanks to Intego's sophisticated algorithms, which can recognize and stop phishing efforts, you won't be a victim of phishing emails or websites. It offers strong anti-phishing tools that thoroughly examine URLs, attachments, and email content to identify potential risks precisely.
How to use Intego
Launch the app and customize the settings to suit your needs. Be sure to enable real-time scanning, automatic updates, and firewall protection.
Perform regular scans with the software to detect and remove any malware or other suspicious files. You can also activate the automatic updates option to have peace of mind.
2. Verify the legitimacy of emails and phone calls
We recommend that you verify the legitimacy of anyone contacting you by phone or email who claims to be from the Geek Squad. To do so, contact Geek Squad directly using the corporate information.
3. Avoid sharing personal information online
Never give out sensitive information, such as Social Security numbers, credit card numbers, or passwords, through phone or email unless you are absolutely certain of the recipient's legitimacy.
4. Be aware of suspicious email addresses
Examine emails that claim to be from Geek Squad closely. Look out for phishing indicators like misspelled words, strange email addresses, or demands for immediate action. Never open attachments from dubious sources or click on strange sites.
5. Inform yourself about the latest scams
Try and keep updated about the newest scams and strategies fraudsters use while also understanding how to avoid them. Geek Squad regularly updates its website with information on this topic, so make sure to check it out.
What can I do if I am a victim of a Geek Squad scam?
---
To avoid scammers and defend yourself from the Geek Squad scam in the always-changing world of cyber threats, it is essential to stay one step ahead of scammers.
You may significantly reduce your risk of falling for these scams by being aware of the tricks used by scammers, analyzing communications, and using dependable cybersecurity software like Intego.