| Sponsored |
When people want to try out the latest technology, iPhone is always at the top of their list. People who have used an iPhone for a long time can understand this easily. But if you're someone who's never used an iPhone before and you're eager to try it out, don't hesitate.
We're talking about when you can't remember the password for your device and don't know how to unlock it. This happens so often that we need to remember the password and think it will be hard to get it back. However, knowing the solutions to the most frequently encountered problems is essential.
We have included a review of the FoneGeek iPhone Passcode Unlocker. You can use FoneGeek iPhone Passcode Unlocker if you are in the same situation or want to know how to get out of it. Although you may not be familiar with this, please read on.
How Does FoneGeek iPhone Passcode Unlocker Work?
In just a few minutes, you can get into your iPhone again with the help of the FoneGeek iPhone Passcode Unlocker. You read that correctly. It is no longer necessary for you to follow the procedures that could result in losing your data and take up the bulk of your time. Add this app to your suite of apps to keep your iOS devices going properly.
The user interface is cutting-edge and intuitive. It is optional to have a technical background to use this application. You should download it and use it right now.
Features
FoneGeek iPhone Passcode Unlocker has been updated with some fantastic features. The critical functions of this iPhone unlocker are as follows.
Resetting Screen and ScreenTime Passcode
The lock screen and screen time passcodes can be removed with FoneGeek iPhone Passcode Unlocker. You can delete everything from your phone when you deactivate the six-digit screen passcode. ScreenTime Passcode, which is only four digits long, can be deleted without losing any data.
Unlock or Change Apple ID without Password
Using this feature, you can remove an existing Apple ID from any iOS device. A password is unnecessary for this purpose. However, if you delete an Apple ID, all the information linked with it is also deleted. Your device's location won't be accessible until you again log in with that Apple ID. Another benefit is that you may easily set up a new one after erasing your old Apple ID.
What's the Deal with FoneGeek iPhone Passcode Unlocker?
Even though I had never used the FoneGeek iPhone Passcode Unlocker to unlock a phone before, I had no trouble learning how to use it. Please find below a detailed tutorial on how to utilize FoneGeek iPhone Passcode Unlocker to bypass the screen time passcode on your iOS device. Okay, let's get started.
Step 1: FoneGeek iPhone Passcode Unlocker can be installed on your computer and launched by double-clicking the program's icon.
Step 2: The main window should show a menu. Choose "Unlock Screen Passcode" since that's what we're trying to do.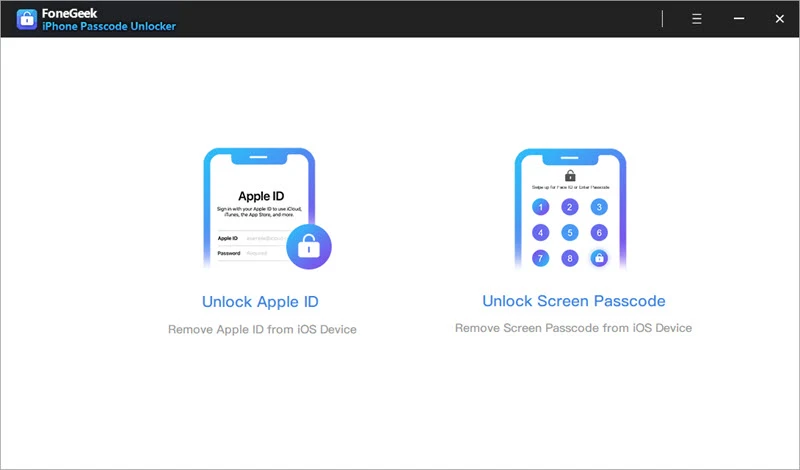 Step 3: Use a USB cable to connect your iPhone or iOS device to the computer. Once the app recognizes the device, click "Next" to move forward.
Step 4: After choosing the device model and the desired firmware, clicking "Download" will initiate the firmware download.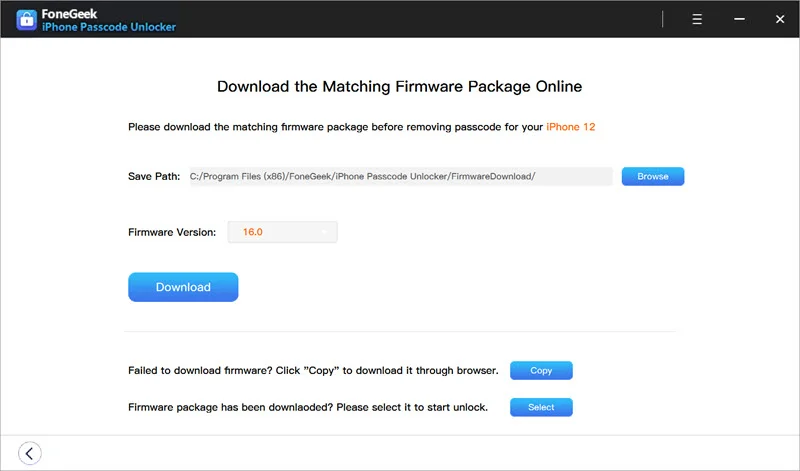 Step 5: After reading the instructions, click on "Start Unlock" to unlock the iPhone or iOS device. Start the procedure by clicking the "Unlock" button.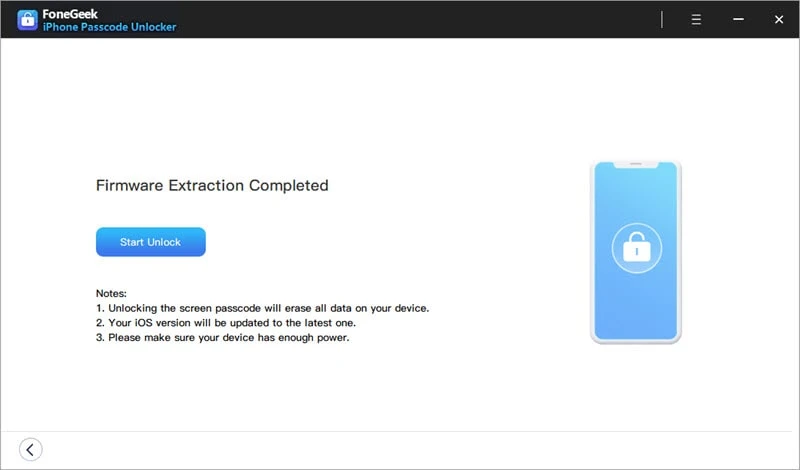 Remember that the device must be connected to the computer for unlocking.
Performance: From My Own Experience
I've used the software to get a concept. So that you may make a well-informed selection, I'll describe my experience with FoneGeek iPhone Passcode Unlocker and share my comments in this review's following section.
In my testing, FoneGeek iPhone Passcode Unlocker well exceeded my expectations. My iPhone was successfully unlocked. The rate of transfer was also quite good. Your iPhone can be unlocked, but only after you fulfill specific requirements. Make sure Find My Phone is disabled before removing or opening the passcode. Only the screen time password can be removed without erasing any data. If you want to get rid of your Apple ID, MDM, or Screen Lock, however, FoneGeek iPhone Passcode Unlocker will erase your phone. With a previous backup of your iPhone, you can retrieve your data.
FoneGeek iPhone Passcode Unlocker warns that the unlocking process can be risky if not performed exactly as instructed. However, if you utilize it following the on-screen recommendations, you shouldn't lose any data by accident.
If your iPhone, iPad, or iPod has been locked, has a broken screen, or is restricted by a mobile device management service, FoneGeek iPhone Passcode Unlocker is the best answer.
Pricing
Free trial versions of FoneGeek iPhone Passcode Unlocker are available for Windows and Mac users. You can only use unlocked gadgets, which require the complete version.
$23.95 for 5 devices (1 Month)

$33.95 for 5 devices (1 Year)

$45.95  for 5 devices (Lifetime)
FAQs Concerning FoneGeek iPhone Passcode Unlocker 
How reliable is FoneGeek iPhone Passcode Unlocker?
Indeed! It is one of the best methods available if you want to unlock your iOS iPhone with minimal time and effort.
Is there a cost to use FoneGeek?
The FoneGeek software has both a free and paid edition. There are restrictions on what you can do with the free version. However, if you upgrade to the paid edition, you'll get to try some truly impressive extras. Locking any of the four types of locks is simple as soon as you have them.
Can I trust FoneGeek iPhone Passcode Unlocker to delete my passcodes permanently?
Alright, of indeed! There is no need to worry about using FoneGeek iPhone Passcode Unlocker. You won't need a VPN or hack your device to utilize this tool.
Is it a good idea to get FoneGeek iPhone Passcode Unlocker?
Yes! FoneGeek iPhone Passcode Unlocker is a top-notch program for bypassing iOS device locks. It's the finest option to try out because the interface is intuitive, and it has all the best features built in.
Will FoneGeek iPhone Passcode Unlocker delete data on an iPhone before using it?
Yes. FoneGeek iPhone Passcode Unlocker will completely wipe your device of all information.
Conclusion
There are several ways to access your iPhone if you are locked out. Unlocking your iPhone or any iOS device with FoneGeek iPhone Passcode Unlocker is a risk-free and efficient method.
It's important to note that data loss is an inevitable side effect of the process and not something that can be avoided with alternative solutions. It is an issue unique to Apple's design.
FoneGeek iPhone Passcode Unlocker is great software. I suggest using it again. And if you ever find yourself locked out again, I advise backing up all of your iOS devices without using Find My iPhone.