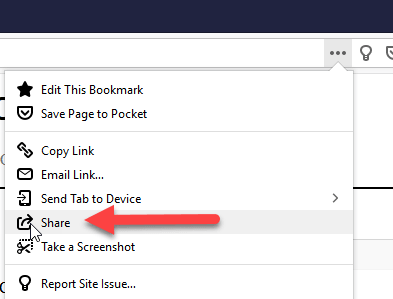 In October Mozilla released the first nightly builds of Firefox 64 with native support for the Windows 10 Share Dialogue.
Only available on Windows 10, the feature would introduce the Share menu item in the main menu of the browser when used on Windows 10 (it is hidden on other versions of the OS) and will open the usual native Windows 10 Share pop-up.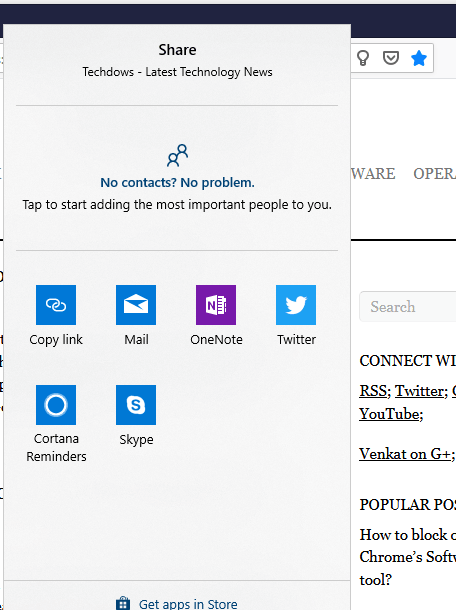 The feature is now available in the latest general release of Firefox which is available to download by all users.
The update brings the following improvements:
Better recommendations: You may see suggestions in regular browsing mode for new and relevant Firefox features, services, and extensions based on how you use the web (for US users only)
Enhanced tab management: You can now select multiple tabs from the tab bar and close, move, bookmark, or pin them quickly and easily
Easier performance management: The new Task Manager page found at about:performance lets you see how much energy each open tab consumes and provides access to close tabs to conserve power
Improved performance for Mac and Linux users, by enabling link time optimization (Clang LTO). (Clang LTO was enabled for Windows users in Firefox 63.)
More seamless sharing on Windows: Windows users can now share web pages using the native sharing experience. You can access Share in the Page Actions menu
Added option to remove add-ons using the context menu on their toolbar buttons
New for enterprise users: Updated the policy engine on macOS to allow using configuration profiles to customize Firefox for enterprise deployments
Hopefully, this improvement is evidence of Windows 10 slowly reaching critical mass, such that developers can no longer ignore the changes Microsoft made to modernize the user experience for users of the operating system.
See the full release notes and find the download here.
Via Thurrott.com