As the world is evolving constantly, keeping your PC's drivers updated can significantly impact your overall experience. You can perform the update process manually by using the built-in Device Manager. Still, this method could potentially harm your system, as installing the wrong driver can make your entire system inoperable.
This is where having good driver detector software can make a difference. This type of software scans and downloads the correct drivers in an instant. Choosing the right driver updater tools is daunting, as the market is over-saturated with options. Some are good, some are bad, and some are very dangerous. Our guide provides a clear and comprehensive idea about what each tested software can do.
I've tried out more than 30 software of this type and presented you with the best available options, fit for novices and users looking for advanced features. To find the best driver detector software, I've done the following:
I've downloaded all the free app versions and compared their features, brand and driver database, and ease of use.
After initial tests, I upgraded to premium versions to check out the full features and see which ones were worth it.
Finally, I contacted support to find out how helpful and responsive they are.
Here's what I've discovered:
What is the best driver finder software?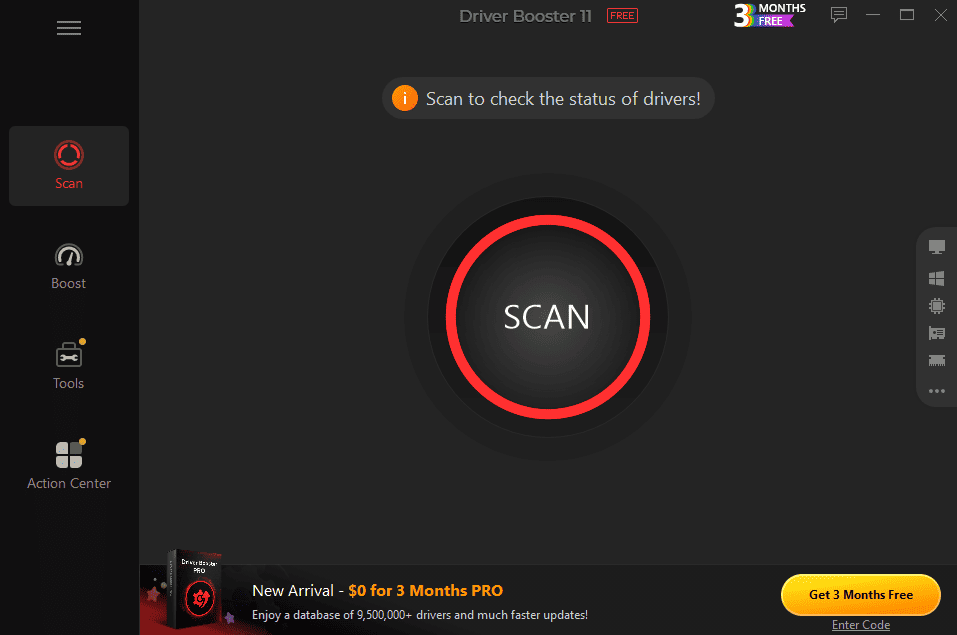 The Driver Booster software from IObit is one of the best driver updates on the market, and it didn't disappoint me during my testing process either.
Once installed, this software does all the heavy lifting for you, scanning your PC's hardware and identifying any drivers needing updating. The scanning process will take some time, but it is far more efficient than doing it manually.
Driver Booster's databases contain over 6 million drivers, covering hardware requirements from over a thousand brands.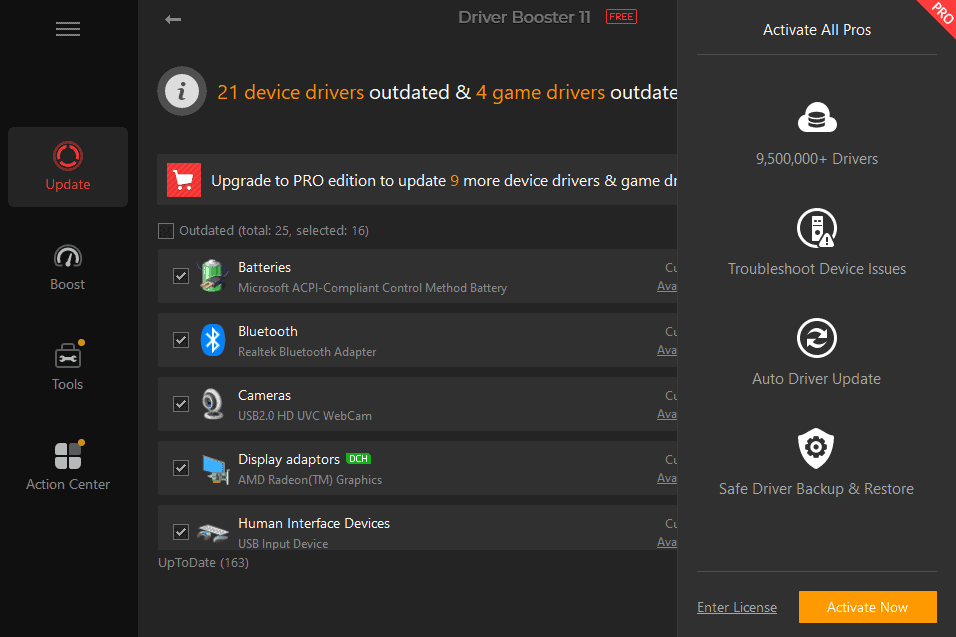 Driver Booster was good at finding outdated drivers and updating them quickly and accurately during my tests, without any of them being identified wrong or taking too long to find.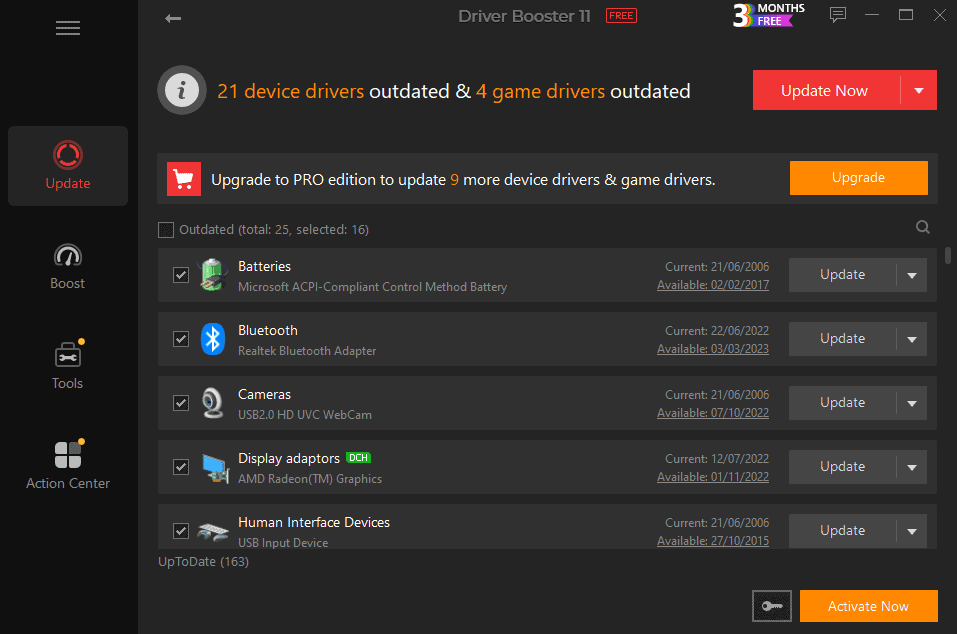 Using its powerful algorithms, the software identifies all the drivers missing from your system (or that need to be updated) and ensures that no wrong driver will be installed.
The software was designed with ease of access in mind, and thus, Driver Booster presents all its features in a user-friendly interface that makes every option clear.
As the name suggests, Driver Booster also contains other valuable tools that can help boost your PC's performance. They include Game Boost, Internet Boost, and System Optimize options, which you can see below.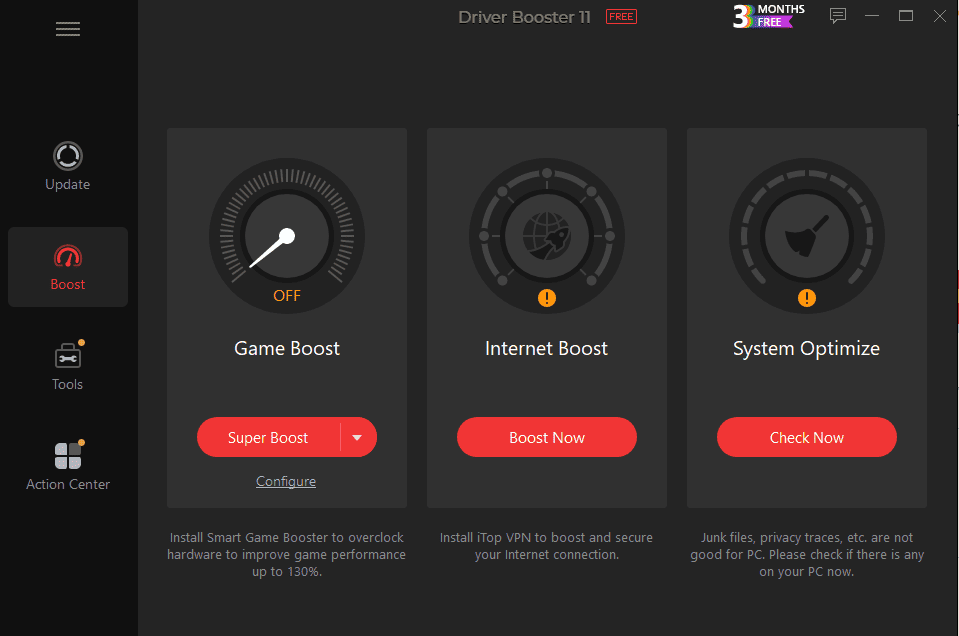 The software also offers its users other great tools to help with your PC optimization process.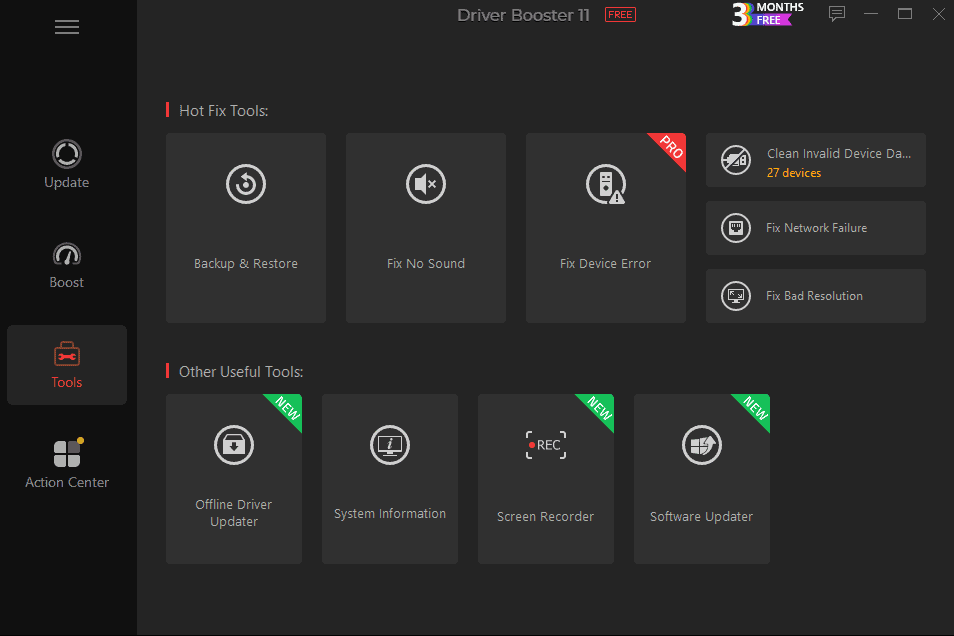 As you can see, Driver Booster offers a suite of great tools that can help you keep your drivers updated, boost performance, and optimize your PC.
Pros
Automatic driver scanning
More than 6 million drivers from thousands of brands
User-friendly interface
Efficient and accurate in identifying your driver needs
A good set of boosting features for games, the internet, and the system
Valuable tools like backup & restore and error fixer are included
Cons
Even though it has a free version available, some of the most essential features are offered in the paid version
The software will not be as effective if you have slow or unstable internet
The installer's default settings also include iTop VPN and iTop Screen Recorder
Ashampoo Driver Updater acts like a professional PC repair person, ensuring your PC is always maintained and operates at the best performance possible. This is where the similarities with computer tech end, as this software can automatically identify which hardware requires a new driver and then allows you to download them straight from the software's interface.
This tool was designed with speed in mind and provides just that. It scans through your PC storage and checks your system configuration against the latest driver releases from your specific hardware producer. Once it finds them, it updates them instantly with the correct version and the newest iteration of the driver.
As you can see, the software has identified four drivers that would require an update on my PC. You can install each one by clicking the Update Now button next to the respective driver or the Update All button to update everything. It's worth noting that using the Update All button will require you to buy a license for the software.
The software will now create a backup for the respective driver and begin downloading and installing.
During my research, Ashampoo Driver Updater has proven that it isn't limited to fast scanning. It's also got the versatility to handle a wide range of hardware and software, no matter how new or old your system is. This ensures that even if you have an obscure system, Ashampoo Driver Updater will easily find the missing drivers.
This software operates with precision and efficiency, reducing the risk of system instability and offering you peace of mind.
Pros
Easy-to-understand interface
Fast scanning for drivers
Can perform updates both selectively to all drivers required
Automatically creates a backup of the driver before downloading a new version
In-depth scanning features
Cons
Updating all drivers at once requires you to have a license for the software
3. Driver Easy – Automatic Driver Scanning & Update
Driver Easy is another contender for the best driver detector software after my testing phase. As the name suggests, it makes it easier than ever to manage this part of your system.
This software offers users a quick and easy scanning and updating process. Best of all, I was able to do all basic tasks with the free version.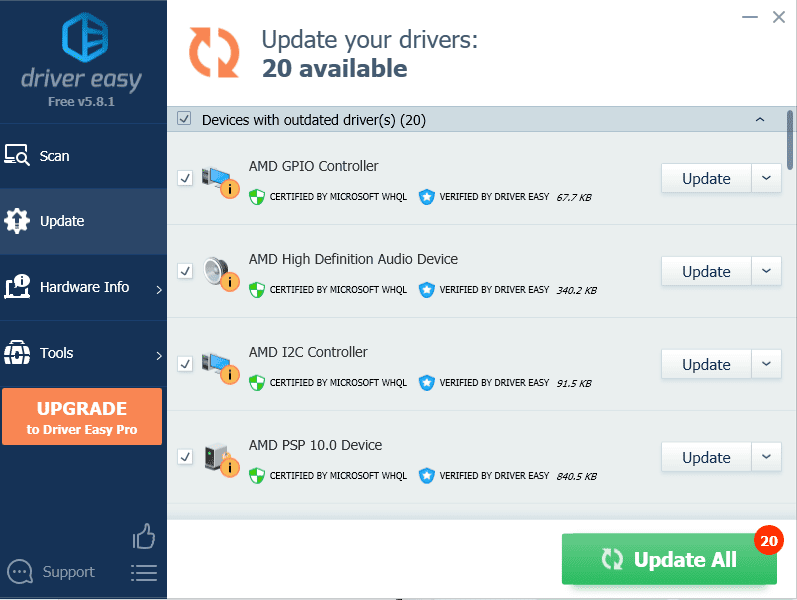 The Pro version allows you to use the Single-Click update process for all drivers, streamlining the process considerably.
However, Driver Easy is not as powerful or updated as often as other software I've tried. Still, it provides a good update and identification process. What makes it stand out from the crowd is its reasonable price.
Pros
Easy to use with an accessible interface
Quick scanning process no matter how large the storage is
Cons
Updates are infrequent, which doesn't compare to other software
Even though it has an accessible price, it might not be a good option for occasional use
4. DriversCloud – Easily Locates Hardware Information & Drivers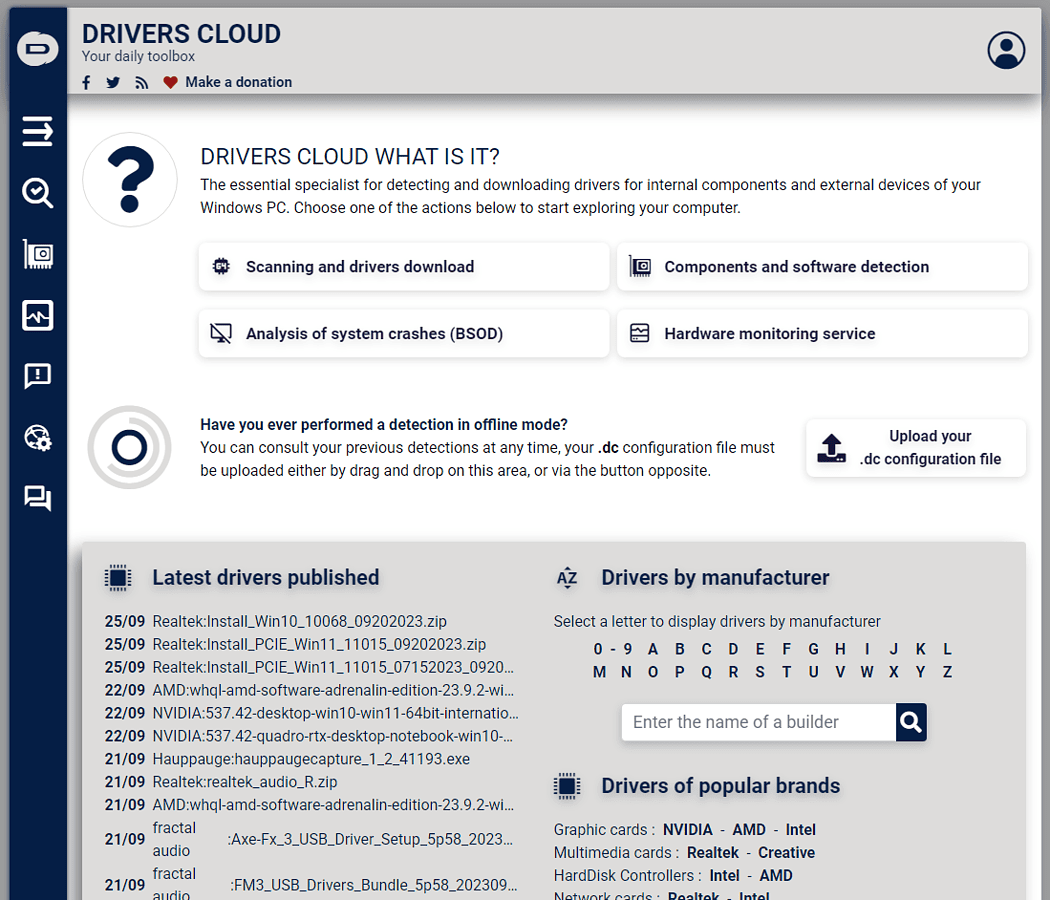 DriversCloud is our second pick for the best driver detector software, and it stood out from the other software options I tested because of its excellent results.
As you can see below, the Drivers Cloud tool starts by analyzing your system's hardware and identifying any drivers needing to be updated or replaced.
The download process from the main website is very straightforward, and the fact that the app stores all my system's details in the cloud makes it easier than ever to access it on the go. After the scanning process has been completed, the tool opens a page with the results, which show you your system's configuration and suggests a list of drivers that need to be installed.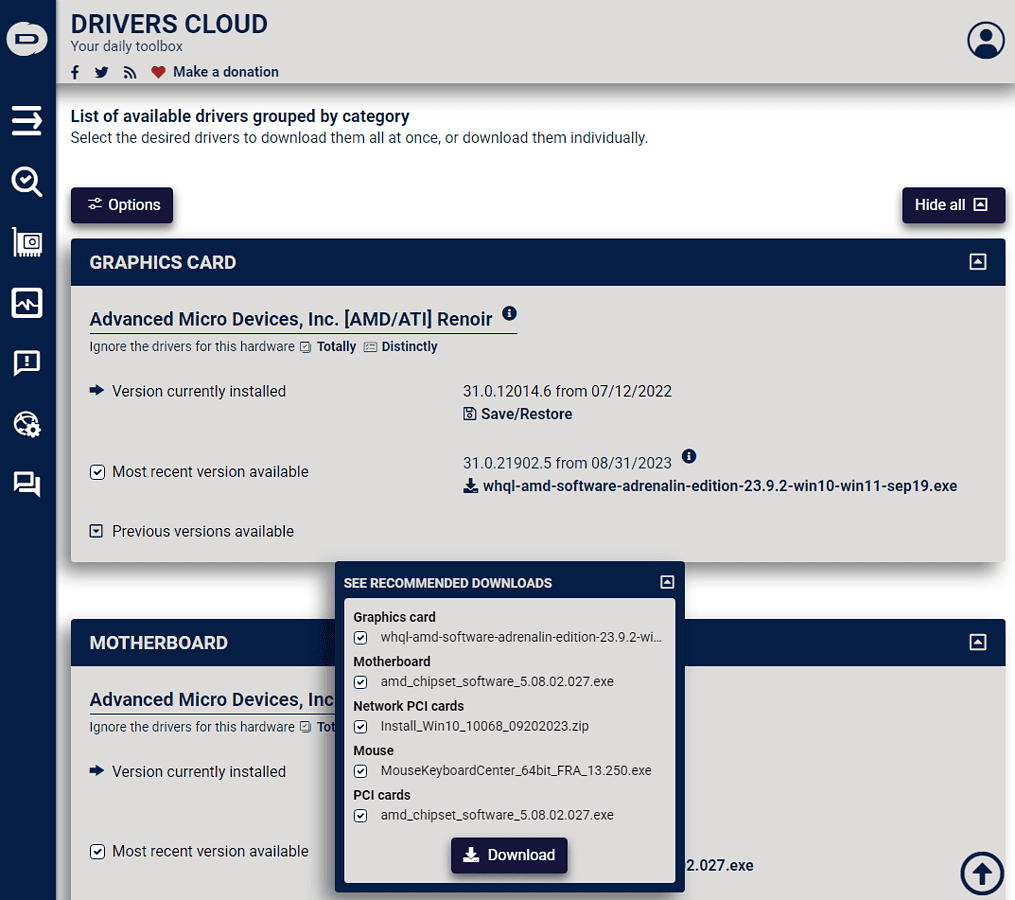 Once you choose the drivers you want to install from the suggestions, the software will create a restore point, download the respective drivers, and open the download location automatically so you can install them on your system.
DriversCloud also provides a helpful overview of your hardware and software, besides being able to identify and download the correct drivers. This tool gives you a quick and valuable overview of your PC's state and can help diagnose and solve other hardware-related problems.
Pros
Provides a detailed system analysis and driver list
Offers support for a wide range of hardware and software
Very accurate results when scanning for drivers
The interface is user-friendly, but the process might not be as clear
Cons
The detection process could be overwhelming for some beginners
The app doesn't automatically install the downloaded drivers
5. DriverMax – Driver Backupper with Backup Features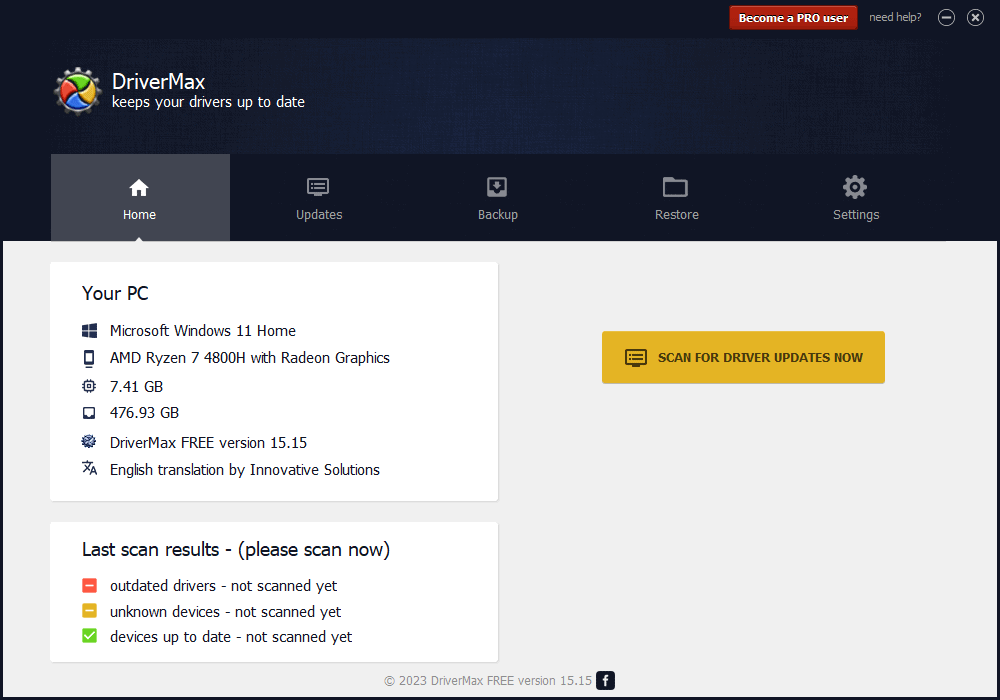 DriverMax is a smart alternative that provides users with a streamlined method to scan and update the drivers of their devices.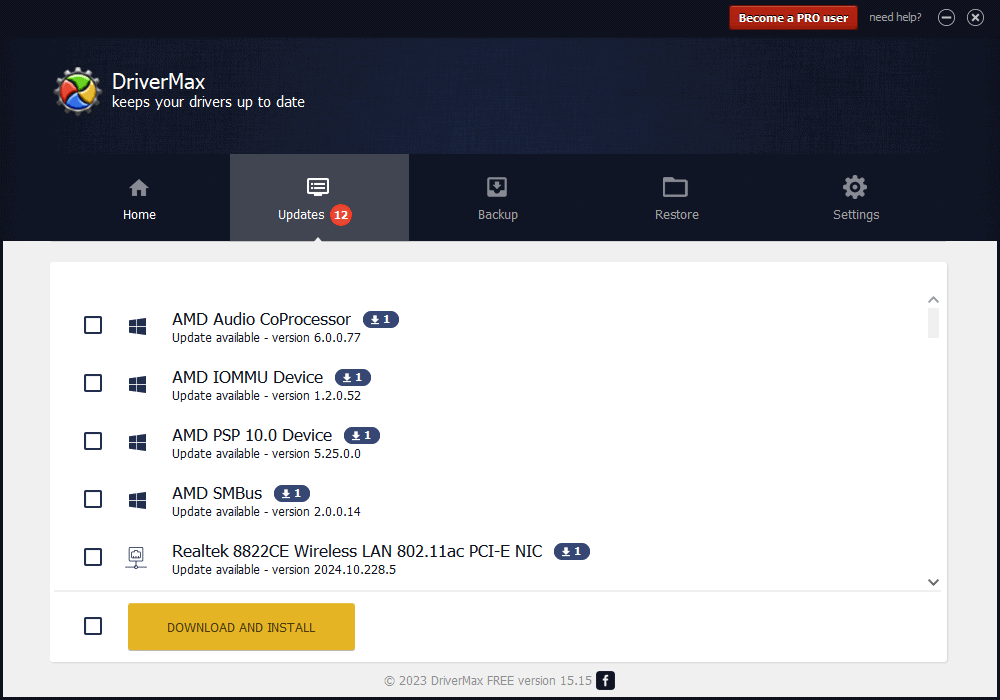 This software offers free driver updates, but the process took quite a bit of time for me. Despite this, DriverMax deals with driver updates, backup, and restores in a satisfying way. Best of all, it only took me a couple of clicks from start to finish.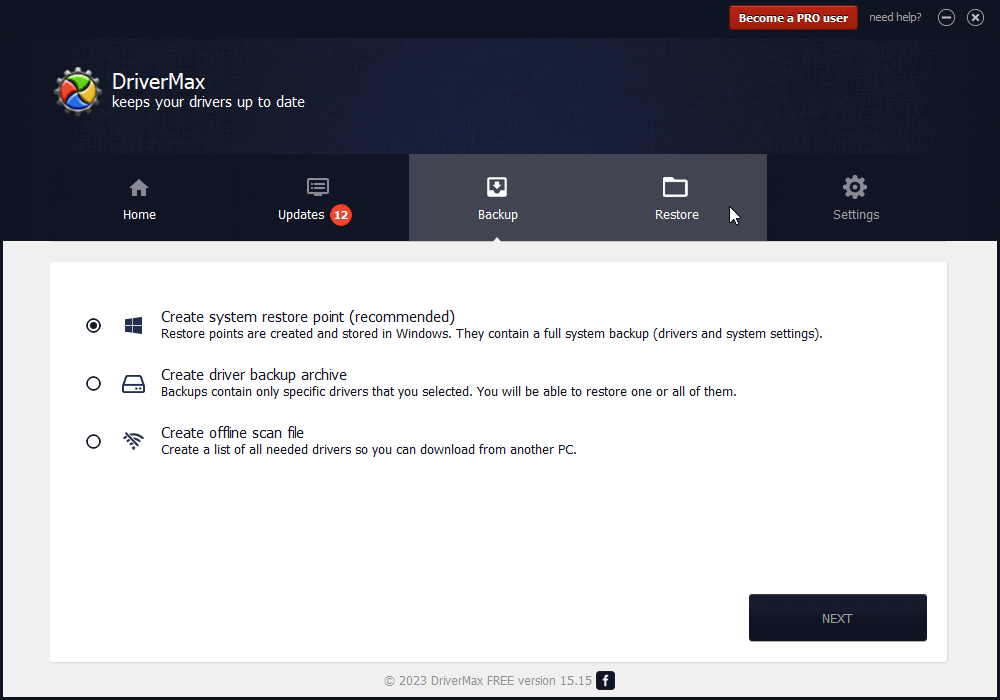 Above, you can see a glimpse of this software's backup and restore features.
Pros
Easy to install and use
Good scanning process that identifies missing or corrupt drivers
Cons
Some users reported that the software installed incorrect drivers
The software has been flagged as adware multiple times
6. Driver Reviver – Good Driver Scanner & Downloader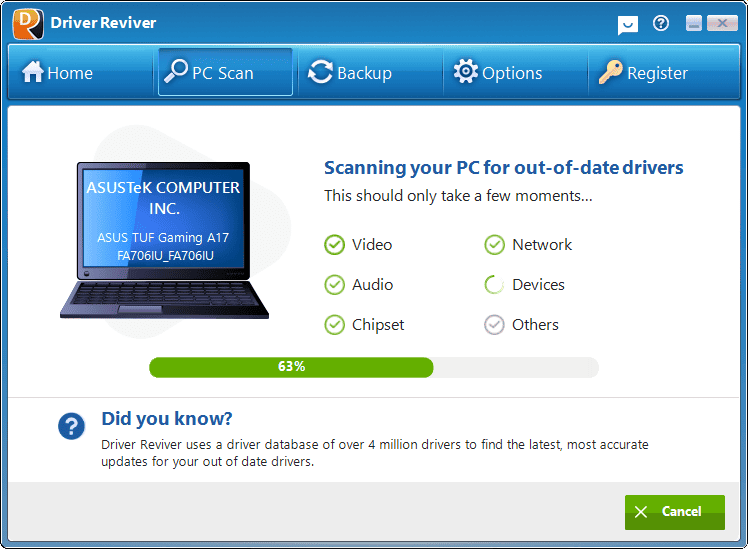 Driver Reviver is a decent driver scanner that keeps your device's drivers updated and offers users a quick and easy way of doing so. The first thing I've noticed as I installed and opened the software was its user-friendly interface and clear structure of the menus.
However, during my tests, it didn't detect all the missing drivers that the other software has. So, the identification process is not as well performing as other similar software. This problem occurs even more often if you're trying to use it with a custom-built PC.
You can scan and download individual drivers for free with this app, but if you want access to the Update All feature, you must register a Pro account.
Driver Reviver's quick scanning process, combined with the user-friendly interface, makes it a good option for some users. The minimal system impact makes it especially suitable for low-end PCs.
Pros
User-friendly interface
Efficient and fast scans
Cons
The free version is limited
It doesn't have an uninstallation package, so it might be an issue when trying to remove from the device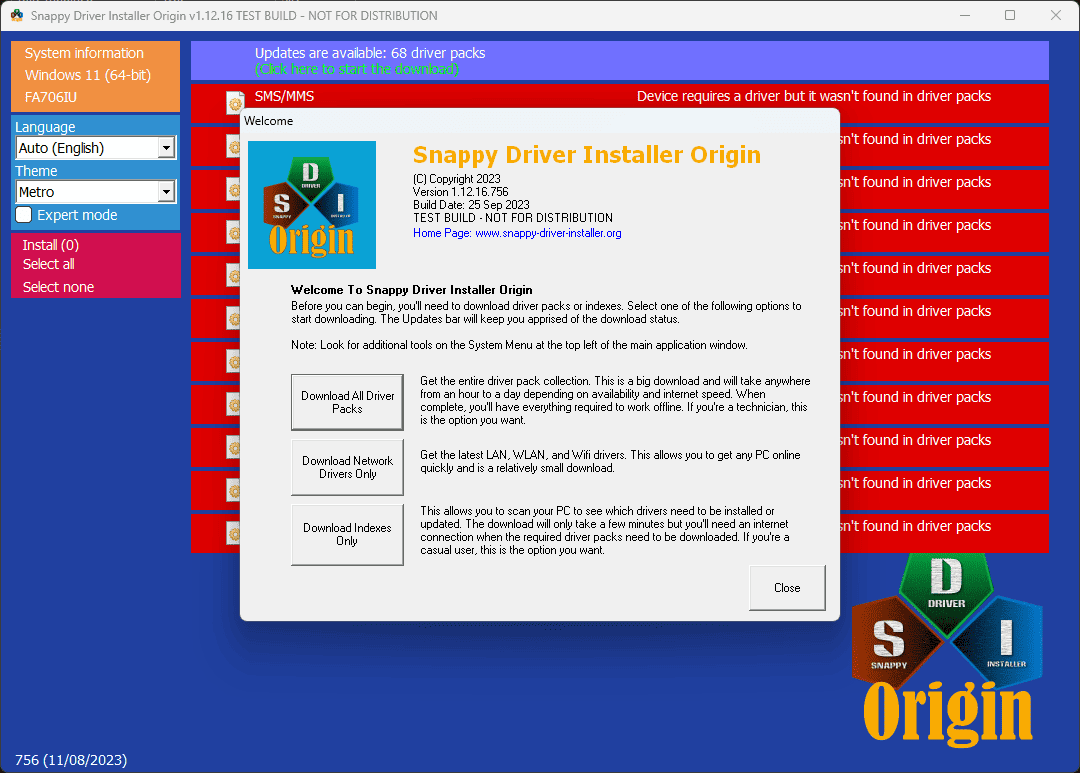 Snappy Driver Installer Origin is another good driver detector software worth mentioning from my research on this topic. This handy tool is all about making sure your computer is running smoothly by keeping your drivers fresh.
The other software version, Snappy Driver Installer, was taken over by some developers who inserted malware into the software. The above version, Snappy Driver Installer Origin, is perfectly safe.
All you have to do is download the archive from the direct link above and extract it to a location on your PC with enough space.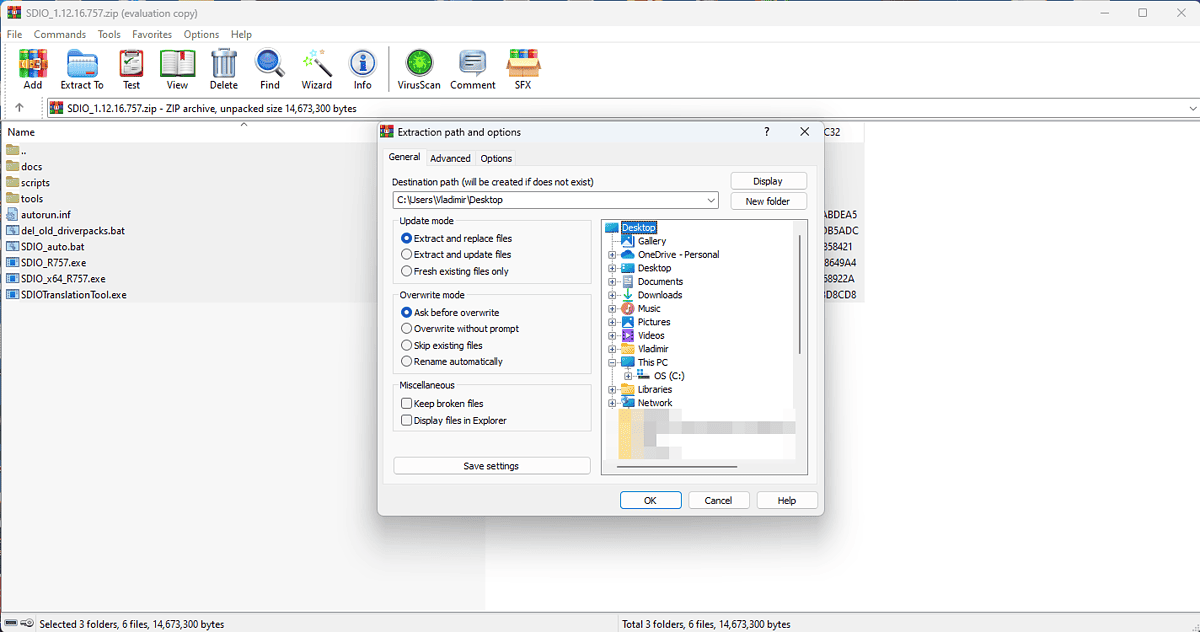 What I really liked about Snappy Driver Installer is that it can work offline. So, even if you're not internet-connected, you can still install those driver updates.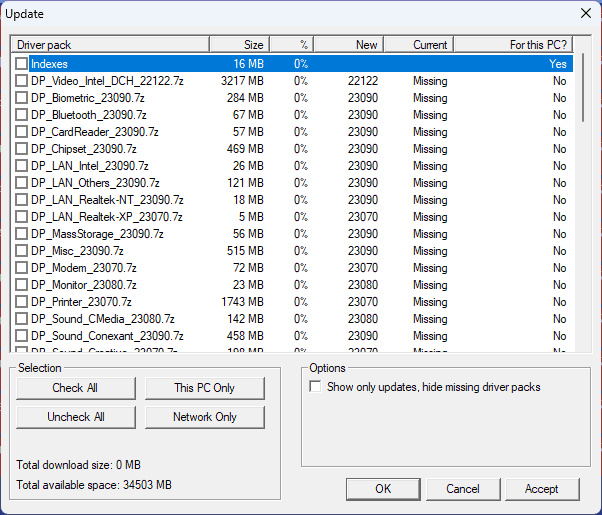 That's a feature that not a lot of other driver detector software supports, so try it out today!
Pros
Good scanning features
It can be used offline
Efficient scanning
Cons
It is not suitable for beginners but offers great results
The setup is more cumbersome than in the case of other software
---
Choosing the right driver detector software is complicated enough to make people avoid searching for good software. Besides the adware and other possible issues with these types of software, you also have to spend time researching.
This guide acts like a shortcut that you can use to your advantage. I've reviewed these tools in great detail so you can choose the best fit for your needs.
Don't hesitate to share your choice using the comment section below.