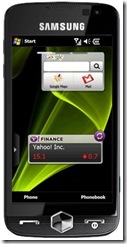 Like most I cant wait to get my hands on a real Samsung Omnia 2, but that will still be a while, and for those of us who need a bit of something in the mean time, Samsung has put together a cool simulator of the phone in action. 
Unfortunately the simulator isn't very deep, but you can click, swipe, select widgets, type and get a pretty good idea of what the UI is all about. 
Give it a try over here.
Via Pocketnow.com