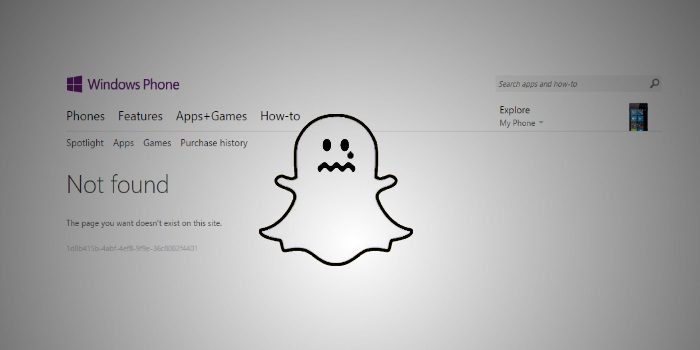 Another day, another Snapchat petition. This one has 30, 000 signatures. It'll surely be the one to convince Snapchat to bring a Windows Phone app. No? Maybe the next petition then? How about we spam their twitter page with a hashtag that can be easily filtered out?
Please just stop.
If you're labouring under the misapprehension that Snapchat doesn't know what they're missing or how many users they stand to lose – you're wrong. Snapchat does know. They just don't care.
Just like Pebble, the CEO of Snapchat isn't a fan of Windows or Microsoft. Previously, there had been talks between Snapchat and Nokia as well as Microsoft. Nothing has come of it yet. Snapchat knows very well what they're doing. Spamming them won't change anything. Please just stop.
Here are the facts. In February 2013, Snapchat tweeted that they were meeting with the Windows team in Redmond in other to make sure they could support their vision. Many interpreted it as meaning an app was coming soon, and it most likely would have. This was the first of many talks Snapchat would have with Microsoft over the next year all leading to nothing.
In July 2013 Windows Central reported that Nokia was undergoing talks with Snapchat and would, in fact, have a Snapchat app ready for launch with the new flagship Lumia, the Nokia Lumia 1020. July came and went and Snapchat were nowhere to be found. We can surmise that the deal failed and there was a falling out of sorts or there was some sort of delay. Now then, there was speculation around whether Windows Phone actually supported all features necessary for Snapchat. Rumour had it that GDR3 would bring the final missing piece necessary for Snapchat to create a fully functional app. Very well, GDR3 was announced in October 2013 along with the preview for Developers program and Lumia Black was launched at Nokia World in Abu Dhabi with a shiny new flagship and yet, there was no Snapchat in sight.
The next time hope of an official Snapchat would pop up was during Joe Belfiore's AMA session on Reddit. Joe confirmed that talks were going on with the Snapchat team. For him to say it during an AMA, he must have been led to believe that a deal was close. However, once more, nothing came out of it.
At this point, Windows Phone users were content with the third party Snapchat apps like 6snap and Swapchat available for Windows Phone. Sure we couldn't have the official app like Youtube, but unofficial apps were good enough so why bother. Then the "Snappenning" happened. A third party Snapchat app had led to the privacy of many people, including celebrities, being violated. Snapchat instantly clamped down on all Snapchat clients and over the next few months, all third party apps would be killed off. Popular Windows Phone developer Rudy Huyn made a public appeal to Snapchat, showing them stats and going so far as to offer them access to source code of 6Snap, his own Snapchat client. A few months of deafening silence later, and even he has admitted defeat.
You can lead a horse to water, but if that horse really hates water, has pissed in all the pools you've offered him so far and violently kicks all those who bring bowls of water to him…maybe you should give up on making that horse drink.
In short, if you really, really need Snapchat and you can't live without it, if you can't live without sending vanishing pictures to other people via Snapchat, you don't have to have a Windows Phone. Buy an Android or iPhone. If you don't mind or you don't want a startup to dictate what you can and can't do, you're free to join us if you want. There are over 60 million of us, and the water's nice and warm.