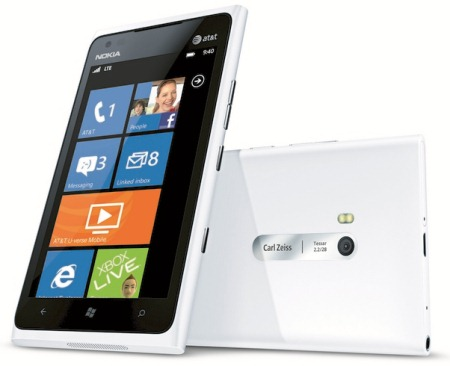 The Nokia Lumia 900 is coming to AT&T in the next few days, and analysts are hoping for the best but expecting the worst.
Sales in the first three months of availability may reach hundreds of thousands, rather than millions like for the market-leading iPhone, according to Deutsche Bank AG and Avian Securities LLC.
"It's going to be an uphill fight," said Matthew Thornton, an analyst at Avian in Boston. "The Nokia brand, while I think it's still known here, lags Apple and even Samsung. I don't see the phone becoming a hit."
Citing muted consumer demand for Windows Phone and intense competition, Deutsche Bank's Kai Korschelt estimates that Nokia could sell 680,000 Lumias a quarter at AT&T. If consumers show little interest and AT&T cuts back its support, sales could be as small as 140,000 a quarter, the analyst said in a March 30 research note.
Avian's Thornton, who rates Nokia shares neutral, estimates that the company will sell 370,000 Lumia 900s this quarter. That would be about 5 percent of AT&T's smartphone sales, he said. In the fourth quarter, AT&T activated 7.6 million iPhones after introducing the latest version in October.
Thornton said it was crucial for the phone to become a hit to give carriers a reason to offer Nokia's future Windows Phone devices, he said.
"If it flops, AT&T is going to have very little incentive to push this again when they come out with the next product," Thornton said.
The problem of course is that while analysts all expect sales below a million, they all demand better sales before they would call Nokia's re-entry into the US a success.
"This launch will set the tone for Nokia's recovery," said Alex Spektor, an analyst at Strategy Analytics in Newton,Massachusetts. "The U.S., since the rise of the iPhone, has become the most important market for mobile devices so success here is important for any vendor who wants to succeed on a global scale."
While Nokia and AT&T declined to give specific targets for the device, quarterly sales at below one million would likely disappoint them given Nokia's typical volumes in other markets.
"It'll have to be a number that starts with an 'm,'" John Jackson, an analyst at CCS Insight in Boston said. "Nokia doesn't tend to get out of bed for any less than several million in the course of a year."
Still, the Nokia Lumia 900 has a chance.
"Windows Phone is the best operating system that no one is using," said Roger Entner, an analyst at Recon Analytics in Dedham, Massachusetts.  "The timing is good, there's no other major phone entering the market right now. The iPhone 5 is still months away."   "It's critical for them to get this phone in people's hands," he concluded.
Still, Nokia and AT&T executives still say they don't put a lot of emphasis on Lumia's sales numbers right out of the gate.
Chris Weber, Nokia's U.S. sales chief, said the important number he will look for is the Lumia's net promotion score. That is the tally from a one-question survey asking users how likely they are to recommend the device to a friend or colleague, on a scale of 1 to 10. Low scores are subtracted from high scores to give a numerical rating, which Nokia hasn't revealed.
"How many we sell on the first weekend may not be the most important metric for us," said Jeff Bradley, AT&T senior vice president of devices. "We want to see slow, steady growth."
Do our readers think Nokia could reach a 15% market share on AT&T for Q2 2012, up from 2% Windows Phone market share at present? Let us know how below.
Via Bloomberg.com.
Thanks Arun for the tip.