Marketing, which is now mostly digital, is at the forefront of many AI tools and applications. In fact, online advertising has already been automating many of its tasks for over a decade.
However, in such a multifaceted industry, what does the current wave of AI look like in marketing? These AI marketing statistics explore current adoption rates, market share, use cases, and attitudes – among other fascinating data.
Key AI Marketing Statistics
Below are our top picks for the most important AI in marketing stats.
73% of marketing executives have adopted AI at their companies.
74% of marketers will use AI in more than a quarter of tasks by 2027.
Generative AI is being adopted by marketing faster than any other industry in the US.
AI in marketing is currently valued at $15.84 billion and will surpass $100 billion in the next 5 years.
Almost 90% of marketers believe their organization should increase AI use.
AI Marketing Adoption Statistics
These AI stats look at how the tech is currently being used and adopted within marketing.
1. More than half of business leaders now use AI for content marketing.
(Source: SiegeMedia)
As part of their company's content marketing strategy, 52% of surveyed business leaders have adopted generative AI to help create content for their marketing campaigns. By the end of 2023, 64.7% will have tried some form of AI for marketing.
2. 73% of marketing executives have adopted AI at their companies.
(Source: MarTech)
Marketing executives in both B2B and B2C companies have adopted AI tools, including generative AI. Of those that have yet to try AI, 31% aim to do so in the next year, while 46% have a two-year timeframe in mind.
3. The use of AI in marketing has grown 55% in 4 years.
(Source: SalesForce)
Although marketers were early adopters, there was still a 55% growth in AI usage between 2018 and 2022. Between 17% and 18% of marketers are still scaling up their AI marketing usage.
4. Generative AI is being adopted by marketing faster than any other industry in the US.
(Source: Statista – AI Adoption)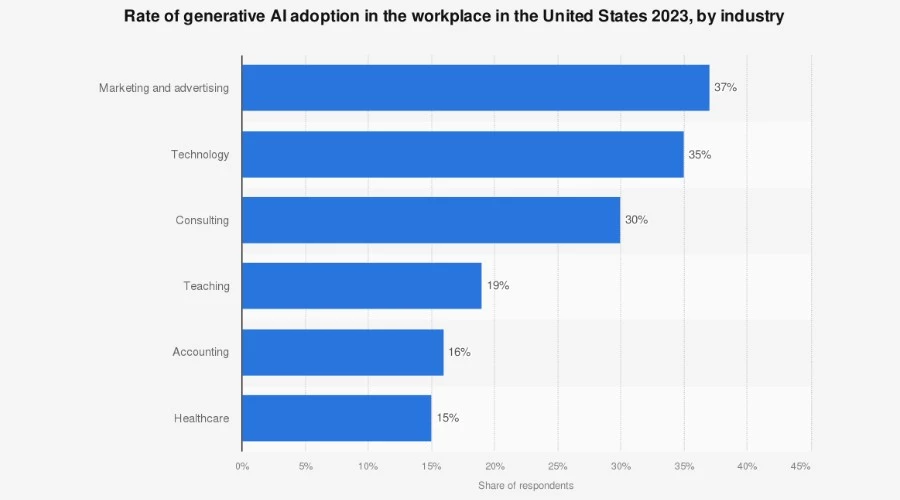 Based on a survey of over 4,500 people, the generative AI adoption rate is the highest in the marketing and advertising sector. 37% of those employed in the field said they use AI tools for their work. It's also widely used in technology (35%) and consulting (30%).
5. AI generation will account for 30% of large companies' outbound marketing messages.
(Source: Gartner)
By 2025, AI-generated content will make up 30% of all large companies' outbound marketing messages, which is a huge increase from less than 2% in 2022.
5. Search advertising and dynamic pricing are the processes automated the most.
(Source: Inkwood Research)

Of the many ways AI is being used in marketing, search advertising, and dynamic pricing are the front runners. This is followed by content curation and then analytics.
The use of virtual assistants is the fastest-growing marketing application. This improves client/user accessibility and frees up time for other non-automated tasks. As an example, HubSpot uses a virtual assistant called Einstein to automate customer service, personalize marketing campaigns, and optimize marketing ROI.
6. 33% of marketers who adopt AI use it to inspire new ideas
(Source: HubSpot)
Everyone sometimes gets a creativity block, but for marketers, AI has come to the rescue for 33% of those that use such tools. A smaller percentage (28%) use it to generate written content itself, while 26% use AI image generators for campaign graphics.
7. Nearly 80% of marketers are automating customer journeys to some degree.
(Source: Ascend2)
In marketing, the customer journey is the path someone takes from first encountering the product to completing the purchase. In 2022, 78% of marketers were automating this process to some degree.
47% were partially automated, 22% were mostly automated, and 9% had the whole customer journey automated with no need for human intervention.
8. More than 80% of companies that use AI chatbots view them as essential.
(Sources: IBM, Drift – Chatbots)
With 71% of customers expecting companies to respond to them in real time, it's no surprise so many are using AI chatbots, even if it's just to stall them until human support staff are available.
82% of companies that use AI chatbots say that they are an important part of their sales and marketing strategy. 74% of those that don't already use chatbots intend to do so in the future.
9. Over half of B2B marketers use AI chatbots for demand generation.
(Source: Statista – B2B AI)
AI chatbots are not just common for public-facing businesses. Data reveals that 57% of B2B marketers are using chatbots for demand generation, which helps them understand their target audience better.
Meanwhile, 55% use chatbots for lead generation and 43% use these tools to educate clients that are asking about their products.
10. Marketers use Jasper AI more than any other generative AI tool.
(Source: Influencer Marketing Hub)
Although ChatGPT is the most popular mass consumer AI bot, marketing pros need additional features for content creation and campaign elements. This is where services like Jasper AI come in.  32.8% of marketers favor this tool, followed by ChatGPT (22.4%), Copy.ai (9%), and Frase.io (9%). A range of other tools make up 26.9% of AI in marketing.
11. The most successful AI marketers have a clearly defined strategy.
(Source: SalesForce)
A study of what makes AI adoption successful in marketing found 70% of high-performing companies have a clearly defined AI strategy. While 35% of underperforming companies also have a defined strategy, 65% didn't.
12. 52% of high-performing marketing companies have increased AI usage.
(Source: SalesForce)
The use of AI correlates with success. 52% of those deemed high-performing companies increased their AI usage in the past year, while 32% maintained the same usage. On the other hand, only 39% of moderate performers increased usage.
Just 28% of Poor performing marketing companies increased AI usage.
13. AI adoption increased email marketing conversions and revenue by 41%.
(Source: TRG)
Applying AI to email marketing campaigns cuts costs, saves time writing content, and allows for easier customization and tailored suggestions as AI crunches all the data for you. It's never been easier to create vast email marketing campaigns with the right AI tools.
Research shows that those who use AI for email marketing see up to a 41% increase in the revenue generated and a better revenue per user rate. I.e., AI increases conversions.
Market and Financial AI Marketing Statistics
How big is the AI in marketing market and what are its growth predictions? These stats look at all the fascinating financial data and what could be in store for the future.
14. The market of AI in marketing is currently valued at $15.84 billion and will surpass $100 billion in the next 5 years.
(Source: Statista – AI Marketing Revenue)
AI marketing as it currently stands is valued at $15.84 billion. This is estimated to rise to $107.5 billion by 2028. Common uses include administrative automation, campaign personalization, content creation, data analysis, and more.
15. Advertising and media held a 22% share of the AI market in 2022.
(Source: Precedence Research)
Although healthcare is expected to lead the AI market over the next decade, currently it is the advertising and media sector that has the biggest share (22%).
16. AI marketing will contribute to 45% of total economic gains by 2030.
(Source: PwC)
45% of the total global economic gains will be driven by AI through 2030. Marketing involving AI will contribute a significant portion of this $15.7 trillion.
That's because data-driven product enhancements and targeted services will allow companies to build intimate relationships with every individual and tailor campaigns and products directly for them.
17. The Asia-Pacific region will lead AI in marketing.
(Source: Market Research Future)
China is already heavily invested in AI and has a population size that will always significantly impact market share. As it stands, this contribution will make the Asia-Pacific region the dominant region when it comes to AI in marketing.
18. More than 19% of marketers spend at least 40% of their marketing budget on AI.
(Source: Influencer Marketing Hub)
As AI is applied to more tasks, it is going to take a larger chunk of marketing budgets. In 2022, 19.2% of survey respondents spent more than 40% of their entire budget on AI-driven marketing campaigns.
19. 74% of marketers will use AI in more than a quarter of tasks by 2027.
(Source: Drift – AI Marketing)
With an already high rate of adoption, marketers will only increase the number of tasks they apply AI to. By 2027, this is estimated to be more than a quarter of their daily workload. This has the capacity to free up time and increase productivity, though it could also result in job losses if some tasks become completely automated.
20. Marketers are learning from AI data even if they didn't collect it.
(Source: McKinsey)
With investment in AI growing 13 times what it was a decade ago and usage skyrocketing, this has created huge amounts of data, insights, and additional technology for the marketing industry. While some marketers have yet to adopt AI tools themselves, the industry as a whole is still benefitting from it.
AI Marketing Success Stories
These stats and facts look at individual cases of AI being successfully used in marketing.
21. Jasper AI is worth at least $1.5 billion.
(Source: TechCrunch)
At its last valuation in 2022, AI-driven content creation tool Jasper AI was worth $1.5 billion following an influx of $125 million in funding.
The generative AI platform has more than 70,000 monthly paying global customers and generated $45 million in revenue in the last financial year.
22. AI could fulfill campaigns that take 10 years in 1 year.
(Source: Think With Google)
Marketers can use AI to better understand the customer journey by seamlessly combining different sources of data and getting meaningful insights in real time. Some companies report accomplishing what would traditionally take 10 years within a single year.
23. In Australia, brands that used AI marketing campaigns saw an 85% increase in revenue.
(Source: Think With Google)
Data suggests brands that use AI marketing campaigns with tools like ChatGPT, Jasper AI, and analytics saw sales revenue increase 85% during the uncertain post-COVID pandemic Australian economy.
24. The likes of Netflix use AI algorithms to market content more effectively.
(Source: SimpliLearn)
In the old days of television, to target an audience, networks had to cast a broad net and appeal to as many people as possible. In the age of Netflix, it's about targeting everyone individually based on their own tastes and behaviors.
To accomplish this Netflix uses a personalized content algorithm that uses AI machine learning. Just like social media feeds, the shows that get recommended to you will be different from everyone else. This process is so specific that even the thumbnails vary between users.
25. AI-generated social media influencers are already getting brand deals.
(Source: Medium)
There's no denying the role of influencers in modern marketing campaigns, but what about influencers that aren't even real people?
AI-generated influencers like Miquela are already promoting brands to 'her' 2.8 million followers on Instagram.
Is this the blueprint for future marketing? Could firms generate their own AI influencers in-house?
26. Deepfakes or marketing? Balenciaga used AI Harry Potter characters.
(Source: Indy100)
By using generative AI art tools, fashion brand Balenciaga recently created a viral video campaign that meshed popular Harry Potter characters with catwalk models. As these types of mashups and deepfakes become more common, marketers and copyright holders may face a bumpy ride.
Attitudes Towards AI Marketing
These AI marketing statistics look at what business leaders, marketers, and the public think about artificial intelligence in marketing.
27. Half of the public does not think AI-generated photos of people should be allowed in marketing.
(Source: Statista – AI Marketing)
When it comes to AI photos and videos of humans, especially real people, there are a lot of moral debates about whether this content should be allowed. 48% of those surveyed do not think AI-generated faces and people should be used for marketing purposes.
28. Professional opinion is split on whether AI is a threat to marketing jobs.
(Source: Influencer Marketing Hub)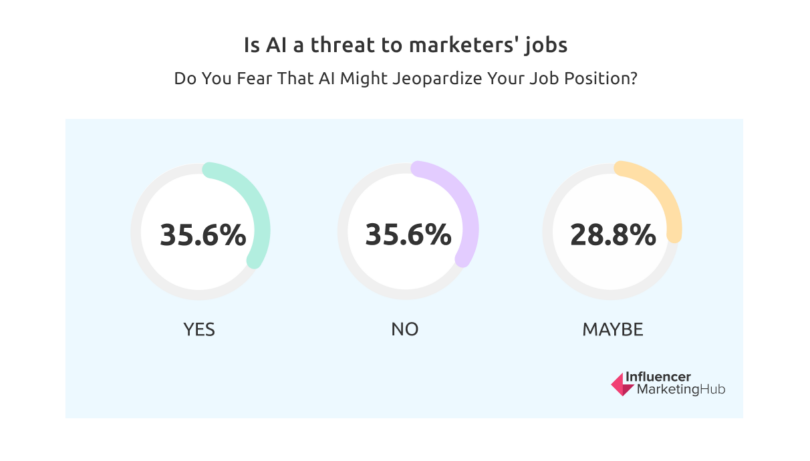 In a survey of 2,700 marketing professionals, 35.6% are concerned that the increased use of AI might be a risk to jobs. However, the exact same percentage doesn't think it would be. 28.8% did not know either way.
Of course, not all jobs are the same. A junior content writer's role may be more at risk than the top-level idea men.
29. Freelancers are also split on their opinions about AI in marketing.
(Source: Neil Patel)
It's a similar response when focusing only on freelance marketers. Of 229 respondents, 36.28% were excited about AI in digital marketing and exactly 36.28% were concerned. The remaining 27% were neutral.
Interestingly, concerns were not just about job losses. Only 20.52% of those that are concerned think AI will have a negative impact on their career. In fact, 55.4% thought it would be a positive.
30. More than 40% of marketers think if AI took over operations, important tasks will be left for humans.
(Source: Influencer Marketing Hub)
With all the fears of job losses, 42.2% of survey respondents believe that if AI automated the day-to-day marketing tasks, the important high-level strategy and decision-making tasks would be left for human marketers.
31. 81.6% of digital marketers think AI will replace content writers.
(Source: Authority Hacker)
AI language models can make written content almost indistinguishable from human writing. It can also speed up the process, so it's not a shock that the majority of digital marketers think AI could eventually replace copy and content writers.
However, it's also speculated that new roles could emerge for experts that know how to use AI for these purposes.
32. The leading benefit of AI in marketing is saving time.
(Source: Statista – AI Marketing Benefits)
As with most sectors, it is the ability to save time that benefits marketers using AI the most. 33% of marketers surveyed in the US agree. 31% said AI is helpful in understanding trend insights, audience preferences, and behaviors. Meanwhile, 26% found AI tools useful for optimizing content.
33. 47% of marketers trust AI for automated ad targeting.
(Source: Statista – Marketer AI Trust)
Out of several key marketing tasks, AI automated ad targeting is the most trusted application (47%). AI was trusted by 42% of those surveyed to generate real-time personalized content and offers. 39% said they trust AI to optimize when to send emails.
34. A fifth of sales-team tasks could be replaced by AI.
(Source: McKinsey)
Recent research estimates that 20% of current sales team functions could be automated by AI tools.
35. 63% of marketers say a lack of AI education is the biggest barrier to embracing the technology.
(Source: Drift – AI Marketing)
The one hurdle slowing the rate of AI adoption in marketing is a lack of education and training about how to properly implement it. Over 60% of survey respondents have put AI off simply because they feel they don't understand it well enough.
This should come as no surprise when 89% of marketers say their companies have no training program to learn AI in place.
Other barriers are an inadequate pool of experts available, a lack of adoption strategy, and general mistrust of AI.
36. Almost 90% of marketers believe their organization should increase AI use to serve customers and stay competitive.
(Source: MailChimp)
Marketing is a competitive industry and failing to implement AI is akin to ignoring social media when Twitter and Facebook took off. That's why 88% of marketers think their company needs to act now and use AI as much as possible in case the competition takes advantage and serves clients better.
37. 86% of marketers consider their automation strategy a success.
(Source: Ascend2)
AI and automation wouldn't be growing rapidly if it wasn't working. The vast majority of marketers surveyed said adopting this technology was successful, with 22% saying it was very successful and 64% saying it was somewhat successful.
Only 14% considered their strategy to be unsuccessful.
Conclusion
These AI marketing statistics show huge growth and clear benefits to marketers that choose automation. Those that adopt AI can remain competitive and save time, which can be spent on the important decisions only humans can make.
While there is some natural concern over job losses, as there is in almost all industries, marketing is forging one of the strongest relationships with AI of any field. The trick for companies is to set forth a clear plan and educate their workforce in order to succeed with AI.
The average marketer should adapt now before they place themselves at a disadvantage.
Sources