Acer launched its second-generation Windows Mixed Reality headset, the OJO 500 back in August last year. At the launch event, the company announced that it will bring the headset to North America in November, with a price starting at $399. However, things didn't go as per plans, as a result of which, the company had to delay the date of availability.
After more than a year, Acer has re-introduced the second generation OJO 500 to the market, and this time around, it's for real! You can now buy Acer's mixed reality headset right now at a price point of $399(In EMEA, the price of the OJO 500 starts at €499). Acer, however, hasn't explained anything as to why it pushed the date of availability.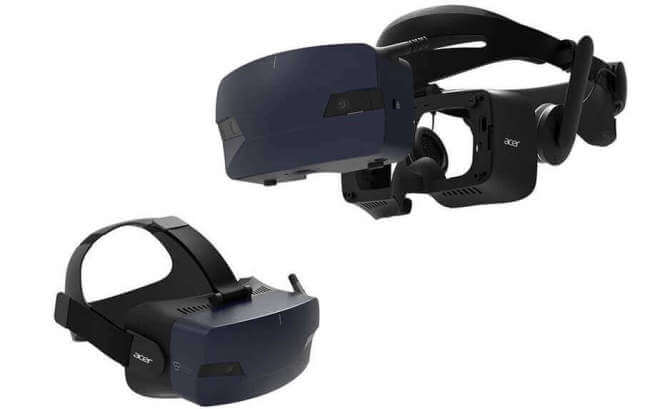 The Acer OJO 500 headset features:
For maximum clarity, the Acer OJO 500 includes a built-in interpupillary distance (IPD) wheel and a patented smart phone app to measure IPD distance (the gap between the eye's pupil and the display).
The software-assisted IPD measurement app, Acer IPD Meter, along with Acer IPD Indicator software, lets the wearer modify this distance for sharper, clearer images and a more enjoyable experience.
Two front-hinged 2.89-inch high-resolution liquid crystal displays provide a wide 100 degree field of view and deliver a 2880 x 1440 resolution. A fast refresh rate of up to 90Hz delivers clear and realistic images for an immersive mixed reality experience.
The 6-degrees of freedom positional tracking includes forward/back, up/down, left/right as well as pitch, yaw and roll. The headset comes with a 13-foot cable allowing a wide range of movement and connects to a PC via HDMI 2.0, while a USB 3.0 connector downloads data.
Featuring inside-out tracking, the camera is on the headset so there is no need to drill holes in a wall or set up extraneous hardware. As soon as the headset connects to a Windows Mixed Reality-ready PC, it installs the required software. Setup takes about 10 minutes.
The Acer OJO 500 comes in an optional configuration that includes two Bluetooth-enabled motion controllers that sync with the headset; and a Windows 10 button, touchpad and grab button so users can interact with digital objects in mixed reality.
There are currently more than 2,500 games and applications available for the Acer OJO 500 between the Steam VR and the Microsoft Store platforms. It requires a compatible Windows-based PC and other conditions.
Do you still care about Windows Mixed Reality Headsets? If yes, then when do you think MR headsets will go mainstream? Do let us know in the comments below.
via DrWindows