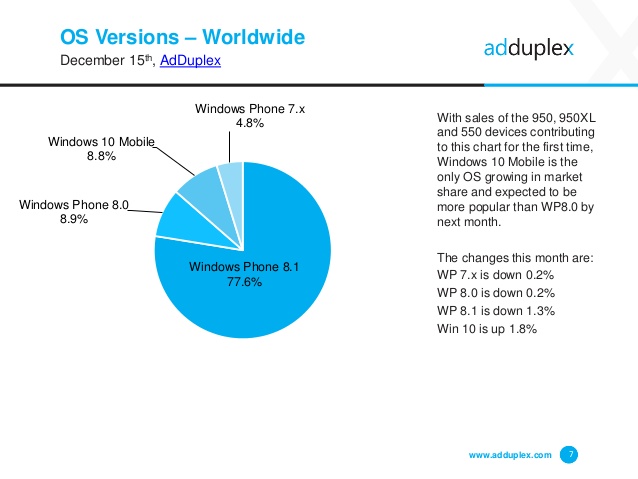 AdDuplex have released their monthly report taken from devices running apps which use their cross-promotional network on the 15th December 2015.
The data reveals that from their sample a massive 8.8% of users are already running Windows 10 Mobile on their handsets.  I suspect this is more from Insider upgrades than new devices being sold, but it still explains why we are not seeing a lot of grumbling following the delays of the official Windows 10 Mobile upgrade for WP8.1 handsets – in short if you want Windows 10 Mobile you can (mostly) already get it, and many tens of thousands to hundreds of thousands of users have already taken advantage of this offer.
Some more excerpts from this data reveals that globally the Lumia 950 is selling better than the Lumia 950 XL, but in some countries, including UK and Australia, this is reversed.  In USA the Lumia 950 leads, I suspect likely led by AT&T carrier sales.
The Lumia 550 has already been released in Russia and AdDuplex notes that it is leading the flagship handsets there, indicating that there is still demand for affordable Windows 10 Mobile handsets.
I think it is safe to say the new device segment is the most interesting part of the AdDuplex report, and it reveals a number of new Microsoft Mobile and other OEM handsets in the works.
AdDuplex is seeing RM-115(x) devices, which are 5 inch 720P handsets which we believe are the Lumia 650. They note however that they are not seeing them in large numbers, suggesting the handset will not be released soon.
They are also seeing a new device, the RM-1160/1162 which appears to be a 768×1280 5.4" device which we have not noted before.
From other OEMs AdDuplex is seeing some new devices, including the LG V496, which would normally be an 8 inch Android handset, and AdDuplex speculates may now have been re-purposed into a Windows 10 Mobile tablet.
They are also seeing quite a lot of Acer S58xWWxGEN1 with 2 screen resolutions in their logs – 1080p and 768×1280, both at 5.2 inches, and this may be the Acer Jade Primo many have been waiting for.
Lastly AdDuplex was able to confirm that HP appears to be testing a Windows 10 Mobile device, the HP Falcon, which is a 5.4 inch 768×1280 device. The HP Falcon has been spotted on benchmarking sites running a Snapdragon 820 processor and with other leading specs, making this corroboration very interesting.