Microsoft's Surface Hub has been an unexpected success in boardrooms around the world, selling so fast that Microsoft even ran into production problems and shortages.
With the introduction of the Surface Hub 2S, Microsoft expanded on this success by partnering with office furniture specialist Steel Case to release a special stand for the device.  The stand enables, amongst other things, the ability to move the Surface Hub on wheels between meeting rooms.  It also offers an integrated battery so that the device does not have to be unplugged between sessions.
It is somewhat easy to justify a $10,000 smart whiteboard when a board room table would often cost the same amount.  A new partnership with SalamanderD would, however, bring the Surface Hub 2S to your desk.
This past week we found what results when a @surface Hub II is coupled with a @SalamanderD lift/tilt stand: an inviting piece of interactive adaptive furniture which fits one's work. A 1992 dream becomes a reality and a catalyst to inspire ever-more worthy UX design & research. pic.twitter.com/b5dCoqWRSK

— Bill Buxton (@wasbuxton) July 26, 2019
As shown off by Bill Buxton, Microsoft's Principal Researcher at Microsoft; the Electric Lift Mobile Display Stand will let privileged users integrate a Surface Hub 2 with a desktop.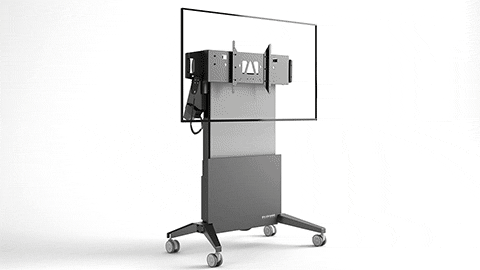 Take control of creative, presentation and collaboration workspaces with Salamander's Electric Lift (FPS1-EL) motorized stand. This Heavy Duty mobile stand integrates seamlessly with most large displays including 70" Screens, see VESA pattern and weight limits. Effortless precision ergonomics allow you to focus on productivity then raise your interactive display to collaborate in presentation mode.

Salamander's FPS family of interactive display stands are crafted to be flexible and extremely durable. These advanced solutions will provide accessible, comfortable and ergonomically correct touchscreen positioning that enhances the user experience and improves productivity.
This brings to life the long-held original dream of the Surface Table, which is shown below.
For readers who are not familiar, the Surface originally started as a Smart Table, to be used in education and hotel services.  Of course, unlike the original Surface Table, the Surface Hub isn't exactly optimized for use as a desk.  Hopefully, this is where Bill Buxton's Microsoft Research will come in, and develop a more adaptable user interface for the device.
If you have the beans to requisition a $10,000 desk from IT, check out Salamander's range.