Reviewed on Xbox One X
It's about six hours into the main story of Red Dead Redemption 2. My group and I have survived a harsh May snowstorm, got into a gunfight with a rival gang (the O'Driscolls) and we've performed a train heist. Right now, I'm escaping the law. Not because of the crimes mentioned previously, but because I've hogtied six people and shoved them under a bridge.  
It started off innocently enough. I was talking to a lone rider who pulled his gun on me when I was getting too friendly. In response, I quickly opened my weapon wheel, pulled out my lasso and went to work. He had a nice hat, too. Had being the keyword. It's mine now. I was seen assaulting the rider, by another cowboy to the south, so I take him out in the same way. He had a friend. Down with him, too. This continues for fifteen minutes and ends in me lying dead: six hogtied men under a bridge and a whole heap of dead lawmen behind me. This is Red Dead Redemption 2.  
In essence, this is an extension of the brilliance Rockstar brought it with GTA V
I think it's immediately evident that in Rockstar's newest masterpiece I do not play a good man; the in-game morality system tells me I'm becoming eviler by the minute. I'm bad, I'm rotten: I rob random people on the highway, kill pedestrians for their hats and randomly throw dynamite in front of wagons.  
Much like most of Rockstar's games that have released since the start of the PlayStation 2, Red Dead Redemption 2 is unashamedly an extension of the Grand Theft Auto formula. It's noticeable immediately. You explore a huge, gorgeous world, transport yourself from mission-to-mission, most of which end up in hundreds of dead bodies. Red Dead Redemption 2 doesn't shy away from this formula in any regard, it follows it to a T. In essence, this is an extension of the brilliance Rockstar brought it with GTA V.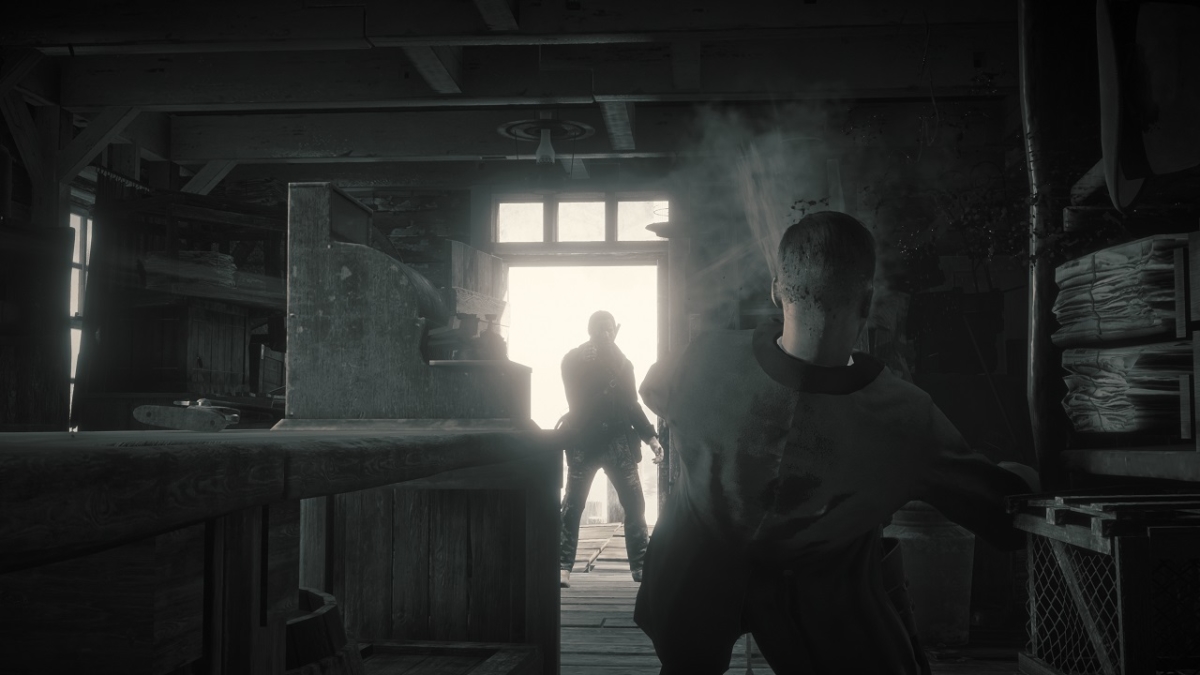 This much is evident throughout the majority of Redemption 2's systems, especially its combat and movement. It's slower, fittingly so for the late 1800's time period, but it still holds the same core that we saw back in 2013. It's definitely more polished, and the improvements to Rockstar's engine have made its world one of the most beautiful in-game expanses I've ever set my eyes on, but it doesn't improve that much upon what were GTA V's fundamental flaws. 
When everything does come together, it feels like a world you can believe
Walking around in tight areas can sometimes lead to unfortunate circumstances, namely death. It's heavy – Arthur Morgan's large turning circle does make it awkward to wind around staircases or quickly correct a missed turn in a factory. That said, many of Red Dead Redemption 2's gunfights commit to wide-open spaces and a large amount of them also take place on horseback. It's a simple remedy to the problem, but one that will hopefully be fixed by the time Rockstar's next game comes along. 
Gunplay, in comparison, is more subjective. It's clunky, but that's more in the way of period accuracy than the game's actual shooting mechanics. It keeps some of the fundamentals from 2011's original Red Dead Redemption—namely the slow-mo Dead Eye system—though it's combat feels like a slower, more focused version of GTA V, especially with the game's over-reliance on heavy auto-aim. Snapping between targets does make you feel like a real rootin' tootin' shootin' cowboy, but it also makes some of the longer wave-based missions feel remarkably mundane. Hand-to-hand combat can feel visceral, but also fairly clumsy and only ever satisfying during that final K-O punch, although if you run at an enemy and press the melee button you can tackle them to the found and execute them with your equipped weapon. Hint: the shotgun gets very messy.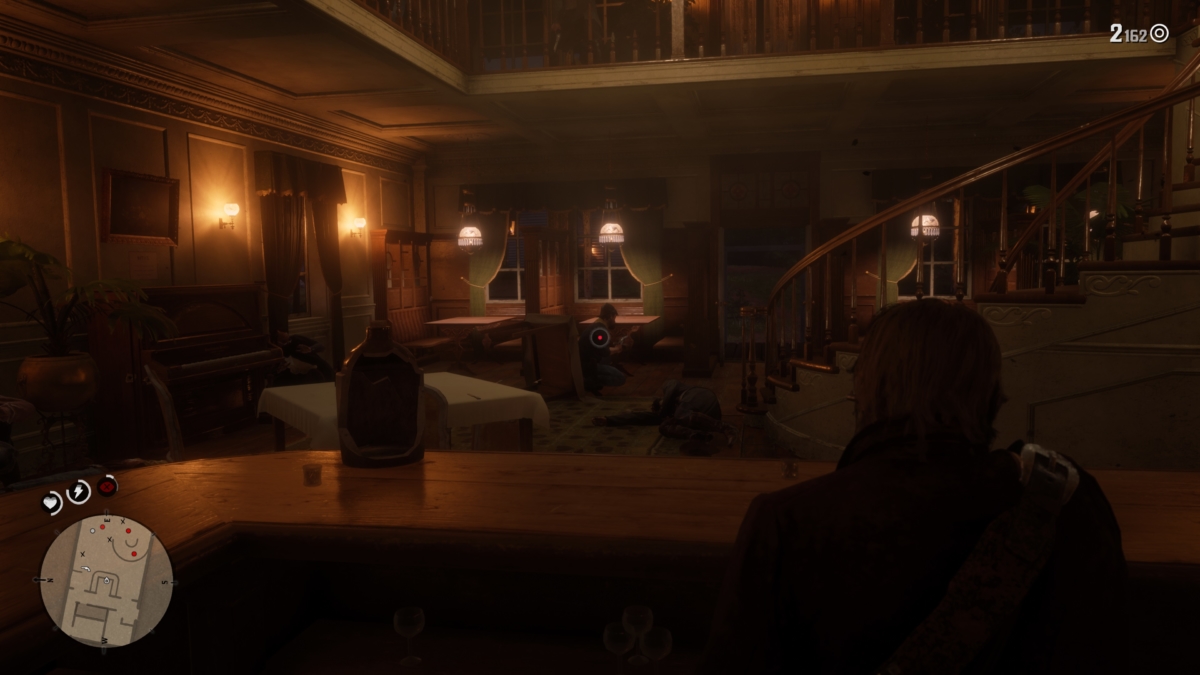 Issues with both of these aspects don't rear their ugly heads as much as you'd think. In actuality, they end up being more of a niggling nuisance that only really get infuriating once in a blue moon
Where Redemption 2 shines brightest in the realization of its world, a beautiful environment that feels much better realized than Rockstar's last, despite the huge decrease in crowd density. Its success can be attributed to the game's extremely realistic but still stylized visuals—that would undersell it. Muscles on horses that move realistically, rolling hills that look like they're slap-bang in front of you and the incredible lighting, volumetric fog and weather effects do bring the large open world from a realistic-looking environment to a living breathing one, but it's in the emergence of Redemption 2's world that makes it feel so real. 
With a press of the left trigger, your character can do so much more than just aim a rifle or a revolver. You can interact with the people: greet them, insult them, threaten or calm them. Depending on your honor or your relation in a town, their reactions will change. It often shows cracks, sometimes breaking your immersion, but the game's wide variety of bugs will certainly do that as well. When everything does come together, it feels like a world you can believe. 

Protagonist Arthur Morgan's story is also a believable one. This emotional prequel to the original Redemption is fittingly still one about that theme. It's also about the follies of revenge, the idealization of a leader, how people can change. Knowing the characters of the original game and their stories can take away from a couple of "shocker" moments throughout the course of the game's sixty-plus-hour story, however, that doesn't stop Redemption 2 from being a fantastic character piece.  
It's a fitting prequel and one that doesn't mess with any of the events of the original game. Taking place during a time where the US government were just starting to crack down on crime leads to a highly personal tale where characters have to think about whether what they're doing is right. Every performance is perfect, too, especially the role of Arthur Morgan. As a character, Arthur is certainly on-par if not better than Redemption's John Marston, whose appearance here never fails to make me smile.  
There are grand moments dotted throughout the game's surprisingly lengthy campaign. Much like GTA V, the game features numerous high-budget "heist" missions which do repeat themselves. How many times can you rob a train or a bank? Many times, apparently. Many of Redemption 2's finer, more memorable moments don't occur during the higher paced heists, it's the smaller, mundane moments that stick. A simple conversation about someone's past, characters discussing a negative event and their takes on it; many of the game's longer trips across the map involve interesting discussions that flesh out characters more than the jokey, parodic alternatives seen in GTA. These are moments that elevate the story—they make Redemption 2's narrative feel tighter and more intimate than anything Rockstar has done before.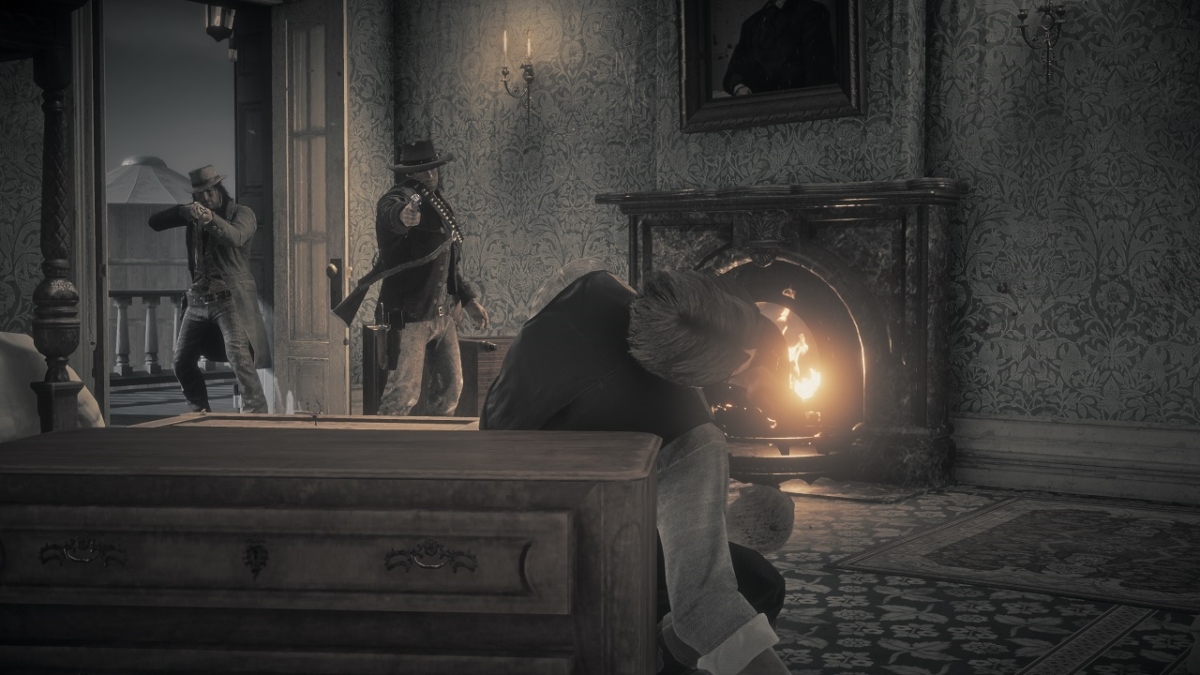 Those who stay around for the game's epilogue chapters may be slightly disappointed. For fans of the original, it's a very see-through move, and it drags on a bit long. It's slower and intimate—it feels more like fanservice than a story that had to be told. As a bookend, it's appreciated. That doesn't stop it from feeling overdrawn, though. 
Red Dead Redemption 2 is a crowning achievement. As Rockstar's first game designed from the ground up for this generation, it feels like the "next generation" title we all expected this generation of consoles to offer. It's huge (it took me five days to play through just the main story in order to write this review) and that's without the games upcoming online component and it feels like a true extension of what made GTA V a great experience. 
Red Dead Redemption 2 is a masterpiece. It provides you with a huge, deeply involving narrative with characters and moments you won't forget anytime soon. Where it does fall, it doesn't fall too hard, and niggling issues can be overlooked. If you've played GTA V, you know what to expect, but it is a decidedly slower and more intimate experience than anything Rockstar has made before.