Disclaimer: With Cyberpunk 2077 still in active development all of our issues are subject to changes and tweaks by final release. This is a view of the game as we saw it during the Cyberpunk 2077 EGX demo.
Poised as the game to send off the generation in a blaze of glory, CDProjektRed's upcoming Cyberpunk 2077 has a lot riding on its shoulders. It's a huge AAA RPG from the crafters behind many gamers' standout game of this gen. When all of the information piles up all you can hear is the echoing conformity of everyone simultaneously bellowing, "You just know it's going to be good!" I'll admit that I was one of those people.
Without any previous connection to the tabletop world of the original Cyberpunk, it was easy to envision how the creatives that crafted the breathing world of The Witcher would mirror that work in a sci-fi world. With the literate Kevlar protecting an incredible-looking world, of course I'd be excited to finally get a good look at the game at the Cyberpunk 2077 EGX demo.
When I sat down in the Cyberpunk Theatre in London's ExCel convention centre, I was ready to experience the world of Cyberpunk. I was ready to see the game finally blown wide open: I wanted to see the world; I wanted to see the combat; I wanted to see its customisation; I wanted to see its systems. I saw all of it, for better and for worse.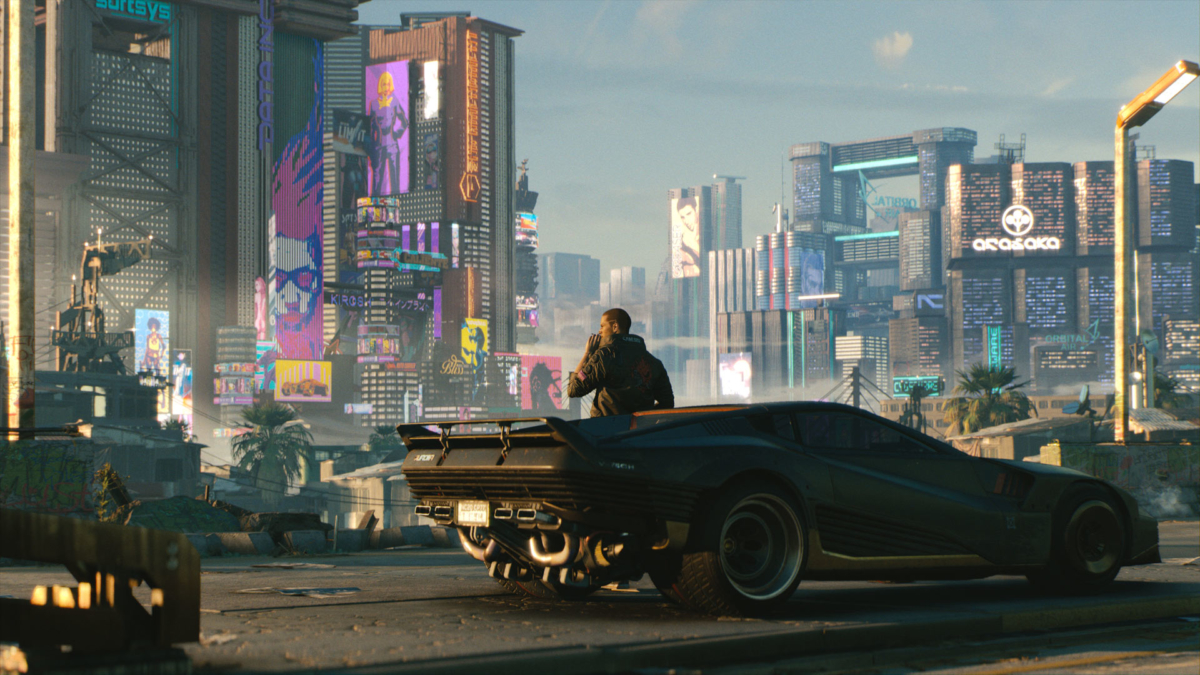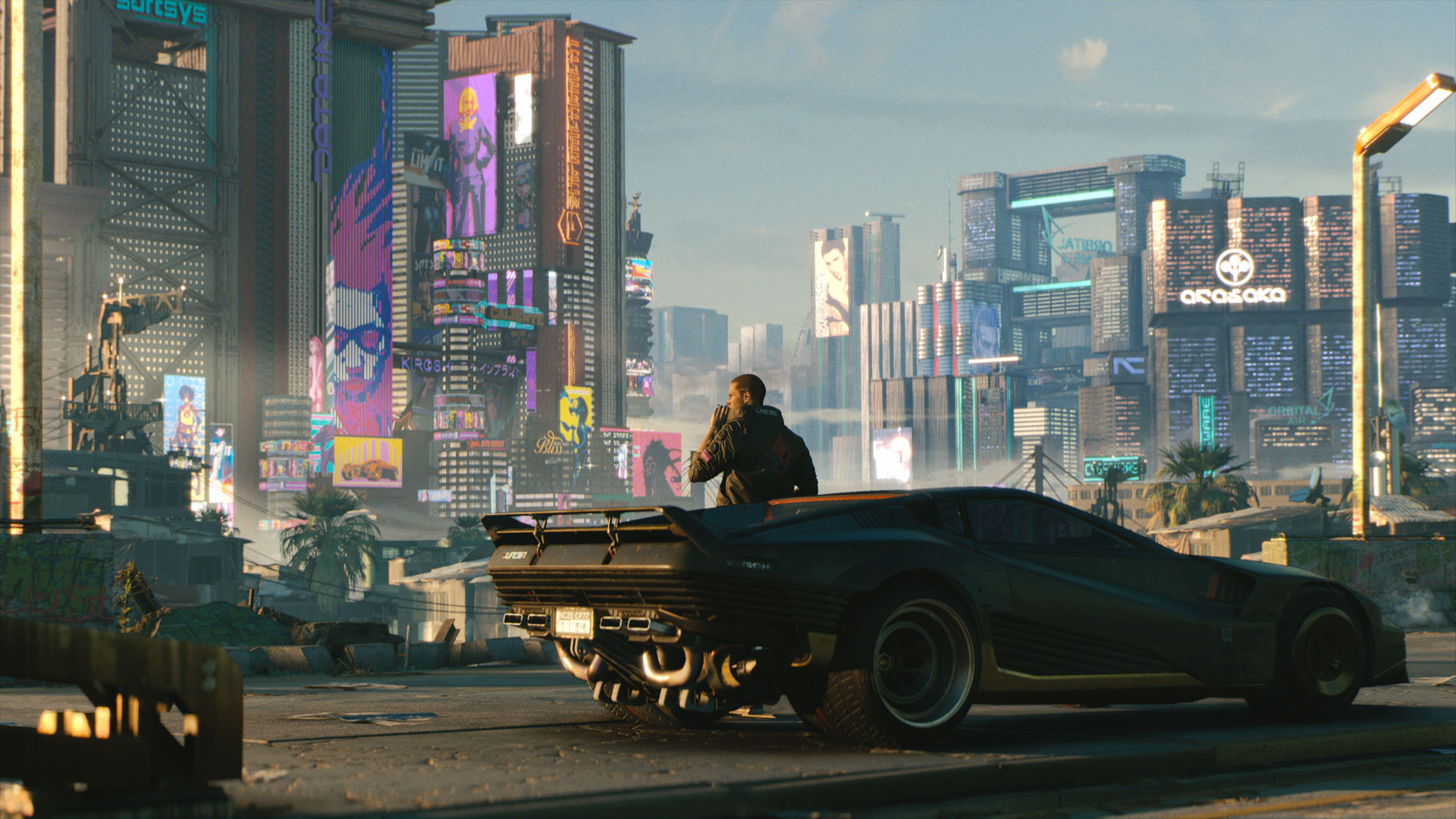 Viewed on a colossal screen with a booming sound system that shook the room, CDProjekt's work was in the best possible viewing experience at the time. With decent seats and 45-minutes of gameplay awaiting us, the demo started.
Immediately, the technology behind Cyberpunk impresses. While animations aren't as smooth as the ridiculously detailed The Last of Us 2 and framerate isn't as smooth as the upcoming Doom Eternal, that's not what Cyberpunk is going for – no one should expect those traits in such a sprawling open-world. And sprawling it is: in fact, "sprawling" is the most apt descriptor for what we were presented.
In the lengthy demo we viewed the player character, V, was tasked with hacking into a van situated within an abandoned shopping centre. We were doing this for one of the higher-ups of a faction called the Voodoo Boys, a band of Haitian culture that dominates the supposed-to-be tourist hotspot of Night City called Pacifica.
Before the mission starts, we're initially greeted to the character creator system which, in this early unfinished state, was rather lacking. With only a few options to tweak on your male or female-bodied character – V in Cyberpunk can be genderless if you choose, it's all about playing the role you want to be – avid creators may be underwhelmed.
In the Cyberpunk EGX demo, we were greeted to two different gameplay experiences. At numerous points during the demo, the player would switch between two completely different builds: a male-bodied Net Runner build and a female-bodied Solo build. These builds were created around stealth and hacking and pure brute strength respectively.
Thankfully, the positives of Cyberpunk's initial gameplay reveal are still there. Technical wizardry and an intriguing world – albeit with sometimes grating dialogue like an always cussing Keanu Reeves – still appear intact. While the game is certainly running on a very high spec PC, we're still promised a seamless world. In that aspect, Cyberpunk is as impressive as ever.
Unfortunately, issues that many players have with The Witcher 3 are still present here. While I personally thought that combat in CD Projekt's last title was fun and satisfying, those who hated the looser feel of Geralt's swings will be far from impressed at the seemingly flaccid gunplay presented here.
With the latter half of the demo we saw being almost exclusively combat orientated, Cyberpunk 2077 left me underwhelmed. Its gunplay seemed weak: paltry (no chickens here!) sound effects and basic animations left guns feeling rather anemic. Looking at the showing presented to us, I can't imagine how the game's post-launch multiplayer mode will be any fun at all.
Most of all, combat seemed severely stonewalled by an almost embarrassing AI system that CD Projekt is hopefully putting their all into improving. It's by far the most shocking part of Cyberpunk's presentation: while shoddy gunplay can be overcome by the game's gracefully open selection of stealth options and interesting superpowers, the player can't stop a barebones AI.
In this shopping mall demo, Cyberpunk was laid at its most bare. Enemies that teleported towards you would continually run into pillars, others would simply stand on a balcony only shooting sometimes. With Cyberpunk's guns able to stop enemies straight in their tracks — having them recoil at gunfire but continue moving towards you would have been a much better option – enemies felt like targets and nothing more. With a boss fight that felt about as basic as Mario 64's Whomp King, I feel that I've seen the game at both its best and its worse.