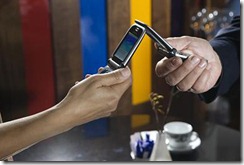 NFC is an increasingly popular technology that allows contactless data exchange via smart card chips, and is often used for small payments via smartcard or cell phone.
INSIDE Contactless, a leading provider of advanced, open-standard contactless chip technologies, today announced it is making its Open NFC commercial-grade NFC protocol stack (formerly MicroRead Software Foundation) available in a free and open source edition under the Apache License,Version 2.0.
The also announced the stack will be compatible with WinCE 6.0 and Windows Mobile 7, and is available for download now.
"Our decision to release Open NFC under the Apache license demonstrates our willingness to lead the way in bringing high quality, well documented NFC software into the open source arena," said Philippe Martineau, executive vice president of the NFC business line for INSIDE Contactless. "Open NFC fits right in with the trend toward open platforms in the mobile industry, and will benefit device makers as well as software developers and others in the mobile ecosystem in several ways, providing greater impetus to implementing NFC solutions across a broad range of consumer products."
NFC has appeared prominently in several Microsoft Windows Mobile job postings, and there is therefore some indication they are intending to implement the technology broadly in Windows Mobile 7.
Open NFC supports several levels of functionality, from low-level RF control to high-level NFC Forum tag handling, peer-to-peer communications as well as Bluetooth and Wi-Fi pairing, interactions with single-wire protocol SIMs and other secure elements and compatibility with smart cards and RFID tags.
Qualcomm now offers two complete NFC handset reference designs, one based on an HSUPA Mobile Station Modem (MSM ) chipset and one based on a Qualcomm Single Chip (QSC ) solution for CDMA2000 . The two reference designs leverage INSIDE Contactless' NFC solution enabling device manufacturers to bring next-generation NFC handsets to market more quickly and at significantly reduced development cost.
Read more about the announcement here.