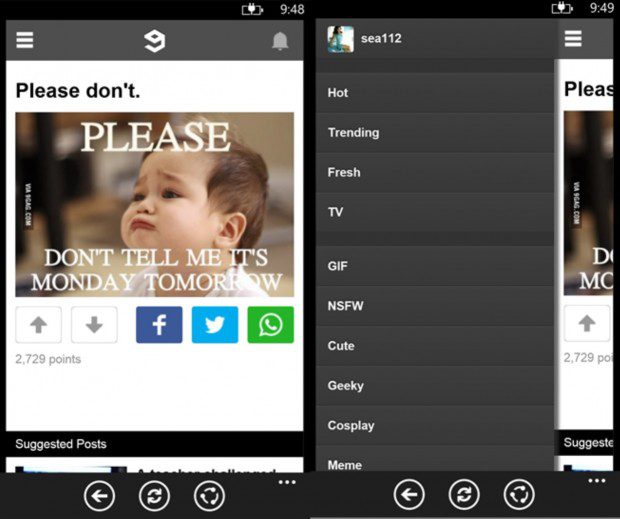 Official 9GAG app was confirmed back in January and we were expecting the app anytime in Windows Phone Store. Today, the app was released and it is a disappointment. This is not a native app, it is just a wrapper around 9GAG mobile website.
App Description:
9GAG has the best funny pics, GIFs, videos, memes, cute, wtf, geeky, cosplay photos on the web. We are your best source of happiness and awesomeness. Share anything you find interesting, get real responses from people all over the world, and discover what makes you laugh!

• We are the official 9GAG app
• Feature the best collection of funny, awesome, wtf, omg, fail, cute, geeky, cosplay photos, GIFs, memes, rage comics and viral videos
• Vote on Trending and Fresh page to determine what'll be Hot on the internet next day
• Join discussions with the community and make friends from all over the world
• Share your fun to Facebook, Twitter, Email, Google+, Tumblr, Pinterest, Instagram, Path, WhatsApp, Line, WeChat and Weibo
• And much much more…
Download it here from Windows Phone Store for free. This app will be free only for a limited time, so download now and save $1.99.
Thanks to Lance for the heads up.