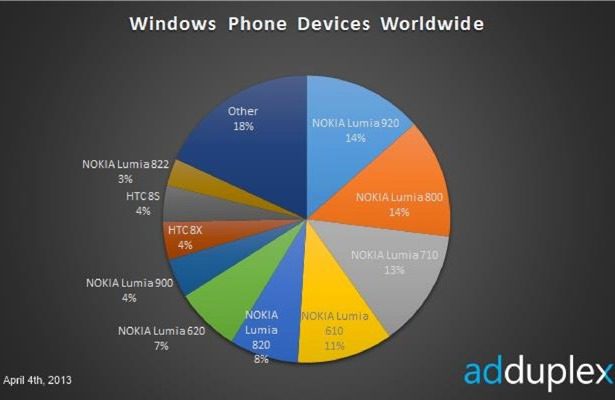 The Nokia Lumia 920 has finally overtaken the Nokia Lumia 800 as the most popular Windows Phone in use, at least according to AdDuplex's numbers, which are taken from their ad service running inside several hundred Windows Phone apps.
The Nokia Lumia 920 now has 14% global share of the market, with the Lumia 800, which has been sustained by cheap sales prices, clocking in at a slightly lower 14% also.
The Lumia 920 has surged from 11% in March 2013, seemingly taking share mainly from the Lumia 800, which had 17% then.
The news bodes well from Nokia's Q1 2013 financial results, which will be announced on the 18th April, as it suggests their higher margin handset is actually a hit, and that sales have not slackened unduly despite now being 6 months in the market.
Equally interesting, as noted by our commenters, is that the Nokia Lumia 620, introduced only recently, has already grabbed 7% of the market, and that the Nokia Lumia 822, sold only on Verizon, has grabbed 3% of the market all by itself.
Another chart released by AdDuplex shows however that the Windows Phone 8 revolution is still to reach many countries.
While 43% of handsets are now running Windows Phone 8, the largest markets like Italy are still very much Windows Phone 7 shops, and with game developers increasingly only coding for Windows Phone 8 this may become a user experience issue.
Via Plaffo.com