After months of beta testing and years of Windows Phone exclusivity, MixRadio has finally expanded to Android and iOS in the official capacity. MixRadio announced today at its event in New York its plans for the future. Earlier at a press briefing in London, MixRadio revealed its plans to a small gathering of journalists. At the centre of these new apps re its new Android and iOS apps. After being exclusive to Nokia and later Microsoft Lumia handsets for years, MixRadio is now beginning its massive cross-platform push under Line with its afore mentioned apps. The new Android and iOS apps are for the most part similar to the current Windows Phone app in functionality, with the user interface being tailored to each individual platform. In terms of feature, the familiar "Play Me", now renamed as "MyMix" makes the jump over, as well as the ability to create mixes based on 3 artists or less.
MixRadio's USP, up to four offline mixes (12 hours of free offline music ) is present as well. What isn't present is MixRadio's ability to play local music or integrate with your music library, instead the apps allow you to select up to 100 artists on 1st launch.  This is a result of the focus shift from music player as a primary function to music service. The music storefront is also cut due to this, with links for music purchases now redirecting to either the iTunes or Play Music store, depending on the platform.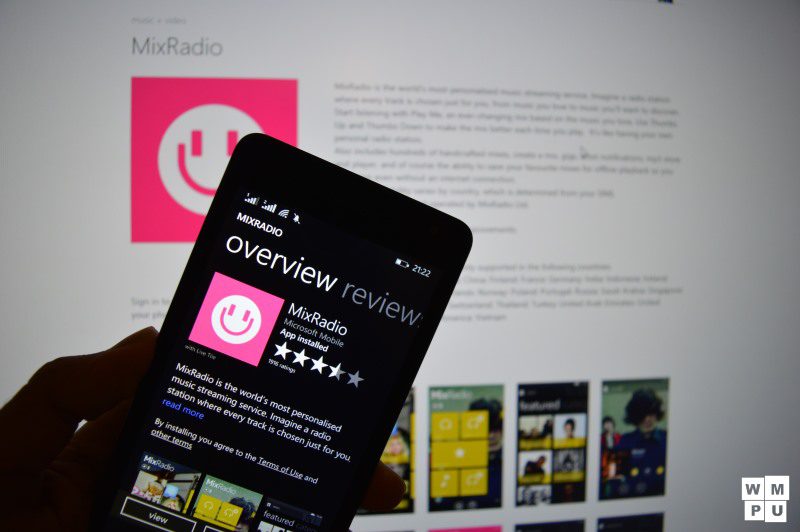 Another highlight the firm revealed was a partnership with HTC. Similar to its ongoing partnership with Microsoft, MixRadio will be integrated in HTC's handsets, featuring most prominently in Blinkfeed on the Sense launcher. It will provide music updates of favourite artists like new releases and gigs directly on the home-screen.
Windows Phone users will also be pleased to hear that while there is no news about Windows Phone at the moment, there will be a Windows Phone update coming in the future along with the return of the premium version of MixRadio. The integration with Microsoft's Lumia handsets will still continue for the foreseeable future. Windows Phone is still very important to MixRadio, aside from making up the vast majority of their installed base (duh), they  have also been activated by a large percentage of the Lumia installed base. Today's announcement is mostly focused on bringing the features Windows Phone users take for granted to other platforms.  At the moment, MixRadio has a catalogue of 35 million songs and 12, 500 hand-curated mixes. From a base this solid, it can only get better in the future.
Read our earlier feature of MixRadio here.
Will any of our readers be downloading MixRadio on Android/iOS or recommending it to their friends? Let us know in the comments below.
---
Press Release:
(13:00 EST, New York) MixRadio, the personalized music streaming service, is today launching its acclaimed product to a huge new global audience by expanding across Android and IOS platforms and announcing a new partnership with HTC.

Previously owned by Microsoft and Nokia and available only on Windows Phone, MixRadio's recent acquisition by one of the world's fastest growing mobile messaging service, LINE, means the service is now unleashed on Android and IOS platforms. The co-marketing opportunities with LINE presented to MixRadio through the partnership will help drive international growth

MixRadio CEO Jyrki Rosenberg comments: "We're excited to be bringing our personalized and easy-touse music streaming service to a huge new audience. For many people this will be the first time they have been able to experience MixRadio; we're confident they will love the simplicity of the experience and the quality of the personalization we deliver. We cut out the clutter between the listener and the music they love, helping them enjoy, discover and rediscover great music.

We are already available in 31 countries and have been developing and improving our personalized music offering over many years, meaning we combine the benefits of having a heritage in the space with the excitement of launching a new product. We will also continue to deliver a great service to existing users on Windows Phone."

Today also brings the announcement of a major new co-marketing partnership with HTC. MixRadio will exclusively provide music updates for HTC's BlinkFeed, providing personalized music news tailored to the users' music tastes.

MixRadio has enjoyed consistently high consumer satisfaction scores and positive media reviews. It has developed its own personalization engine and analyzed billions of data points from listeners around the world, allowing it to deliver an unparalleled personalization experience. The one touch 'MyMix' feature brings a highly tailored stream of music that learns the music listeners like, to bring them more music they love from a catalogue of over 35 million tracks.

MixRadio also offers thousands of curated mixes created by a global team of music experts, and by international stars. As a mobile first music service, MixRadio understands the importance of off lining mixes. Unlike many free music streaming services, MixRadio lets users listen to offline mixes on the move.

MixRadio will maintain and develop existing partnerships with adidas, powering the music for the adidas MiCoach Smart Run watch, and Harman Kardon, being fully integrated into the Harman Kardon Omni speakers offering a seamless personalized home audio experience.