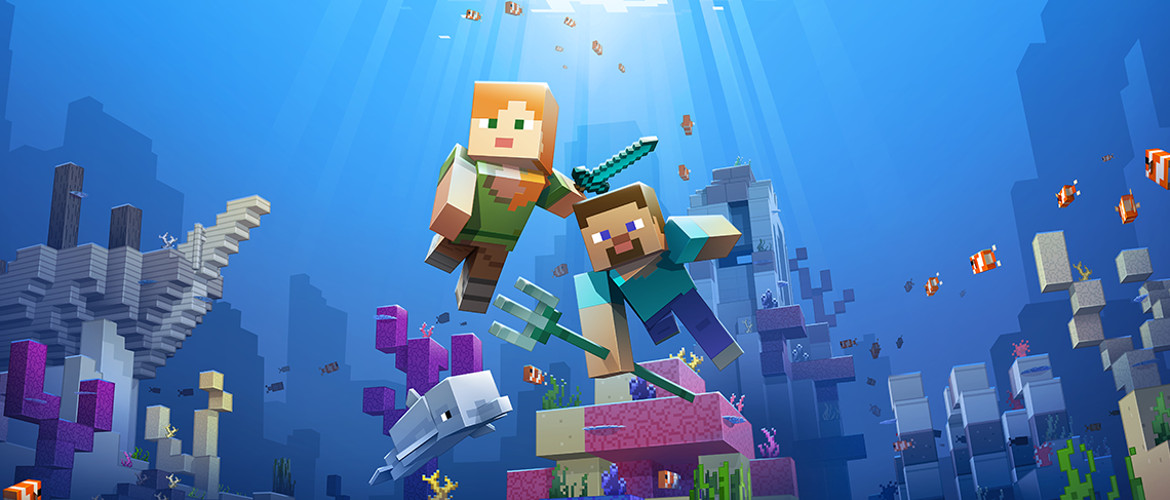 After a brief beta testing period, Mojang has announced that the first wave of Update Aquatic features are now rolling out in Minecraft.
Dubbed as "Phase One" of a two part release, the first wave of features comes to Xbox One, Windows 10, mobile, Gear VR, Oculus Rift & Mixed Reality Devices. You can read all of the features included in Phase One below.
FULL LIST OF PHASE ONE FEATURES
Fish (salmon, cod, pufferfish, tropical fish)
Bucket of fish
Coral (coral, coral fans, coral blocks)
Kelp, Dried Kelp, Kelp Block
Dolphins (follow boats, get a boost swimming next to them)
Icebergs
Blue Ice
Nine Ocean Biomes (frozen, deep frozen, cold, deep cold, lukewarm, deep lukewarm, normal, deep normal, warm)
Underwater Ravines & caves
Sea grass
Sea pickle (w/ illumination! Up to 4 in a block – only light up underwater)
Shipwrecks
Treasure chests (in ruins, shipwrecks)
Ruins
Swimming
Treasure Map
Buried Treasure
Heart of the Sea in buried treasure chests (non-active)
Trident
Trident enchantment
Stripped Logs
Buttons, Trap Doors, Pressure Plates with variation
Carved Pumpkins
Floating Items
Boat Polish (smoother control)
8 new achievements
Water has a completely new look and increased visibility while underwater
Prismarine Stairs and Slabs
New swimming animation while sprinting in water
Minecraft: Education Edition Chemistry features can now be enabled under Cheats! For tips on getting started, check out the Chemistry Lab Journal
---
You will need the new bedrock edition of Minecraft to access these features. If you still own the older version on Xbox One, you'll need to download the new one for free through the Xbox Store.
Phase Two does not have a release date, but Mojang notes that it is "coming soon."
Via: Minecraft