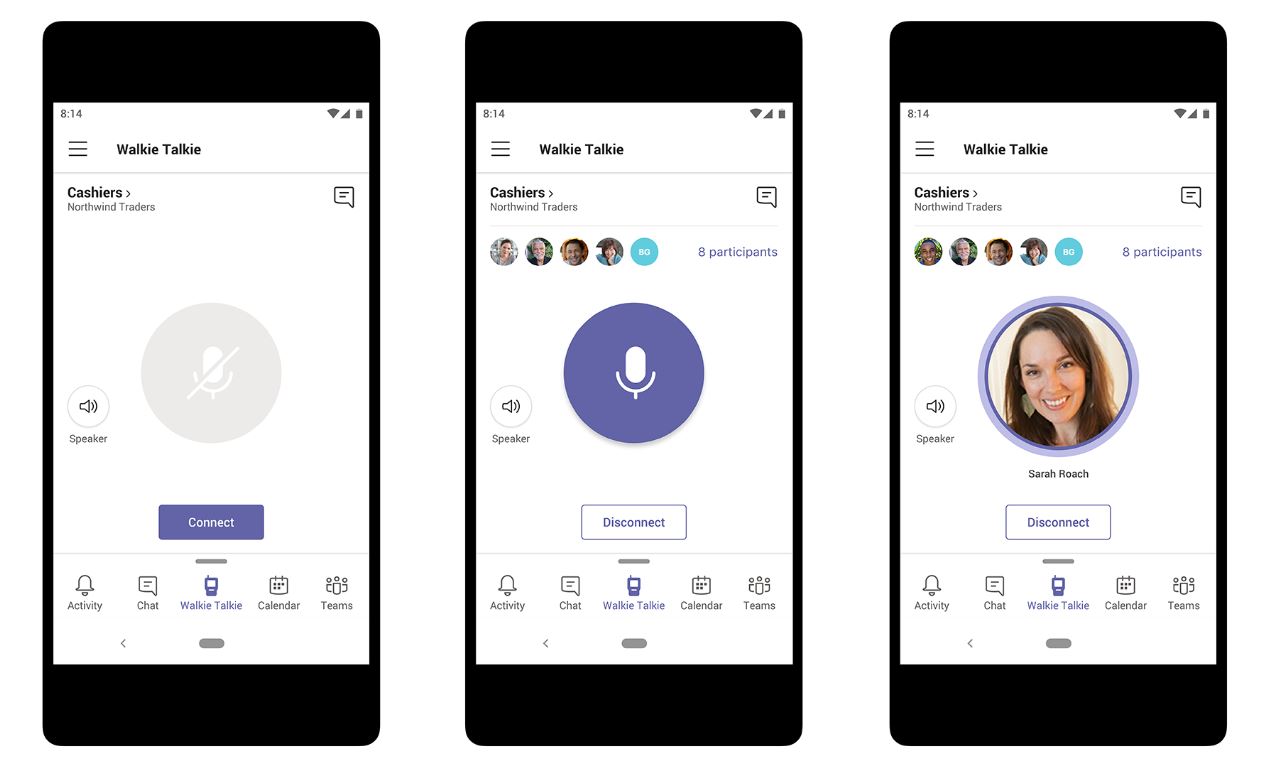 Targeting millions of Firstline Workers around the world, Microsoft today announced several new features for Microsoft Teams. For example, the new walkie-talkie feature enables employees to communicate easily with each other. The new SMS sign-in feature allows employees to easily sign in to their Teams accounts with one-time SMS codes. New tasks management feature in Teams now allows leaders to send tasks list to employees in specific region. Learn about these features in detail below.
Walkie Talkie in Teams—This new push-to-talk experience enables clear, instant, and secure voice communication over the cloud, turning employee- or company-owned smartphones and tablets into a walkie-talkie. Unlike analog devices with unsecure networks, customers no longer have to worry about crosstalk or eavesdropping from outsiders. Walkie Talkie will be available in private preview in Teams in the first half of this year.
Tasks targeting, publishing, and reporting—With Tasks in Teams, corporate and regional leadership can send task lists targeted to the relevant locations, such as specific retail stores, and track their progress through automatic real-time reports. Managers have tools to easily direct activities within their stores, and Firstline Workers have a simple prioritized list available via their personal or company-issued device showing them exactly what to do next. Tasks targeting, publishing, and reporting is coming to Teams in the first half of this year.
Workforce management integrations—Customers using leading third-party workforce management systems—such as Kronos and JDA—for scheduling and time and attendance can now start integrating directly with Shifts via Shifts Graph APIs and SDK. Supported scenarios include management of shifts, schedules, schedule groups, swap requests, time off requests, and open shift requests. The JDA connector for Shifts is open sourced and available on GitHub. The Kronos connector for Shifts will also be available on GitHub later this quarter.
SMS sign-in—With SMS sign-in, Firstline Workers are able to sign in to their Azure Active Directory (Azure AD) account using one-time SMS codes—reducing the need to remember usernames and passwords for all their Microsoft 365 and custom applications. Once enrolled, the user is prompted to enter their phone number, which generates an SMS text with a one-time password. SMS sign-in is a single sign-on (SSO) experience, enabling Firstline Workers to seamlessly access all the apps they are authorized to use.
Shared device sign-out—Many Firstline Workers use a single tablet or mobile device that is shared between shifts. With shared device sign-out, Firstline Workers will be able to log out of all their Microsoft 365 and custom applications and browser sessions with one click at the end of their shift—preventing their data as well as any access to customer data from being accessible to the next user of that device.
Off-shift access controls for Teams app—IT administrators can now configure Teams to limit employee access to the app on their personal device outside of working hours. This feature helps ensure employees are not involuntarily working while not on shift and helps employers to comply with labor regulations. This feature will begin rolling out to customers this quarter.
Delegated user management—Firstline Managers can approve password resets and enable employees to use their phone numbers for SMS sign-in, all via a single customizable portal enabled by IT for Firstline Managers. Delegated user management can give Firstline Managers access to the My Staff portal, so they can unblock staff issues—reducing the burden of identity management on IT, and keeping employees connected to the apps they need on the job.
Inbound provisioning from SAP SuccessFactors to Azure AD—Azure AD's user provisioning service now integrates with SAP SuccessFactors, making it easier than ever to onboard and manage Firstline Workers' identities at scale, across any application using Azure AD.
Source: Microsoft