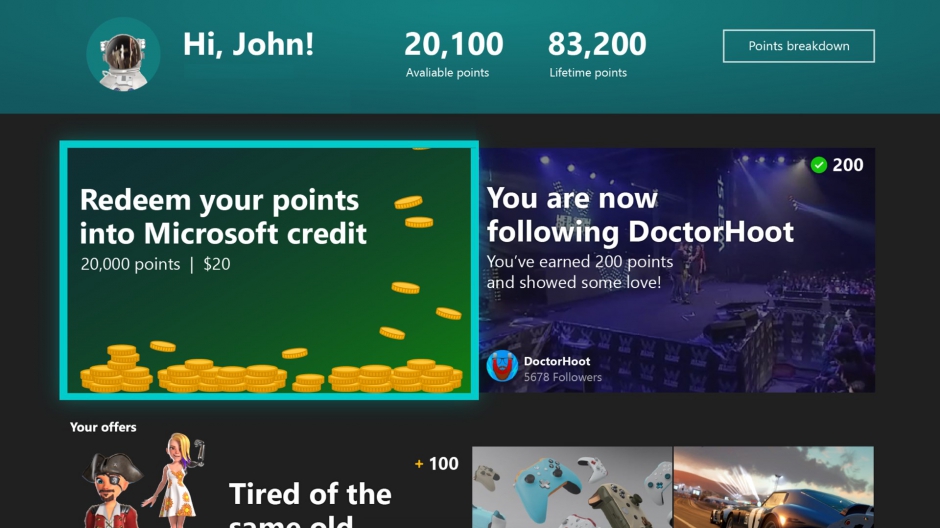 Several weeks ago Microsoft announced that the Xbox Live Rewards program would be transitioning into Microsoft Rewards. Xbox Insiders in the Preview Alpha ring can now try out the new Microsoft Rewards app in the Xbox Insider Hub.
As detailed in a post on Xbox Wire, the app will allow you to "see exclusive offers just for Xbox fans, redeem your points for Microsoft Store gift cards, and check how many points you've earned from Microsoft purchases and searches with Bing." During this beta, the app will only be available in the United States, but the team plans to roll it out to a wider audience in all countries where Microsoft Rewards is offered.
Migrating your account over to Microsoft Rewards during this beta will not affect the transition of your Xbox Live Rewards account. Your points and status will be added to your Microsoft Rewards account.
People still have until June 15 to to redeem their gems for prizes in the MyVIP Vault, or to grab any unredeemed tokens they've earned off the FREEdom Rewards page. June 15 is also the cutoff date to opt-out of the migration, in which case your remaining Rewards Credits and MyVIP Gems balance will be converted into your local currency and deposited into your Microsoft Account.
Via: Microsoft Insider