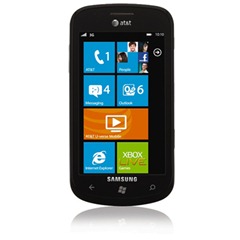 Posting on the Windows Team Blog Eric Hautala has promised that the 7392 update for Samsung Focus rev 1.3 was definitely on the way.
Intriguingly he said "7392 will be bundled in our next update for AT&T customers" raising the possibility that AT&T may jump straight to the 7720 Mango update.
Eric also notes that a number of device-specific hardware updates were being pushed out which would address issues such as battery life, call clarity, or touch responsiveness, depending on the model.
The 7392 update is relatively minor, only addressing a security certificate issue, but which could lead to phishing attacks on users without the update.
Read more at the Windows Team Blog here.