Microsoft's Windows Phone has been pointed at the low-end of the smartphone market since the Lumia 520 was revealed to have sold 25 million units shortly after its debut. In 2014, Nokia attempted to capitalize on this by releasing a successor to the Lumia 520, the 530. The only problem with this device is that it ended up being genuinely worse than its immediate predecessor and, as a result, we are faced with a bizarre situation where the Lumia 520 family can be updated to Windows 10 but the 530 cannot. Microsoft learned from the 530 and 630 debacles when it took over and released the Lumia 540 and 640 series which were much more complete phones and were competitive for the price range. With the Lumia 550, Microsoft seems to have forgotten all that and reverted to Nokia's cost-cutting ways. The Lumia 550 is a device that is – like the 530 – contextually worse than its immediate predecessor.
What's in the box
The Lumia 550 comes in a much smaller box than its more expensive siblings. It's a relatively nice looking box that contains the Lumia 550, a battery, a micro-USB charger and the manuals. There are no headphones or USB cables present, this is simply a bare essentials box for a bare essentials phone for a bare essentials user.
Design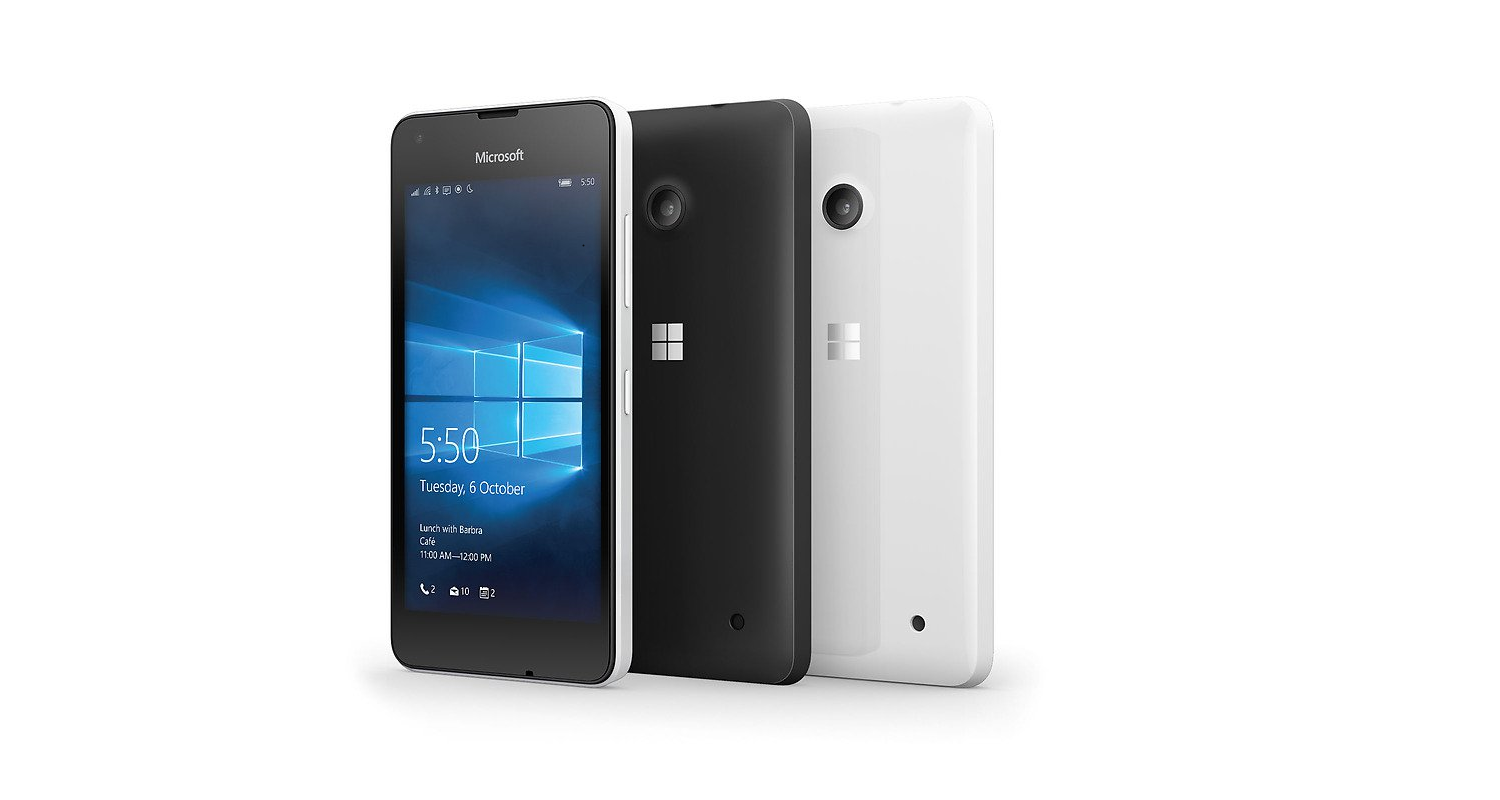 The Lumia 550 – like the 950, 640 and other Microsoft Lumia devices shares design cues with the Lumia 640. It has the flat sides, removable shell at the back complete with a painted on Microsoft logo and the buttons at the side. It Is also the most boring and dull variant of this design I have seen. I'm not sure if this has to do with the lack of coloror the lack of any sort of flair on this but something about this design feels "off" on this device. As a result, I'm not a fan of the Lumia 550's shell design.
The device ships with a 4.7-inch display unlike the 540 or 535 with 5 inches. Depending on how you feel about size, this would either be a boon or a demerit for you. I have relatively large hands, so I found the device a little odd to handle due to its small size. In terms of usability with either one hand or two, users looking for compact devices will be quite pleased with this one.
Display
As I said above, the 550 ships with a 4.7 inch paired with a 720 p HD screen. The display quality on this device is very nice. It is bright, colors are accurate, and the small size of the screen ensures that everything remains crisp as long as you don't whip out the magnifying glass. It really is a nice display as far as image quality goes.
On the other hand, the screen is very prone to smudging and you'll find neither Clearblack display nor Gorilla Glass here. In other words, the display is good, but has none of the tech in Lumia devices to make it be just that bit better. I realize that Microsoft is now consolidating its devices and planned to release only the Lumia 950, 550 as well as the rumored Lumia 650 but that should make it even more essential to make sure all devices in the line can consolidate features previously found in the previous line. The device also supports Glance Screen, which is, of course, a plus. The 550 should have the display prowess of the 540 and 640 if Microsoft is pointing it as a replacement for those two devices and it doesn't.
Cameras
The Lumia 550 is equipped with a5 MP rear camera and a 2MP one for Skype and selfies. Again, this is a step down from the 540 which featured an 8-megapixel camera with BSI and a 5 MP wide angle lens that was specifically touted as being for Skype. With that in mind, I'm not sure whether Microsoft touting the 2MP camera as skype optimized is more laughable than Microsoft using Skype of all things as a selling point for a Windows Phone.
The rear snapper takes OK pictures, it is somewhat slow to focus and no frills on this camera means that you are pretty much limited to taking bad-average images in good light with some bright spots here and there.
Performance and battery life
Windows 10 Mobile still runs pretty smoothly on the Lumia 550. It was a bit slower than the 950 XL, 830 and 1520 in app launch times and general speed, but that is to be expected. The snapdragon 210 in the 550 is not one for speed, instead the revised processor brings goodies like Bluetooth 4.1 and LTE to the low end. It also adds in support for VoLTE with compatible carriers like EE in the UK so you'll be getting a bit of bang for your buck in the telephony arena there. Calls are crisp and clear as expected, and there isintegrated visual voicemail support for people who prefer VVM.
The battery life on this device is par for the course, it lasted almosta whole day of medium use (messaging, Reddit, Twitter), only being charged at nighttime. For the price, I have no complaints.
Software
As with all the newer Windows Phones manufactured and shipped this year, the 550 comes with Microsoft's Windows 10 Mobile. We love this OS for its great ideas and unique features like Hello and Continuum, but none of those matter to users of the 550., They will be getting the basic Windows 10 Mobile that goes out to everyone later this month. Unfortunately, it isn't totally free of glitches and odd behavior.
For starters, the first set-up experience of Windows 10 Mobile is horribly broken. The instant you start up the phone and get done with all your accounts and configuration, it starts updating almost every single app on the OS, from the store all the way down to the phone app. While that is going on, it also begins to download and install an OS update in the background.
Of course, the average user would have no idea what is going on since the store does not alert you to new app updates and would just be put off by their brand new phone chewing up battery and heating up. I heard it suggested elsewhere that Microsoft should have put up a screen along the lines of "Getting things ready" until all the apps and things have finished preparing themselves and I think it would be a slightly better experience for the user.
I've also run into a few graphical glitches I didn't encounter before on other Windows Phones so I'm not sure if my 550 unit was a little wonky or if the OS was just playing up again.
Overall, though, aside from those two issues mentioned above, the Lumia 550 works as well as can be with Windows 10 Mobile. I didn't experience any crashes, instability or random reboots as with the 930 and overall everything just worked.
Final thoughts
The Lumia 550 would be a nice low-end Windows Phoneif it was released by someone else and priced much lower. However, this Lumia 550 is part of a series of devices made by Microsoft and cannot be judged in a manner that overlooks its history. The 550 immediately succeeds the Lumia 535 and 540, released in late 2014 and mid 2015 respectively. These devices built on what came before and each fixed some issue that was a deal breaker in the previous device. The same cannot be said of the Lumia 550.
It seems to discard all the good ideas of the Lumia 540 and 535 and reverts back to cutting costs so Microsoft can give these devices away to people who will hate them. The 5 MP wide angle lens of the 535 and 540? Gone. The 8 MP camera of the 540? Gone. The bigger battery? Gone. Double tap to wake? BSI for the camera? All gone. You gain LTE in the 550, but that is a benefit of the Snapdragon 210 rather than a design feature per se.
Microsoft should also be aware that they are not alone in this market. For just a little under £80 in the UK, one can pick up the Moto E with a superior Snapdragon 410, LTE and a similar camera. Bearing in mind that the Snapdragon 400 is still better than the 210, one can still pick up a Lumia 640 while stocks remain available. There is one more issue that this phone has.
With the current Lumia line, Microsoft currently lacks an "everyman" phone. A device that you can give to people who just want decent specs at a not too exorbitant price. The Lumia 640 family straddled the line between affordable and good, but the Lumia 550 and rumored 650 appear destined to fall below it.
It's time to stop giving Microsoft a pass on their hardware choices. The Nokia purchase was announced in 2013 and completed in 2014, we are in 2016.
Constantly saying touting the special offer or on sale offers for this £99 device is not an excuse. Good phones are getting cheap, and cheap phones are getting good, but Microsoft's Lumia 550 is not one of them.
I really tried to like the Lumia 550, but no matter how hard I try I can't help but see glimpses of the much better phone Microsoft could have built.
Images via Carphone Warehouse