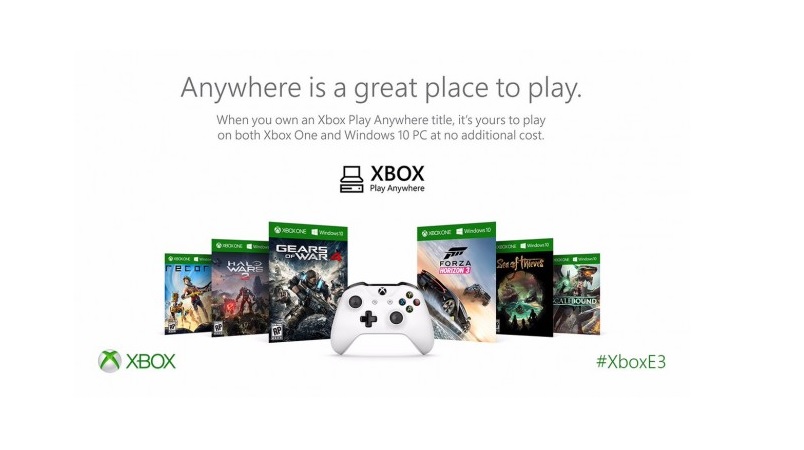 Microsoft announced their Xbox Play Anywhere program at E3 2106 earlier this year, which lets gamers purchase an Xbox Play Anywhere digital game and play it on both Xbox One and Windows 10 PC at no additional cost.
So far only a few of Microsoft's own first party games such as Forza Horizon 3 and Gears of War 4 have been published using the system, but Microsoft's Phil Spencer thinks it's just a question of time before other big publishers are on board.
He notes that smaller developers and indies were already on board as they "understand that selling their game and getting it out to as many people" was important, and felt larger publishers were just biding their time, saying:
"I'd say some of the bigger traditional third-party publishers, they want to see how this works out for us," he said. "There's always a fear that you're 'giving away two games for the price of one'.
"Really what you're doing is you're just allowing the customer you already have to play your game more often. In today's world, engagement on games is more engagement on games, and is almost always a good thing, given multiplayer and the business models around those games. "
"I think the third-party big publisher adoption will happen in time."
Spencer is of course referring to post-sales revenue from items such as DLC which can earn money long after the initial sale of the game.
Windows 10 offers a much larger potential market than only the Xbox One, but companies like EA can equally sell their games on Steam which is an already established PC gaming network much-loved by gamers.
Besides only paying once on Xbox and PC however, Play Anywhere also offers other advantages including the ability to pick up where you left off on another Xbox One or Windows 10 PC and bring all your saves, game add-ons, and achievements with you.
Do our readers think Play Anywhere will catch on?