Microsoft today announced several improvements related to Bing Maps experience for the UK market. These new features will improve our users' experience when searching for addresses, places, maps, directions, etc on Bing.com and Windows Maps app.
Address Queries: You can now Search for an address on Bing.com and see where it is on the map.  Addresses can also be with high-precision postcodes. It works for queries for cities, countries, postcodes, and other kinds of places.
Business at Address: When you search for an address, you can now see what businesses (if any) are in that address. Check out the image above for an example.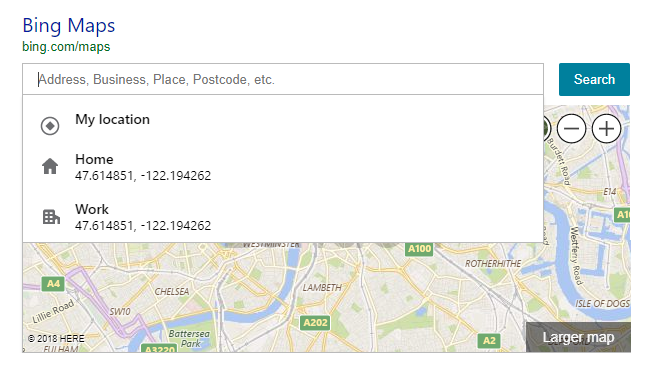 Enriched Experience for Simple Maps Queries: When you search for 'map' and 'maps' on Bing.com from your desktop, it will now display a map answer experience centered on your location, along with autosuggest for places, etc,. Here's an example to try this experience.

Improved Experience for Directions Queries: When you search for driving directions, Bing now lists out alternate driving routes and provide information like the amount of time you can expect to be stuck in traffic. Finally, they have added the 'Search along the route' feature which will allow you to find restaurants and other places along the way when you are on a trip. Here's an example to try.
Improved Experience for Latitude & Longitude Queries: You can now search for lat/long queries on Bing.com and Bing will show the associated address location and list out any businesses nearby. Check out this feature here.
Source: Microsoft