Picking the best iOS data eraser tool can overwhelm the average user, as there are many aspects to consider when choosing.
The final decision will come down to your exact needs and wants and how they compare to the features that the software has to offer.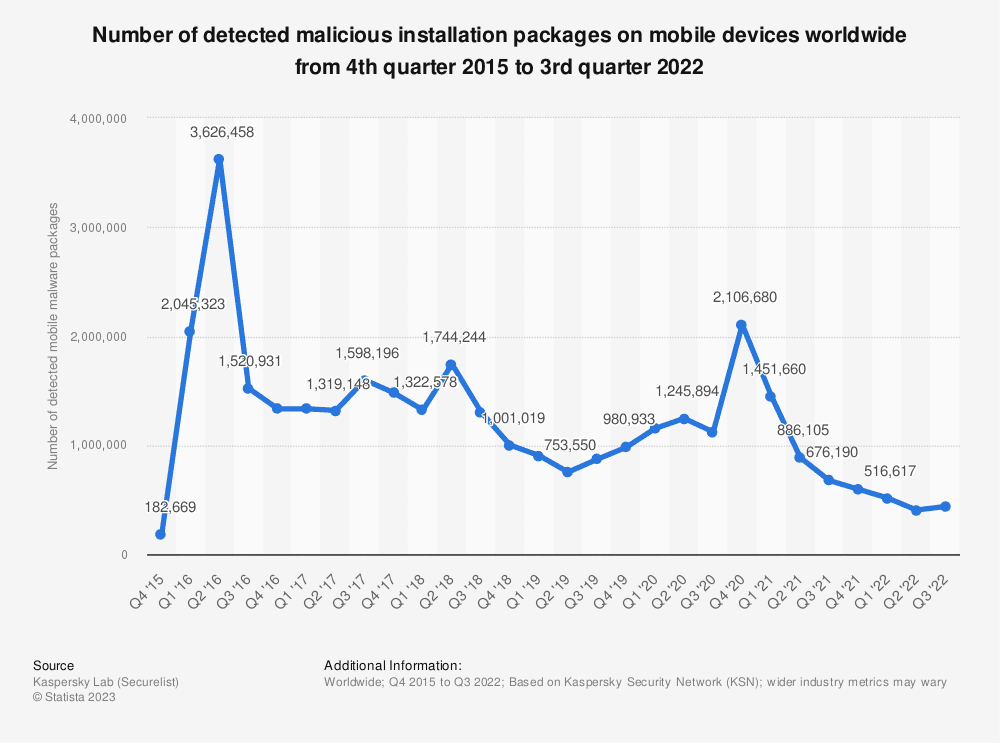 Above, you can see the thorough study created by Statista, covering the Number of detected malicious installation packages on mobile devices worldwide from the 4th quarter of 2015 to the 3rd quarter of 2022. Protecting your data online has never been more important!
The purpose of this thorough guide is to help you simplify the choice-making process, thus offering you a faster and more efficient way to reach the desired result.
| Software | Security | Compatibility | Ease of Use | Features | Customer Support |
| --- | --- | --- | --- | --- | --- |
| Dr.Fone Data Eraser | Advanced algorithms | Supports all iPhone models | User-friendly interface | Three erasing modes | ***** |
| Stellar iPhone Eraser | Military-grade data sanitization | Compatible with all iPhones | The initial setup is complex | Scheduler for automatic erasing | ***** |
| Apowersoft iPhone Data Cleaner | Efficient data deletion | Supports multiple data types | Simple and intuitive | Regular software updates | **** |
| Syncios iOS Eraser | Secure data erasure | Compatible with various models | One-click cleanup | Erases both deleted and existing data | *** |
| iMyFone Umate Pro Data Eraser | Advanced scanning algorithms | Supports all iOS versions | Preview feature available | Selective erasure option | ***** |
| PanFone iOS Eraser Pro | Military-grade erasure methods | Compatible with all iPhones | One-click erasure | Permanently erases data | ** |
| PhoneClean | Privacy cleanup feature | Suitable for all iPhone users | Simple and user-friendly | Optimizes iPhone performance | **** |
Above, you will see another shortcut in your research process, which includes an all-encompassing table that makes all the features easily readable, so check it out before diving into the details.
Dr.Fone Data Eraser is a well-known choice for iPhone users who want to clean their devices. You can permanently erase data with this simple software, making restoring impossible.
Dr.Fone efficiently protects your privacy by ensuring that erased files cannot be recovered using sophisticated algorithms.
Pros
It fully supports all iPhone models and iOS versions
Includes three different erasing modes
Removes any trace of your data from your device
Cons
Some users might find the premium version pricey
Stellar iPhone Eraser is another very powerful iPhone data eraser that also offers its users a method to protect their sensitive information from third parties.
Users of this software can feel completely safe and secure because it uses data sanitization standards that are higher than those required by the US Department of Defence.
Pros
Employs advanced algorithms for erasing data securely
Features a scheduler for automatic data erasing
Can remove third-party app data
Cons
The first time setting it up might be overwhelming for beginners
The deep erasure process can take a long time
Apowersoft iPhone Data Cleaner is a straightforward yet effective method for erasing data from your iPhone.
This software makes it simple for users to retain the privacy of their personal information with its user-friendly interface and effective erasing techniques.
Pros
Supports messages, photos, videos, etc.
Intuitive UI perfect for both experienced and inexperienced users
Regular software updates
Cons
The trial version has limits on the volume of data erasure
Minor occasional glitches during the removal process
Syncios iOS Eraser was created to meet the diverse erasing requirements of iPhone users who want efficient and dependable data-wiping software.
This app offers a variety of options to enhance iPhone performance and security, ranging from clearing junk files to entirely erasing personal data.
Pros
Can remove deleted or existing data
One-click cleanup for temporary data and junk files
It fully supports a variety of data types
Cons
Customer support options are limited
It may not support the latest iOS versions
The iMyFone Umate Pro Data Eraser is renowned for its effectiveness in wiping sensitive data and freeing up space on your iPhone.
This program uses sophisticated scanning and erasing algorithms to ensure no trace of your sensitive information is left on the device.
Pros
Built-in preview feature before erasing
Includes a selective erasure option
Supports third-party app data removal
Cons
Limited functionality for the trial version
The full version could be too expensive for some users
PanFone iOS Eraser Pro offers a complete data erasure solution using military-grade algorithms, ensuring your data will never be recoverable.
This app offers secure deletion, whether you want to delete important files or want to sell your iPhone.
Pros
One-click data wipe
Compatible with various iOS devices
Removes any trace of data without the chance for retrieval
Cons
The user interface can be cumbersome
Erasure works slowly when dealing with large data volumes
7. PhoneClean – Data cleaner with performance optimization
PhoneClean maximizes iPhone performance by removing extra data and accelerating the device.
Additionally, it has a privacy cleansing option that lets you safely delete personal information from your iPhone.
Pros
Optimizes performance by cleaning cache and junk files
Simple and user-friendly interface
Includes both regular and advanced cleanup features
Cons
The removal features are limited compared to other software
---
Privacy protection on your iPhone should be your primary priority, especially if you intend to donate or recycle your old device. Using a reliable data eraser tool, you can permanently delete all sensitive data from your iPhone.
Some of the most trustworthy products to take into consideration are Dr.Fone – Data Eraser, Stellar iPhone Eraser, Apowersoft iPhone Data Cleaner, Syncios iOS Eraser, iMyFone Umate Pro Data Eraser, PanFone iOS Eraser Pro, and PhoneClean.
To ensure that your personal information is secure and unrecoverable, keep in mind to prioritize security, compatibility, and convenience of use while selecting a data eraser software.