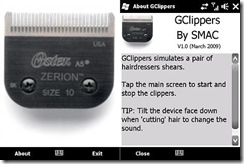 We haven't seen too many G-Sensor fun apps recently, but this one fits the bill quite well, being completely useless but still rather amusing.
GClipper V1.0 is a virtual hair clipper which simulated the sound hair clippers make as it moves through your hair.
Features…
Tap screen to start
Tap again to stop
3 unique sounds – Switch on/off, No Cut and Cut
GSensor enabled so that tilting the "virtual clippers" towards your victims head makes a hair cutting sound
Download the app from this XDA-Developers thread here.