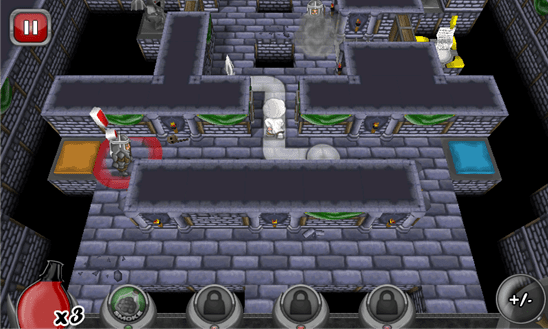 This is a challenging yet fun puzzle game that can appeal to nearly any audience!
Overall Score: 5/5
Awesome gameplay, lengthy lasting value, and good presentation make this game worth $2.99!
Gameplay: 5/5
While Potion Lore is a logic game, it also is decently exciting and fun to play! The goal of the game is to get the professor (your character) across the map without being seen/killed by the enemies by using a range of abilities. The variety between levels is excellent… you're always facing a new challenge on each level. The game continuously introduces new enemies just when you got a hang of the existing enemies, so you're always on your feet.
Presentation: 4/5
Nothing incredible, but the visuals are good and the music goes really well with the game. It even has a little story behind the game!
Lasting Value: 5/5
You'll get 6 or 7 hours of lasting value from this game… maybe even more! And it never gets boring.
Title: Potion Lore
Price: $2.99
Publisher: Hexfire Software