Choosing the best Email client for Windows 11 could be daunting for some users, especially if they don't know what they should look for in this type of software.
The goal of today's article is to fill that information gap and provide you with a tried and tested list of some of the best software options of this type found on the market.
As you can see from the useful graph created by Litmus, the market shares for companies dealing with this topic, people have started using their email clients more and more on various platforms. Even if this data doesn't directly impact the user, it impacts the companies, which in turn, offer services to users across the globe.
Keeping this information in mind is very important, as the level of evolution on this topic will surely depend on how the email client market evolves across the entire year of 2023.
Follow along as we dive deep into the world of Email clients and discover together what kind of software would help you most, how you can use it, and what features it offers.
Comparison Table
Free
| | | | | | |
| --- | --- | --- | --- | --- | --- |
| Software | UI & Ease of Use | Compatibility & Integration | Security & Privacy features | Functionality & Customization | Support & Updates |
| eM Client | Modern interface and customizable layout | Multiple accounts synchronization | Limited to only two accounts in the Free version | **** | **** |
| Spike | Integrates emails and instant messaging | Smart Inbox to prioritize messages | Steep learning curve | ***** | ***** |
| Mozilla Thunderbird | Free and open-source email client | Robust spam filters for effective email sorting | User interface may feel outdated | **** | *** |
| Mail by Microsoft | Simple and clean interface | Easy setup for Microsoft email accounts | Lacks some advanced features | *** | **** |
Paid
| | | | | | |
| --- | --- | --- | --- | --- | --- |
| Software | UI & Ease of Use | Compatibility & Integration | Security & Privacy features | Functionality & Customization | Support & Updates |
| Mailbird Pro | User-friendly interface | Advanced spam filtering for email management | Limited features in the free version | ***** | ***** |
| Microsoft Outlook | Robust and feature-rich email client | Customizable interface and organizational tools | Can be overwhelming for users seeking simplicity | ***** | **** |
| Spark | Intelligent email organization | Collaborative tools for team productivity | Limited integration with third-party apps | **** | ***** |
| The Bat! | High level of data privacy and encryption | Extensive configuration options | Steep learning curve for beginners | ***** | ***** |
1. Mailbird Pro –
Best email app for Windows 11
Mailbird Pro is known for its user-friendly layout and support for numerous accounts, making it a well-rounded and well-liked email client.
It enables effective job management because of its smooth interaction with several productivity tools, including WhatsApp and Google Calendar.
Although Mailbird Pro's free edition has a small feature set, some users could find the subscription version excessively pricey.
Pros
User-friendly interface
Integrates seamlessly into other productivity apps
Powerful spam filtering
Efficient support and regular updates
Cons
The free version has only limited features
2. eM Client – Email client with secure synchronization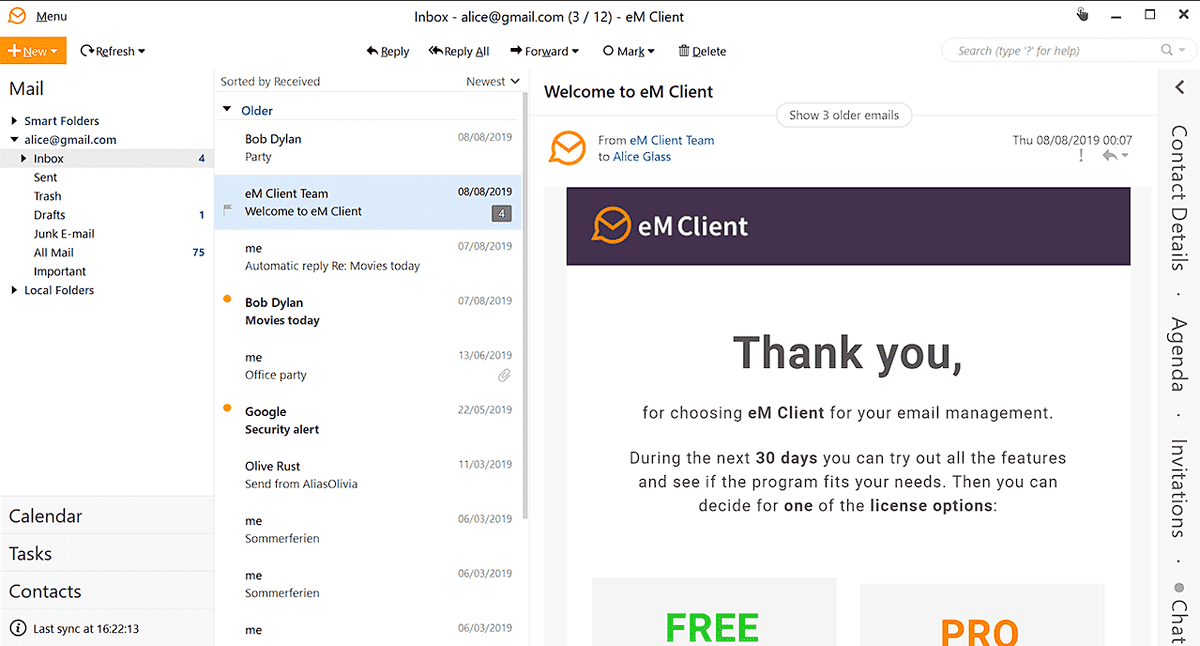 eM Client is a powerful email application with increased security, a modern user interface, and sophisticated features like PGP encryption.
The software allows users to import information from different email clients and supports seamless synchronization with several email providers.
The number of accounts is limited in the free edition, and occasionally, synchronization problems may arise for some users.
Pros
Modern design with customizable elements
PGP encryption
30 days trial with Pro features (for non-commercial use)
Synchronizes multiple email accounts
Intuitive calendar and task management
Cons
The free version is limited to two email accounts
3. Spike – Best freeware email client for Windows 11
Spike offers a new way to experience email by fusing it with instant chat, making it perfect for a more cooperative setting.
Its conversational approach to email, tasks, chats, and emails is collected in one location to make it even easier to use.
The software is available for Android and iOS devices, covering Mac and Windows users. As a bonus, Spike also offers access to a web app.
The learning curve and integration possibilities are constrained compared to other clients, which may make some users choose another option.
Pros
Combines the benefits of email and instant messaging apps
Great for team communication
Smart Inbox feature prioritizes important messages
Compatible with a variety of email provider companies
Cons
Steep learning curve for novice users
Microsoft Outlook, one of the most popular email software in the world, is a robust and feature-rich choice for Windows 11 users. Outlook delivers a complete productivity bundle with its smooth connection with the Microsoft Office program and many plugins.
However, some people could find the number of functions overwhelming, and the search functionality can be enhanced.
Pros
Powerful and filled with useful features
Integrates seamlessly into the Microsoft Office Suite
Interface is customizable
Extraordinary security measures for data protection
Cons
It can be overwhelming for users searching for a simple email client
5. Mozilla Thunderbird – The best free and customizable email client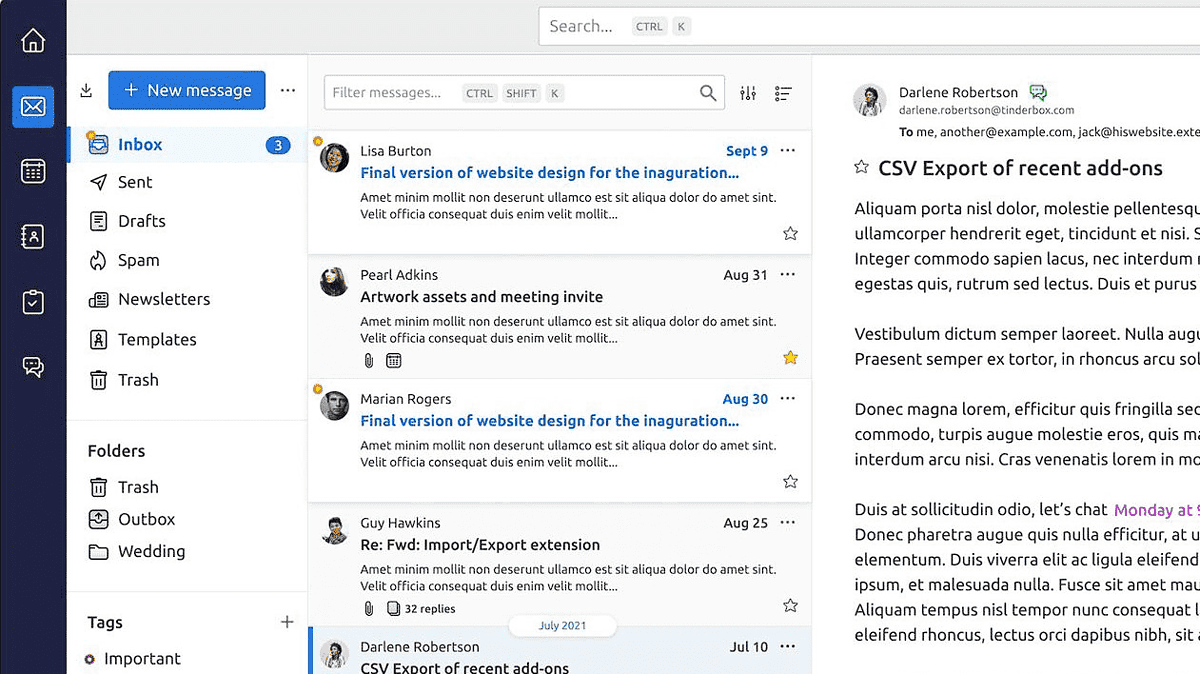 Mozilla Thunderbird is a free and open-source email client with a customizable user interface and superior spam filtering abilities. It supports a variety of add-ons, significantly improving its capabilities.
On the negative side, some users have noted sporadic reliability concerns, and the user interface might not be as cutting-edge as that of other clients.
Pros
Free and open-source
Cross-platform compatibility
Powerful spam filters
Wide range of add-ons and extensions
Cons
The user interface might seem outdated
6. Mail by Microsoft – Best free email client for Windows 11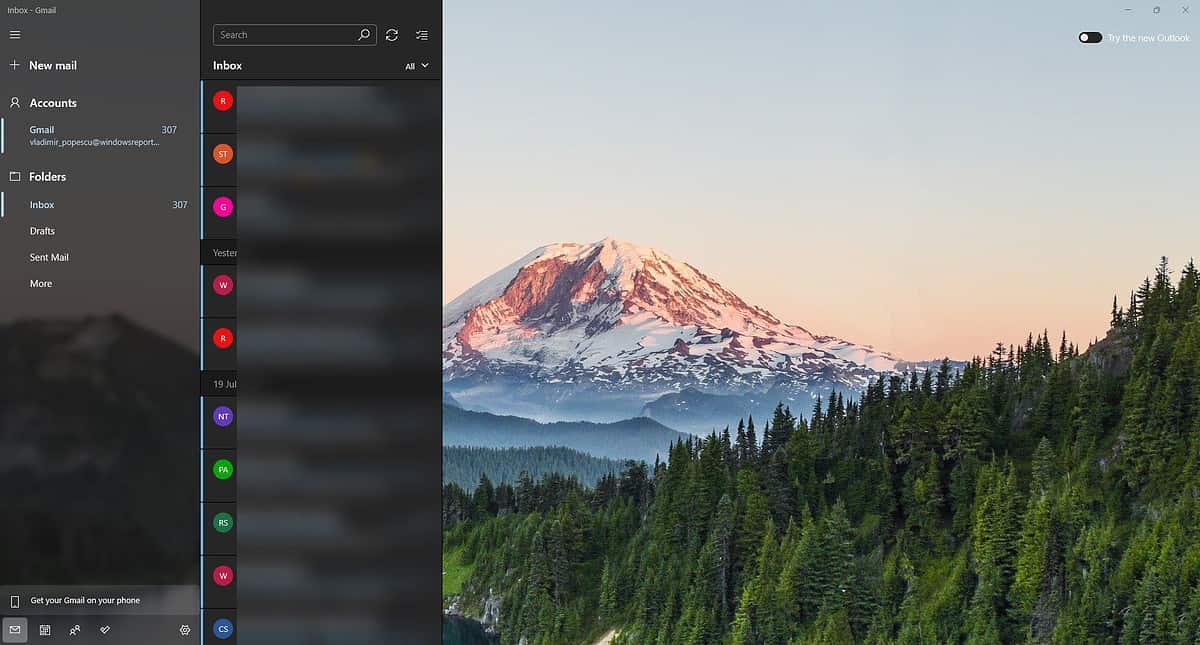 Microsoft's Mail app comes pre-installed with Windows 11 and has an easy-to-use design. Other Microsoft services like OneDrive and Calendar are smoothly integrated with it.
Users who like a simple email management process should consider using this email client. When compared to outside email applications, it is lacking in advanced capabilities.
Pros
Simple and clean interface
Integrated natively into Windows 11
Easy email setup process for Microsoft users
Fast and reliable
Cons
It doesn't include some advanced features found in other software options
7. Spark – Intelligent email prioritization
Spark is renowned for its intelligent email organization, user-friendly design, and email scheduling features. Its Smart Inbox feature automatically classifies emails so that users can concentrate on the most important messages first.
However, some users might see the absence of interaction with specific third-party software as a drawback.
Pros
AI-based email organization
Intuitive UI with modern design
Useful as a collaboration tool
Compatible with multiple platforms
Cons
Limited integration with some third-party apps
8. The Bat! – Best email app with end-to-end encryption
The Bat! is a safe and flexible email client that puts data protection first. Your emails are protected by PGP and GnuPG encryption, thanks to this. Users that demand top-notch security measures can use this client.
However, some people may find the UI outmoded, and new users may find the learning curve challenging.
Pros
Excellent data privacy and encryption
Secure email client with customizable features
Wide range of configuration possibilities
Powerful filtering and sorting of emails
Cons
Steep learning curve for beginners
Does Windows 11 have an email client?
Yes, Windows 11 has a built-in email client called Mail, which offers a practical and easily accessible app and some great features.
This app allows users to create and manage numerous email accounts from different providers in a single interface, including Outlook, Gmail, Yahoo, and others.
What's the difference between Outlook and Mail app in Windows 11?
Microsoft Outlook and the Mail software in Windows 11 are email clients, but they fulfill different functions and have different user needs.
Check the table below for some fascinating differences to take into account:
| | | |
| --- | --- | --- |
| Characteristics/App | Microsoft Outlook | Mail app from Windows 11 |
| App type | Full-featured email client | Basic email client |
| Intended Usage | Used in professional settings and business environments | Suitable for managing personal email accounts |
| Integration | Seamless integration with all other Microsoft Office apps | Limited integration |
| Ease of Use | Advanced functionality | Clean interface with easy menu navigation |
As you can see, Microsoft Outlook offers various integrations and features and is designed for business environments. At the same time, the Mail app from Windows 11 is a simple yet efficient personal email client.
How do I set up email on Windows 11?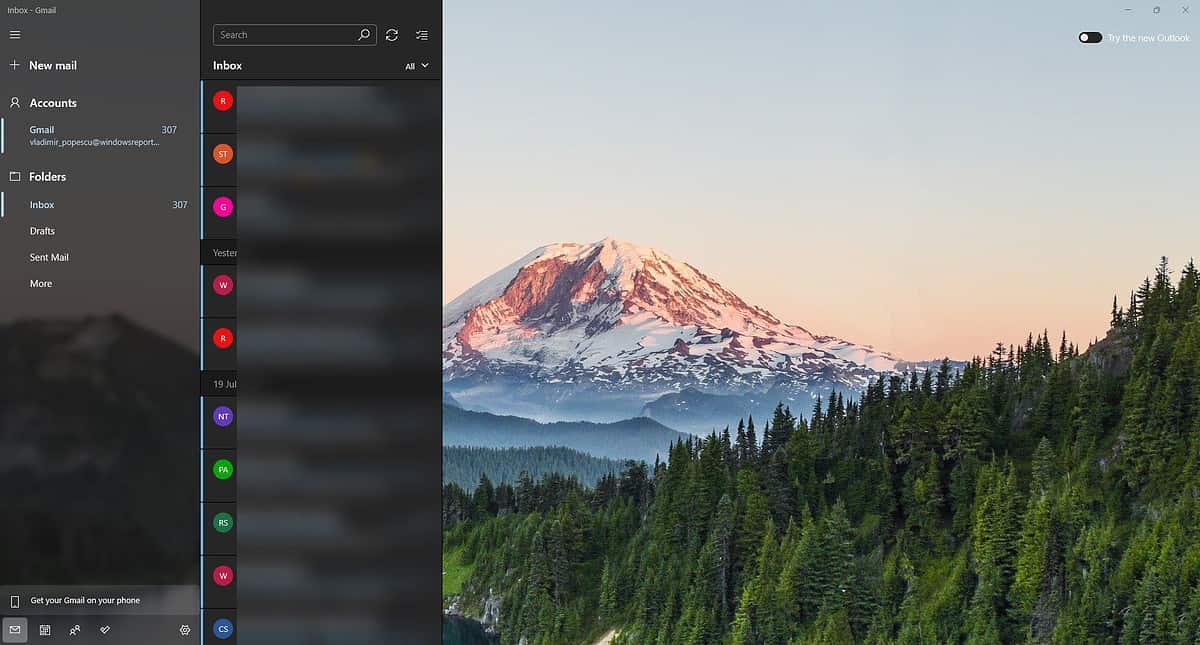 To set up email on Windows 11, you must use the built-in Mail application.
It is worth noting that if you use a Microsoft account with an Outlook.com, Live, Hotmail, or MSN address, the account will automatically be added to the Mail application.
If that's not the case, or you want to add another email, follow the method described below:
If you opened Mail for the first time, explore the Welcome page and select Add account.
If you have used the app before, choose Settings and then click on Manage Accounts (on a phone or tablet, click the three dots button).
Select Add account, and choose the type you want.
Enter the information required and choose Sign In.
Click the Done button to initiate the data sync between the email accounts.
Your particular requirements and preferences will determine which email client works best with Windows 11. Mailbird Pro and eM Client are excellent choices for those prioritizing productivity and security.
While Microsoft Outlook provides a complete productivity package, Spike is best used in collaborative settings. Users who value simplicity should use Mozilla Thunderbird or Microsoft Mail, whereas Spark is ideal for users who love intelligent email organization. For those desiring the highest level of data privacy, The Bat! is a top option.
Don't hesitate to share your choice using the comment section below.