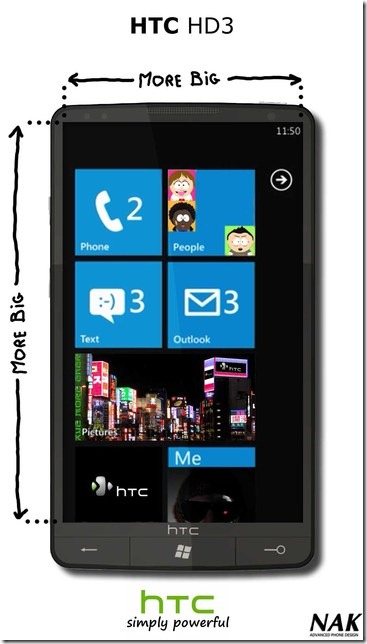 We have heard on a number of occasions from readers, when posting articles from Smarthouse.com.au, that the rag could not be trusted.  Not being exposed to their articles on a daily basis we could not be sure, but their post today claiming the HTC HD3 will be revealed on the 15 September does take the cake in many ways.
The claim to have been invited to a HTC launch event on the 15 September, where the device, the HTC Desire HD and an Android tablet will be unveiled.  While the last 2 is very likely, it is very unlikely that HTC will launch a device before Microsoft formally launches the OS.
Next they quote specs for the HTC HD3 which are clearly sources from NAK's concept device first published on this site, but oddly add a code-name 6HTHD7XM, taken from the leaked O2 spreadsheet.
They then claim the device is set to be exclusive to Telstra for 3 months, but do not source this statement in any way.
The article, if possible, deteriorates from here, with Smarthouse quoting an unnamed senior carrier executive saying:
"Currently Microsoft is sitting on a cash pile of $35bn and after screwing up in the consumer and search markets the Company is desperate to not screw up further in the Smartphone market. Right now they are virtually out of the race and the only way that they will get traction is to buy the support of carriers and manufacturers"

"It doesn't matter how much money is thrown at a carrier of the OS the problem is that Microsoft is seen as loser in the phone market. They have limited apps and the apps that they will have basically been paid for by Microsoft because developers did not want to code applications for them. These guys are frantically developing for Android and Apple. They are also being approached by Samsung to develop for their Bada platform"
Seeing the above evidence, I am now in full agreement with our Australian readers – Smarthouse.com.au does crap reporting.
Via 1800Pocketpc.com