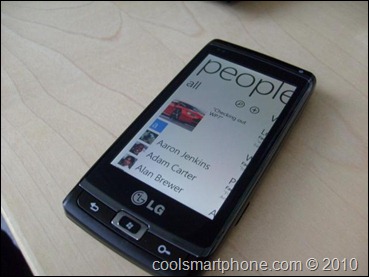 We already got some news from Michael Gillett during his meet up with Microsoft's head of UK marketing for Windows Phone 7, Oded Ran. Coolsmartphone's Leigh Geary was also at the event and wrote a great post:Windows Phone 7 – Is it the future? A hands-on, about the experience. Most of it we already knew but, when you get done reading it, you get the sense again that it makes a big difference  using the actual devices as opposed to the usual cacophony of complaints about the "big blue tiles" on the screen or missing features.
First impressions can be a little misleading. The main screen is a row of tiles, the Facebook login is a black and white affair and it all seems a little "flat". However, those tiles are alive and gently inform you about things you need to know. The last music track you listened to is there, the last picture you viewed, your favourite contacts, how many unread texts you have plus third-party apps like "Seesmic" have tiles and integrate into the contacts system on the phone.
He mentions that there is no streetside view on Bing maps which is very unfortunate but interestingly, you can update both your Facebook and twitter status right from the "Me" tile. I wonder if that means that it will be possible to eventually see our contacts twitter updates on the People hub's" what's new" section? I am also curious to see what sort of data compression optimizations MS has implemented considering most of the carriers here in the US are moving away from unlimited data plans because as Leigh notes
It's very data-centric and networks will need to provide the right tariffs – it could be easy to get carried away and pull lots of images and music onto your phone almost without realising.
He concludes by reiterating something that I hope Microsoft will do (should have already have been doing IMHO even before the October 11th event)
We've read about what isn't coming to Windows Phone. We've read about what it can't do and there's talk of this being a "Version 1.0". However, I'm just a little puzzled. After spending just 30 minutes with the prototype phone I am impressed with the phone. It is a very good OS and it's got some well-thought-out ideas. Why am I puzzled? Well, I just can't understand why Microsoft haven't shouted a little louder about this (emphasis mine)
It is an overall positive piece that rightly acknowledges that Microsoft still has an uphill battle against the iPhone and Android but sees the great potential that the OS has to offer.
Thanks to MobilePaddy for the link