Fix "Weak Charging State Please Pheck Power Charger" Error like This
2 min. read
Updated October 1st, 2023
Published October 1st, 2023
---
Readers help support MSPoweruser. When you make a purchase using links on our site, we may earn an affiliate commission.
Read the affiliate disclosure page to find out how can you help MSPoweruser effortlessly and without spending any money. Read more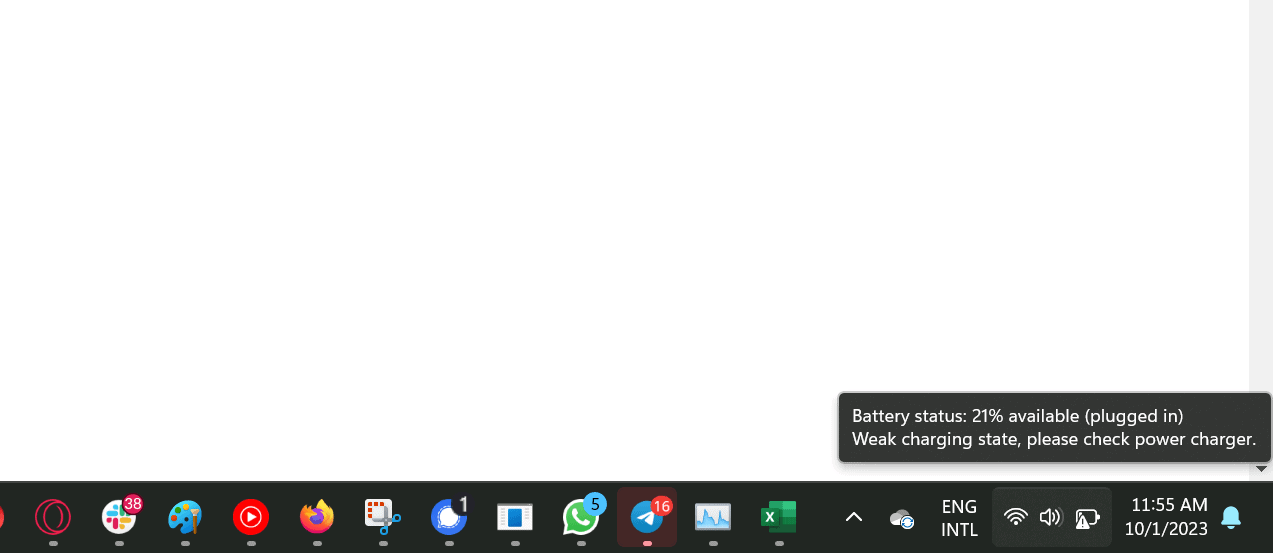 I use quite a beast as my main laptop, and that's the Dell XPS 17. I prefer to work in the office, but I do a lot of work from home. So what happened was this – i forgot my laptop's charger at the office; so instead of going back to get it, I bought another one, but it wasn't the official one.
When I tried to charge my laptop, i got the error that you can see in the above image, as well. So I read countless posts and tried all the fixes, and besides switching to a charger that supports your specific laptop or tablet, here are some other solutions you could try.
Inspect the Charger and Cable:

Check for any visible damages, such as fraying or cuts.
Ensure that the charger is compatible with your device. Using a non-compatible charger can lead to slow charging or no charging at all.

Check the Charging Port:

Dust and debris can accumulate in the charging port, preventing a secure connection. Use a soft brush or compressed air to gently clean the port.
Inspect the port for any bent or damaged pins.

Try a Different Power Outlet:

Sometimes, the issue might be with the power outlet itself. Plug your charger into a different outlet to see if that resolves the problem.

Update Device Software:

Manufacturers often release software updates that can resolve charging issues. Ensure that your device's software is up to date.

Test with Another Charger:

If possible, use a different charger to see if the issue persists. This can help determine if the problem is with the charger or the device itself.

Battery Health:

Over time, batteries can degrade and may not hold a charge as effectively. Check your device's battery health to see if it needs replacement.

Reset or Restart Your Device:

Sometimes, a simple reset or restart can resolve minor software glitches that might be affecting the charging process.

Seek Professional Help:

If none of the above solutions work, it might be time to consult with a professional or the device manufacturer. They can provide further diagnostics and potential solutions.
In the end, if these don't work, like I said, just buy a charger that's made by your device's manufacturer. It will save you the hassle