| Sponsored |
The hectic flow of modern life turns to have a calendar or a planner into a necessity. On the other hand, it opens up a new field for creativity and self-expression. So, if you need to have a calendar at hand, why not combine business with pleasure? There is a wealth of available tools for creating personal calendars and planners. So let's take a look at the best of them. We will give a brief overview of 5 desktop and 5 mobile apps that will help realize any photography calendar ideas.
Top 5 Desktop Apps
Photo Calendar Creator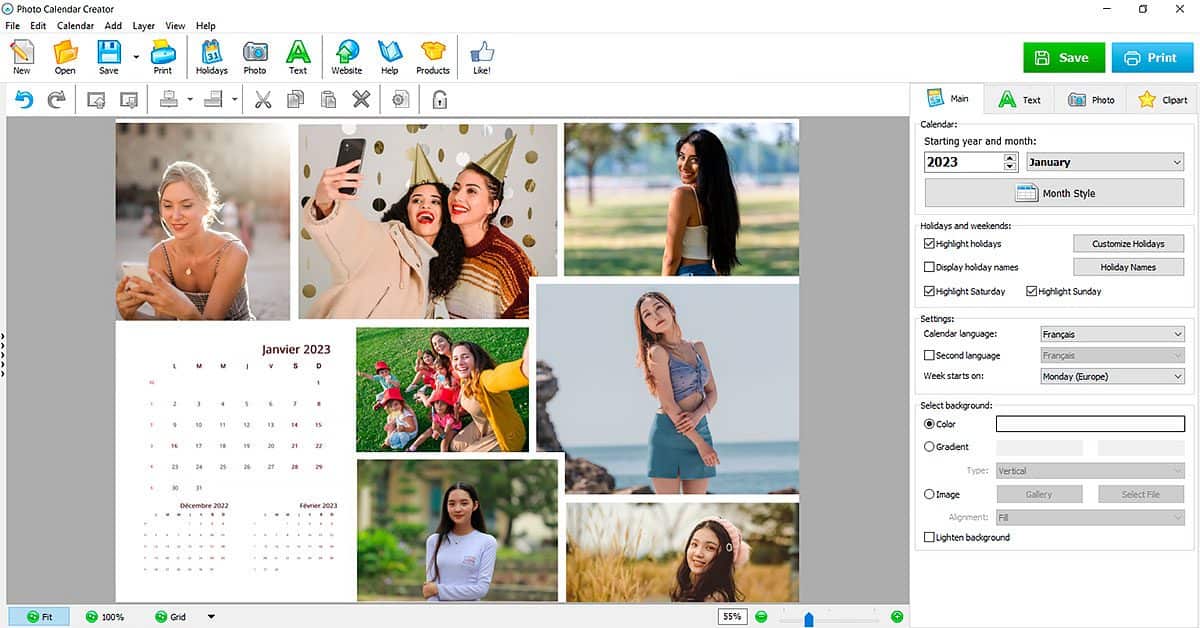 The strongest suit of this Photo Calendar Creator is its collection of 250+ templates. It allows you to craft a calendar to keep track of family and business events alike. National celebrations and holidays can be added automatically from a database for 100+ countries. Every single parameter is tweakable – add your own calendar background images, create layouts and grids, save your personal celebrations in the database, and input data in any language. Once your layout is complete, you can export it as a graphic image calendar in a print-ready format. And in case you are not sure what or how to do, a collection of step-by-step guides will teach you to create schedules, change images in cells, and do other things.
Ashampoo Photo Commander
Ashampoo Photo Commander offers an essential toolkit for designing a calendar or a planner of any type – monthly, yearly, or weekly. It allows you to craft postcards and photobooks as well. To achieve the best possible look for your design, Photo Commander offers photo creator and editor tools. And with the help of the built-in assistants, you'll be able to easily navigate the ins and outs of the app. However, the most interesting features are locked behind a paywall.
Custom Calendar Maker
Although best used on a desktop PC, Custom Calendar Maker is an online program. It offers over a hundred customizable calendar styles, allowing you to design a calendar of any size and theme. There are a lot of parameters under your control: from dates, reminders, and notes to moon phases and exact times of sunrises and sunsets. When used in tandem with photo editing software, it can help you create impressive-looking designs.
PrestoPhoto
PrestoPhoto is a great tool for Apple users. Although it is created as a photo book service, it is a great option for making calendars. On top of essential design tools, a vast template library, and a user-friendly interface, PrestoPhoto also offers its own printing service, allowing you to get printed DIY daily calendars with no hassle. The service also has a dedicated mobile app and an extension for Apple Photo.
WinCalendar
Contrary to the previous entry, WinCalendar is a Windows exclusive. The simple UI makes editing fast and easy. It offers a library of 70+ custom templates, which you can expand with your own drafts. It is quite minimalistic in terms of available design options (you can't add your calendar pictures for each month, only stock media from a library), but what separates it from the competition is its integration with Microsoft Word and Excel, which makes it a great option for work.
Top 5 Mobile Apps
TickTick
TickTick has a plethora of features to help you organize your schedule and plan activities. Useful widgets that make creating new tasks fast and simple. Lists, tags, and due dates will aid in keeping track of tasks and events. Integration with third-party calendars allows you to see all you need to do in one place. To top it all off, there's a built-in habit tracker that lets you see, for example, how long you have been committed to exercise or diet.
Any.do
Any.do is a slick app that allows you to quickly add tasks, organize them into lists, and set due dates. But it really shines with its day-to-day planning feature, which forces you to schedule things, so you remember to do them. Any.do also works well with Google and Outlook calendars. If you tend to make lists and forget them anyway, this is exactly what you need.
Todoist
Todoist isn't the best calendar app, but it has enough merits to be a viable option. It is quite adaptable and not overly complicated. Adding tasks is simple on all platforms, thanks to natural language processing. You can add new tasks to your Inbox and then move them to appropriate projects, as well as set deadlines. Premium users can make their own filters and labels, and there are some basic collaboration tools.
Microsoft To Do
Microsoft To Do is a great calendar app for Android as well as other platforms. The interface is sleek and comprehensive, adding and editing tasks is uncomplicated, but there's a lot more hidden under the hood. You can include custom background images for every one of your lists, allowing you to create personalized pictured planners. But the cornerstone of this app is the deep integration with the programs of the Microsoft ecosystem.
Things
Things is one of the best calendar apps for iPad and iPhone that has a lot of features but is easy to use. Tasks can be added and organized quickly, areas can contain tasks or projects, projects can contain tasks or headers that can also contain tasks, and tasks can contain subtasks. This may sound convoluted, but Things accomplishes this in a way that never feels cluttered. The only drawback is that there are no versions for Windows or Android.
So, do you need an editable Christmas calendar or a robust planner for work? Search your needs and goals, and the choice will be more clear. Free and inexpensive calendar apps can offer many of the tools you need, but higher-end software can truly cater to the specialist, so be sure you have a good idea of which features you believe you may require.