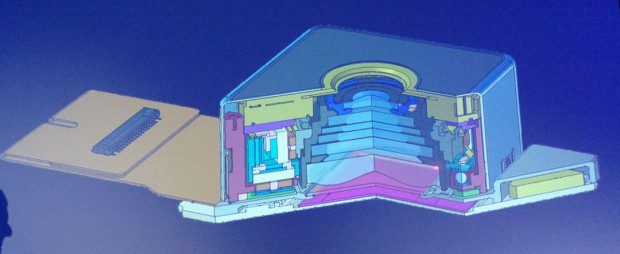 Lumia 1020 is a great engineering achievement from Nokia. While many predicted that Nokia will introduce a stripped down version of 41MP sensor/over sampling tech in Nokia 808 PureView to make a slim mass market device, Nokia did the opposite. Nokia revealed a device which combined the following,
Next gen 41MP sensor/Over sampling tech,
Next gen floating Optical Image Stabilization tech,
Next gen Rich Recording audio system
New kind of Xenon flash
Even though Nokia had most of the above components ready, they could not use them in a single device due to size constraints. They developed completely new components of all the above to pack them in a slim device which we now saw as Nokia Lumia 1020. The camera unit of Nokia Lumia 1020 contains 100 parts and it is 10mm tall which is larger than the phone casing itself.
Two less-highlighted technologies in the 1020 each illustrate the necessity for long-term R&D and the need for partnerships to produce bespoke hardware. Both are a case of Nokia requiring others to push the limits of what they can do. These are the flash unit and the audio recording technology.

Nokia's Rich Recording audio system (PDF) has a wide dynamic range, capable of recording whispers alongside gunshots, and no distortion in a range of sound pressure ranging from 33 dB (Sound Pressure Level) to 140dB (SPL). The sound of a watch ticking is 30 dB SPL and the human pain threshold around 120 dB SPL.

To miniaturise this required the design and production of custom High Amplitude Audio Capture microphones. Xenon flash, which gives a burst around 100 times as bright as that of an LED, is very rarely seen on smartphones for cost and size reasons.

Nokia insisted on having it, and this in turn required miniaturising conventional tubular Xenon capacitors – inevitably replaced with flat capacitors.
You can download the whitepaper from Nokia here. Read more from the link below.
Source: The Register