The three home screens on Co0kie's Home tab.
We are trailing a new segment on WMPU.  Confusion about which ROM to use is a huge problem for most people thinking of flashing their device, and many users suffer with poorly performing stock ROMs due to paralysis of too much choice.
We have therefore decided to start publishing ROM reviews for specific builds of ROMs, and allowing users to rate these specific builds, which should help new users choose whether its worthwhile risking the flash.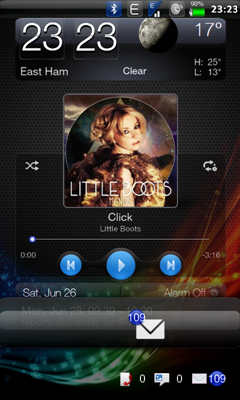 We are starting with NRG's Energy ROM 23569 June 6th with CHT 1.8.  This ROM is now about 3 weeks off NRG's current release, but that has allowed us to get a good feel for the ROM, its features and particularly the stability of the ROM.
The ROM is a Windows Mobile 6.5.5 build, with the thin status bar and Start and OK key at the bottom.  It runs Sense 2.5 and additionally features Co0kie's Home Theme "Energy" style, which means the addition of 3 home screens with icons, the ability to add and move widgets around on the home and lock screen and a variety of other customizations which make the device a pleasure to use.
In general the ROM is incredibly speedy, particularly when flipping through HTC Sense pages, has proven to be incredibly stable, with a few freezes in the first day or two, and then absolutely none since.
The ROM lacks HTC Footprints, which is a real pity, as I actually use that digital postcard software a lot.  It does however have a Recent Calls and HTC Documents tab in addition to the standard collection of tabs.
The ROM also comes with a huge collection of software, but NRG has made some choices to hide default apps like File Explorer in preference to Total Commander, which I disapprove of, as I find if I do not want to do anything complex File Explorer is easier to user.  HTC Peep also does not seem to have an icon any more, and Messaging also had to be resurrected from the \Windows directory.
Battery life was about normal for a HTC HD2, in other words not great, but not atrocious either. The ROM comes with screen brightness set to maximum by default.  Battery life can be saved by changing this to auto-adjust in settings.
Overall, while there were minor annoyances, the I can heartily recommend this build, mainly due to the stability in combination with great features.
The ROM can be downloaded here.  Make sure to read the NRG HTC HD2 ROM thread for installation instructions.
If you do flash or have already flashed this ROM (the exact, specific build), let us know below what your experience is, including rating using the star scale in the comment box.
ROM Information
OS 5.2.23569 (23569.5.5.0)
Manilla 2.5.20121225.0 CFC
ROM 06.June.2010 WWE
Radio 2.07.50.27_2
Known bugs
Nil that we noticed.
Disclaimer
Users flash at their own risk.  We are linking to the ROM, but did not upload it. Flashing a ROM may destroy your device and void your warranty.  We are reviewing a specific build of a ROM, and the review may not apply to any other build of the ROM, even if by the same cook.