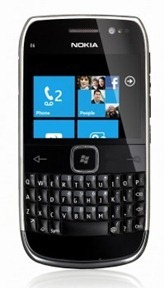 According to German site Bestboyz.de Nokia is working on a Blackberry style Windows Phone with a front-facing keyboard and vertical touch screen.
Reporting from Mobile World Congress they note that Nokia wants to serve its business market with a device like the E6, and that the smartphone is expected to come to market later this year.
The E6 running Windows Phone on the right is of course a mock-up, and it is significant that the resolution and aspect ratio of Windows Phone does not suite itself well to creating devices with front-facing keyboards, as the rather large and unwieldy Dell Venue Pro demonstrates.
Given how good the Windows Phone soft keyboard is (when it does not disappear) do our readers think there is still a point in such a device? Let us know below.
Via WP7App.de