MyRadar released a sizeable update Tuesday to the Universal Windows Platform, bringing professional features to its already easy to use app.  Weather is a top driver of local news here in the United States.  Many now turn to their smartphones to get the latest forecast and weather information.  For years, apps like Pykl3 and RadarScope on Android and iOS have dominated this realm.  Although MyRadar still doesn't reach the level of quality those apps provide, it does offer some interesting features now to Windows users that bring it closer than ever to its rivals.
Leveling Up
For years, the National Weather Service has provided what is known as Level II data from its network of NEXRAD (Next Generation Radar) sites.  These multiple layers provide a host of information, allowing a user to not only detect rain, but rotation associated with a developing tornado, indications of large hail and signatures of strong winds.  Unlike Pykl3 and RadarScope, MyRadar still does not provide access to most of this information.  But it does expand on a simple rain reflectivity image.  For an upgrade of $6.99, users can now access velocity data from any NEXRAD radar site.  The new layer allows the user to select an individual radar site and switch between precipitation and velocity layers.
The red and green image shows winds moving towards and away from the radar.  During severe weather, this scan can indicate both strong winds and rotation.  It is the scan most used by anyone tracking severe weather.
Balancing Features with Ease of Use
Compared to other high-end radar apps, it appears MyRadar is intentionally lacking some professional features.  Part of that, I feel, is by design.  Apps like Pykl3 and RadarScope on other platforms offer more options, but to the average user that can be somewhat confusing.  Velocity data, now available on MyRadar, is a layer seen quite often on local television during severe weather events.  Therefore, even the average user should have a basic understanding of how to use it and what it means.  Still, as a more educated weather tracker, I hope to see continued expansion of the offerings to include additional radar data.
Is it Worth the Money?
This is where MyRadar manages to shine ahead of other radar apps.  Rather than an all or nothing approach, MyRadar utilizes in-app purchases.  This allows users to spend as much or as little as they see fit.  An ad-supported free version is available.  After that, users can purchase an ad-free version, and purchase additional upgrades to add data on severe weather as well as hurricanes.  MyRadar also offers a live tile feature, allowing Windows Phone users to have a location based radar right on their start screen.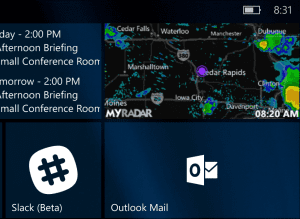 The only other quality radar app available for Windows Phone is MRLevel3 from Gibson Ridge.  Although poorly supported, it does offer all the robust radar data a professional could want, but at the high cost of $30.  It also is not a universal app and is only available on Windows Phone.
MyRadar seems to be striking some kind of balance between features.  In return, those who spend a few bucks can enjoy that experience on their phone, PC, tablet, even Hub and HoloLens.  I hope to hear that MyRadar will soon come to the Xbox platform now that Microsoft has opened up development.  For now I can happily recommend MyRadar as a top tier radar app for users of the Windows Platform.  Despite its limitations, it is flexible and basic enough for the masses.
You can try MyRadar for free.  If you enjoy it, be sure to check out the multiple ways to upgrade the app at a cost of $1.99 – $6.99 depending on the feature.