It now appears that alongside Windows Search bug and broken Start Menu, the recently released Cumulative Update KB4515384 has another issue, but this time it's related to audio.
Cumulative Update KB4515384 for Windows 10 1903 has a bug that either completely breaks the audio or lower the sound while playing games, according to various Reddit posts. As reported by affected users, the audio issue arose right after installing the latest Cumulative Update.
"….my volume was decreased by a mile after the update and since I couldn't find a fix for it I rolled back to the older driver/update. Now hoping to finally find a solution instead of resorting to rolling back. After finally updating the latest Windows 10 update yesterday, the volume has decreased by a lot and it's close to no sound. I've reinstalled and updated all the necessary sound/headset drivers, both manually and also in Device Manager. I've tested and tried uninstalling some audio drivers, and it's still the same. The volume bar hasn't changed, it remains at 40% which I've always used, but the volume has gone very low."
"The volume works fine on browsers and also YouTube, but not applications and games," a user wrote on Reddit.
Another user corroborated similar story by saying, "….KB4515384 my in-game sound lost all bass notes. It didn't affect video player, audio player or browser."
While Microsoft is yet to acknowledge the issue and provide a workaround, if you're facing a similar issue, you can follow a few simple steps that can fix the audio issue.
How to fix the audio issues in Windows 10 KB4515384 Update
Right-click the Sound icon on taskbar and Sound settings.
On Settings page's Related Settings section, select Sound Control Panel.
Right-click the Default device on the Playback tab and select Properties.
Go to the Advanced tab and change the setting to 16 bit (DVD quality).
Click on OK to apply changes.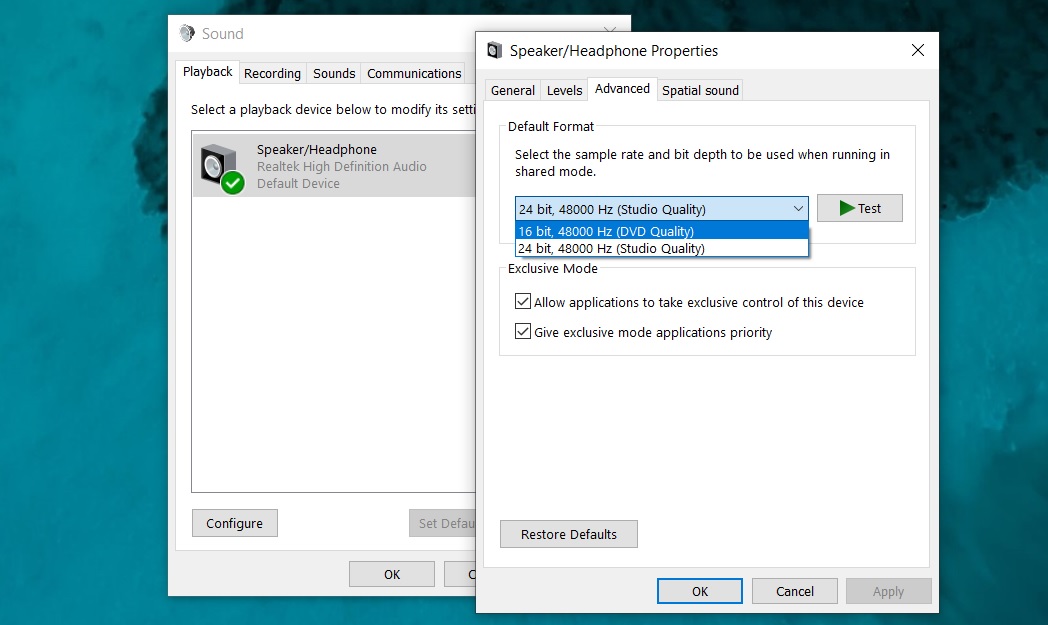 However, if you're one of them who loves to listen to high-quality audio and, therefore, don't want to lower the quality, not even by a few bits, you can simply uninstall the latest Cumulative Update.
via: WindowsLatest