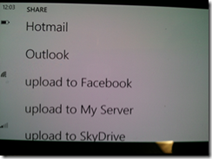 Could it be that Microsoft divisions are finally starting to think of Windows Phone 7 when developing their applications?
The Windows Home Server team has announced their latest version, codenamed "Vail", will come with a plugin for Windows Phone 7 that will support device management, streaming of photos, music and video, and will even enable the uploading of photos to the storage on your own home server.
A Media Server app for WP7 has been expected for a long time, and aspects of Windows Home Server "Vail" have in the past been highly controversial – particularly the removal of Drive Extender Technology. It is doubtful that official support for the current Windows Home Server (codename "Quattro") will ever be released for WP7.
The software is still in early development, but can be seen being demonstrated at CES now.
Read more at the Windows Team Blog here.
Thanks MobilePaddy for the tip.