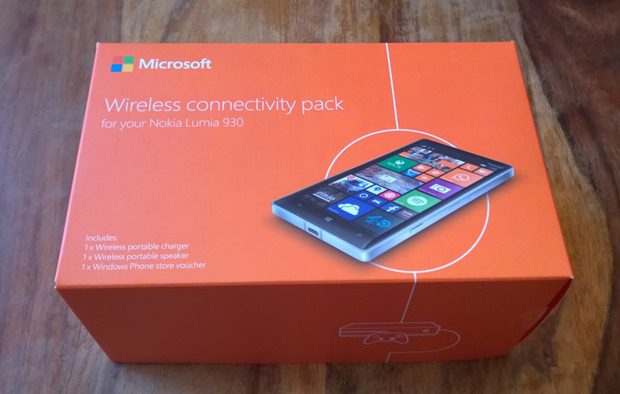 I was woken unexpectedly this morning by an early delivery.  Not expecting a package, on opening the box I first thought I had accidentally been sent another Nokia Lumia 930.
After a second however I realized it was my Wireless Connectivity Pack, delivered only a week after I was able to confirm the order, and much less than the 28 days I expected.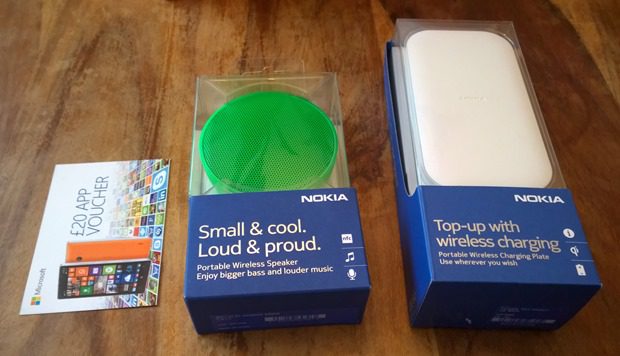 Inside was 3 items – the £20 gift voucher to buy apps from the Windows store, the Nokia MD-12 wireless speaker in the same fetching green as my handset, and the white DC-50 portable wireless charger.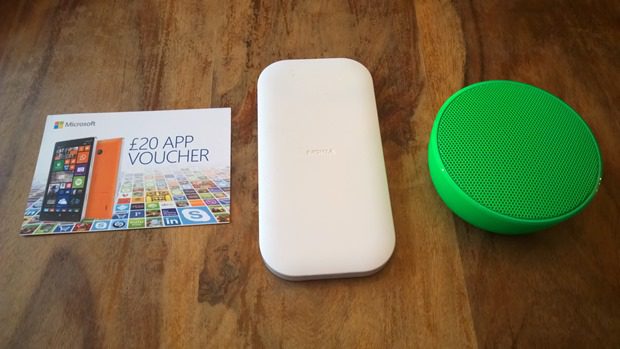 There is not much to say about the DC-50 portable wireless charger, except that it fits rather nicely on top of my existing wireless charger, and creates a rather wholesome sandwich, with my NL 930 on top, followed by the DC-50 and then my regular wireless charging plate, with the juice flowing through each. The plate also feels like a premium device, with a slight soft-touch non-slip finish, though I wish this was slightly more pronounced.  It features small indicator lights showing its own charging status and small on and off button and besides being charged wirelessly can also be charged via USB.
The Nokia MD-12 is much smaller than expected from the marketing material, and gives the impression of not being able to manage large sound.  That is terribly misleading, as after a quick and simple NFC pairing I found the speaker was much louder than even my laptop can manage, and in some magical way can manage some pretty strong base, I suspect by coupling with the surface it is on.  Its also a pretty good Bluetooth speakerphone, working well with good sound quality during phone calls.
While the the arrival of the kit seems to have doubled the number of USB cables and related paraphernalia lying around my house, I an overall pretty happy with the haul. I suggest if you are looking to purchase a Nokia Lumia 930 in the future, it is certainly worth jumping in now and getting the kit, rather than wait a month or two and missing out on the offer, which expires on the 31st July.