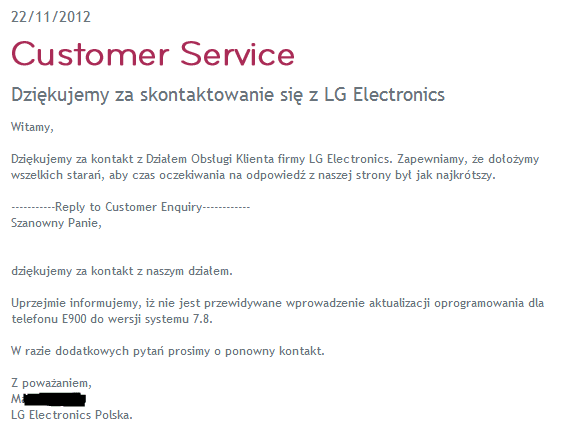 Microsoft promised to deliver Windows Phone 7.8 to all handsets via an Over the Air update which would not need carrier intervention.
It seems however that OEMs will still be involved, or in LG's case uninvolved. The company did not release any follow-ups to their first generation Windows Phones, and it seems have now washed their hands off them.
A WP7.com.pl reader asked them if they will be releasing the 7.8 update, and received the following response:
—- Reply to Customer Enquiry —-

Dear Sir,
Thank you for contacting our customer support.
We wish to kindly inform you that it is not expected to introduce software update for your version of the E900 to 7.8.
If you have additional questions, please contact us again.
Sincerely,
M ********* **
LG Electronics Poland.

——– —- Customer Details
It seems likely the answer will be the same when it comes to the LG Quantum, leaving a (small) percentage of Windows Phone users that will not getting the WP 7.8 update after all.
Via WP7.com.pl