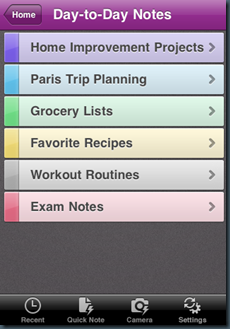 The headlines today read, Microsoft announces One note for iPhone and iPod touch. This follows a pattern of updates and features, Microsoft has been releasing on their rival platforms while neglecting their own Windows Phone 7. The Bing and Windows Live Messenger apps are further examples of native Microsoft app that are more fully featured on the iPhone than WP7! Now, I have no problem with them making office apps available on other platforms, they are a software company after all, but why do they always to do so on a regular basis while seemingly ignoring their own OS? This creates a little sense of unease about the level of commitment that they have on their fledgling WP7 platform.
As a fan, and I bet for many in this audience as well, I would like to see Microsoft concentrate on WP7 until it gets up to par with their rivals before embarking on making apps for those entities. An actual timeline and details of what to expect, rather than a vague promise about "series of updates" would also be highly appreciated.
On a related angle, the speed at which these updates are supposed to arrive is also less than acceptable, Paul Thurrott has written a post titled: Software updates: Windows Phone vs. iPhone, in which he compares in detail, the frequency at which Apple released updates for the iPhone in the first 3 months compared to Windows phone 7 which currently stands at zero. Here are some excerpts
Apple, July 2007 – October 2007 (three months)
iPhone 1.01, August 2007 – Bug fixes and security fixes, including stability fixes.
iPhone 1.02, August 2007 – More bug and security fixes.
Major new updates announced, September 2007 – Apple transparently revealed early in the month that coming iPhone updates would add ringtone support, iTunes Wi-Fi support, and Starbucks service support. Apple also announced sweeping price cuts.
Ringtone editing and purchasing, September 2007 – Apple delivered on its ringtone promise just 6 days later.
iPhone 1.1.1, September 2007 – Added the promised iTunes Wi-Fi Music Store, data roaming, double-tap support for the Home button, and much more.
From a consumer perspective, I think Apple's update approach wins hands down and considering they are the mindshare leader in the mobile space, Microsoft needs to match or do better than the guys from Cupertino. I will end with a quote from the same Thurrott article
To summarize, the Microsoft of 2011 doesn't compete effectively with the Apple of 2007. How, exactly, are they going to compete with today's Apple?

It's a pretty relevant question, I think.