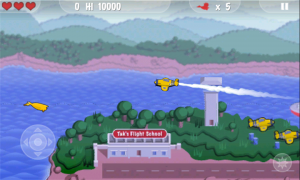 MiniSquadron is a 2D airplane shooter game with cartoonish graphics.
Overall Score: 3/5
If Xbox Live games are supposed to be quality, MiniSquadron should not be an Xbox Live title. Frame rate issues plague the game.
Gameplay: 4/5
The game is quite fun to play. You simply control the direction your airplane flies, and you try to shoot all the enemies before they kill you. As you progress through the game, it becomes increasingly tougher, and you'll find yourself having to try new things in order to beat the game. You'll also unlock new airplanes as you play the game. Each airplane has their own unique abilities, which keeps the game extremely interesting. Overall, it's pretty fun to play (as long as the frame rate works).
Presentation: 1/5
Frame rate: something this game lacks. As you play the game, the frame rate will sometimes go extremely low, making the game nearly impossible to play. Plus, the game isn't Mango multitasking enabled! And if you leave mid-level, you can't even resume your progress, you have to restart that level. This is quite sad that Microsoft's own approved games don't support Mango… Any Xbox Live title that fails to support Mango will receive a low score.
Lasting Value: 3/5
Completing the game will last you between an hour or two, and then you can always play the survival mode or attempt to unlock more planes. There are also leaderboards for each level. Nevertheless, that's only average lasting value. This game could be incredible if it had multiplayer… but it doesn't.
Title: MiniSquadron
Price: $2.99
Publisher: Microsoft Studios (and they don't support Mango? Fail)